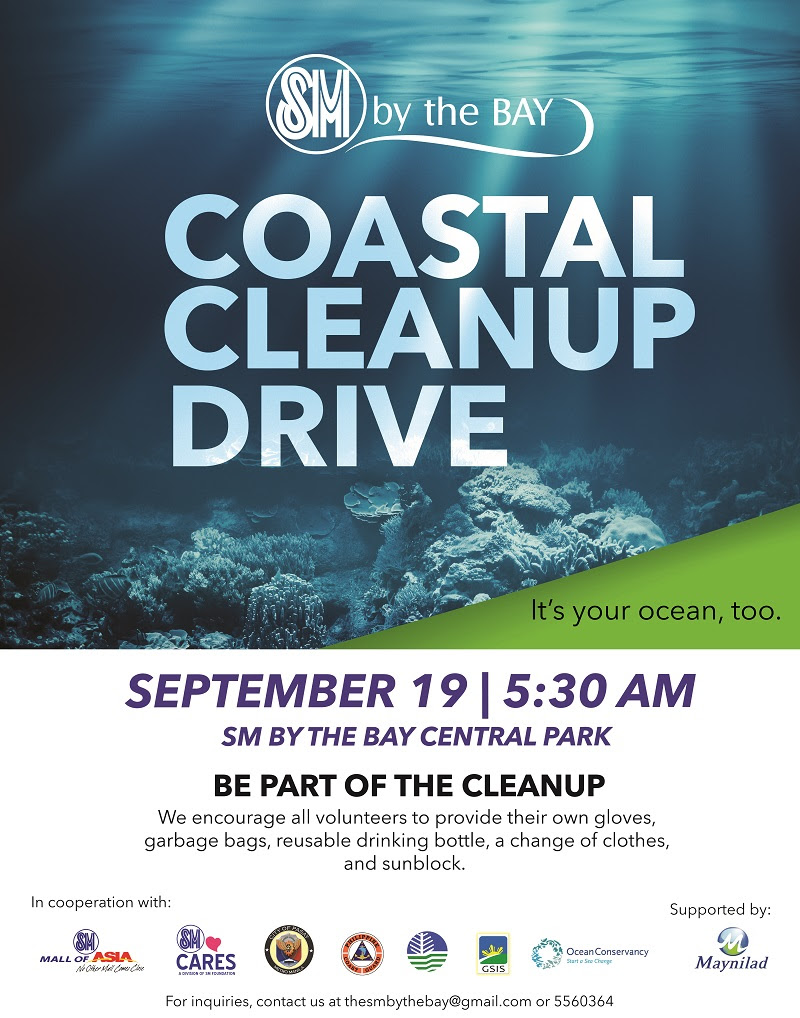 Help free our Manila Bay of trash by volunteering at the 2nd annual SM by the Bay Coastal Cleanup Drive (SMBCC) which will be held at the 1.3-kilometer stretch of the SM by the BAY Central Park this Saturday, September 19, 2015. Mounted by SM by the BAY, SM Mall of Asia, and SM Cares, this successful coastal cleanup which started last year is done in support of the International Coastal Cleanup program of the environmental non-profit group, Ocean Conservancy.
This year's bigger and better coastal cleanup is supported by the Department of Environment and Natural Resources, the Philippine Coastguard and the local government of Pasay.
The event is expected to attract hundreds of volunteers from different private and non-government organizations and you could be one too! Participants of the Coastal Cleanup can register for the event as early as 5:30 am.
Last year, the Coastal Cleanup drive was able to collect 2,454,50 kilos of trash, including 2,293 pieces of slippers and shoes, 1,813 pcs of food wrappers, 1,495 pieces of take away containers, 998 bamboo and wood, 882 beverage bottles, and 605 cigarette butts. This year, with an even larger area activated for the cleanup, more participants, partners and volunteers were invited to join.
Similarly, and as part of the International Coastal Cleanup program, participants of the cleanup drive will be again asked to document the trash they collect, with the data gathered to be sent directly to Ocean Conservancy.
The SM by the BAY Coastal Cleanup is an annual environmental awareness event wherein the coastal waters of Manila Bay will be celebrated and invigorated, not just for a day, but it will be an active drive that is promoted and supported the whole year-round.
With the continuing support of its local partners and sponsors, SM by the BAY is committed to the environment through raising awareness of ocean conservation, promoting community-based involvement, and improving the quality of the immediate area of Pasay City.
So, guys and girls, ready those shades and sunblock. Time to clear the coast!