I love weekends. Especially because it is the day/s of the week when we can actually spend time with the rest of our family. And 'tis when some of our busy friends finally find time to catch up with us, whether over brunch, lunch or dinner or a cup of coffee. Being a work-at-home-mom, I practically have a thank-God-it's-friday-feel everyday coz I'm not really time-bound or something, so I simply just love the fact that weekend not only means great meals but great company as well…
What better way to spend our weekends than to indulge to our ol' time favorite food spots and from time to time try something new. So here's where I've spent those precious days over the past consecutive week(ends)..
Golden Bay Fresh Seafood Restaurant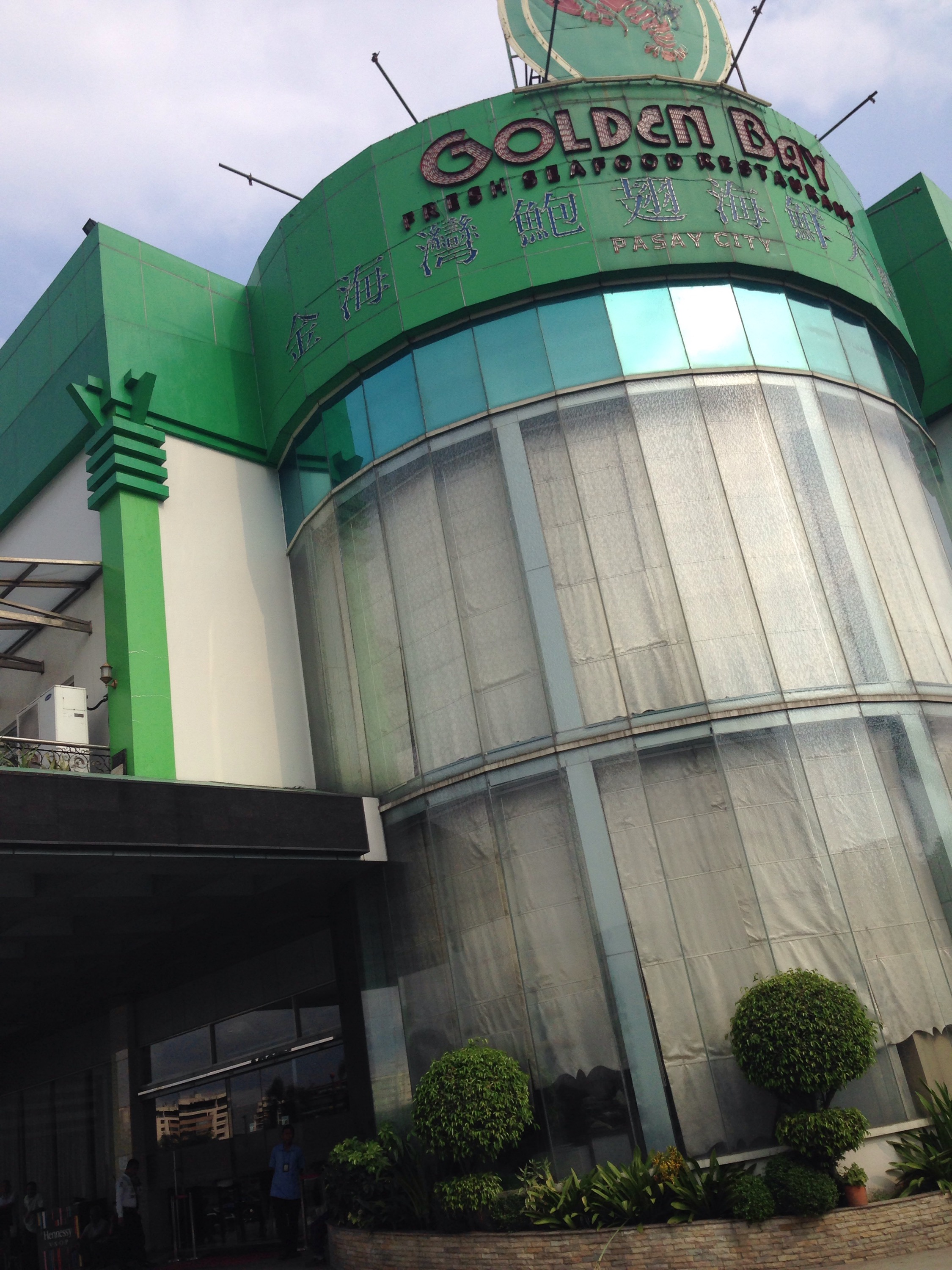 We had an incredible dining experience at Golden Bay Seafood Restaurant in MOA Complex because of its huge fine dine and terrific service. We were seated immediately even when the place was crowded. I would highly recommend this restaurant to anyone looking for fresh seafood and wonderful service.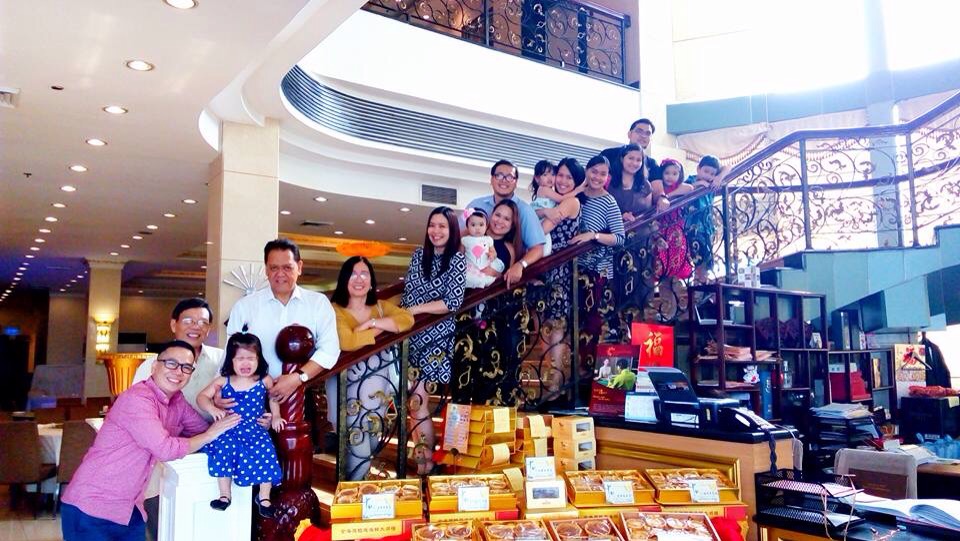 For starter we ordered the Soup of the Day (Php420) which totally met my expectation, a soup that was well done with great attention to seasoning.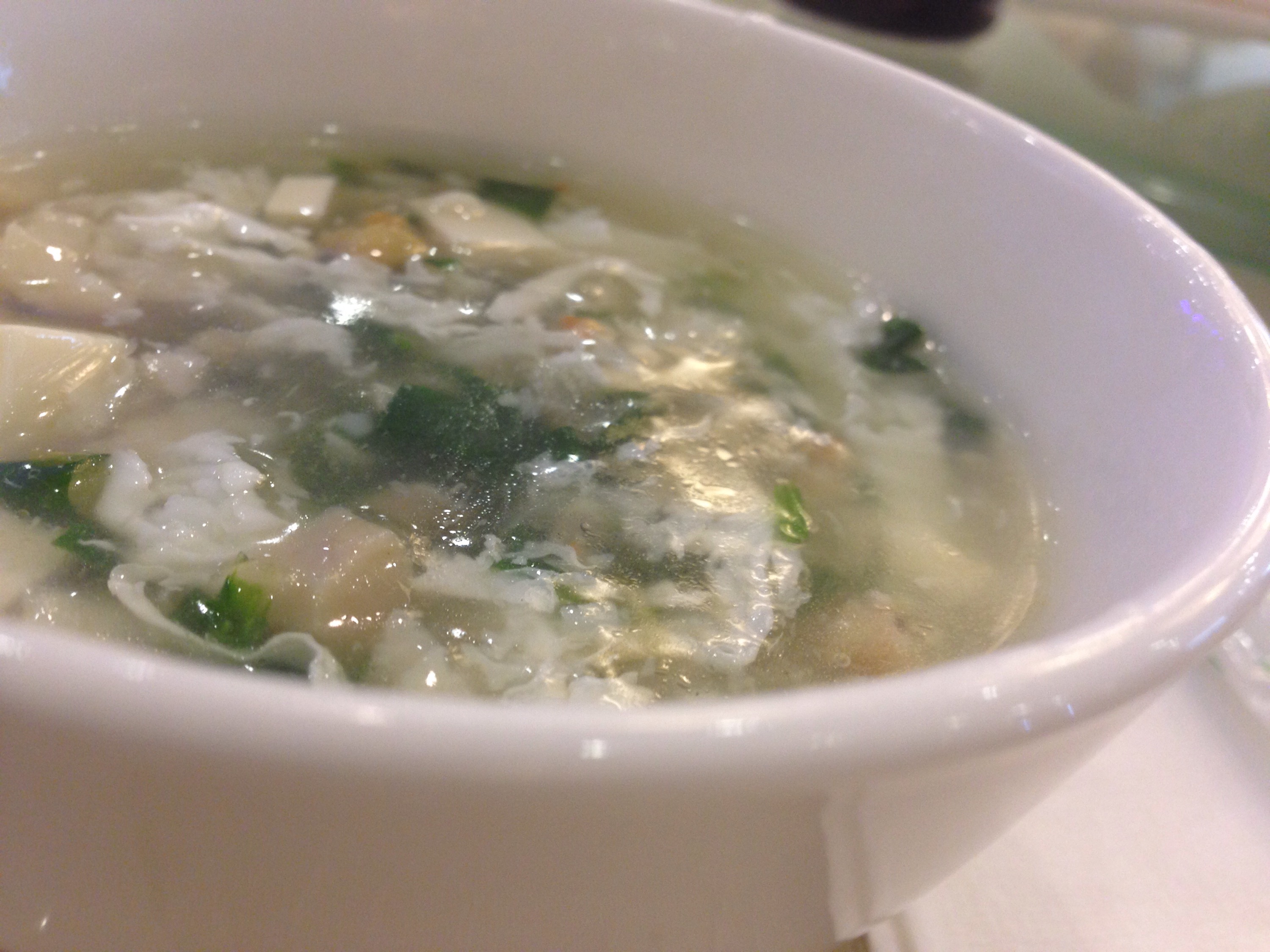 We tried their best-selling dumplings: Chicken Feet (Php238), Siomai (Php218), Steamed Spare Ribs (Php188), Yuan Yang Dumpling (Php188). The best part of it aside from its taste was the price. It was 50% off!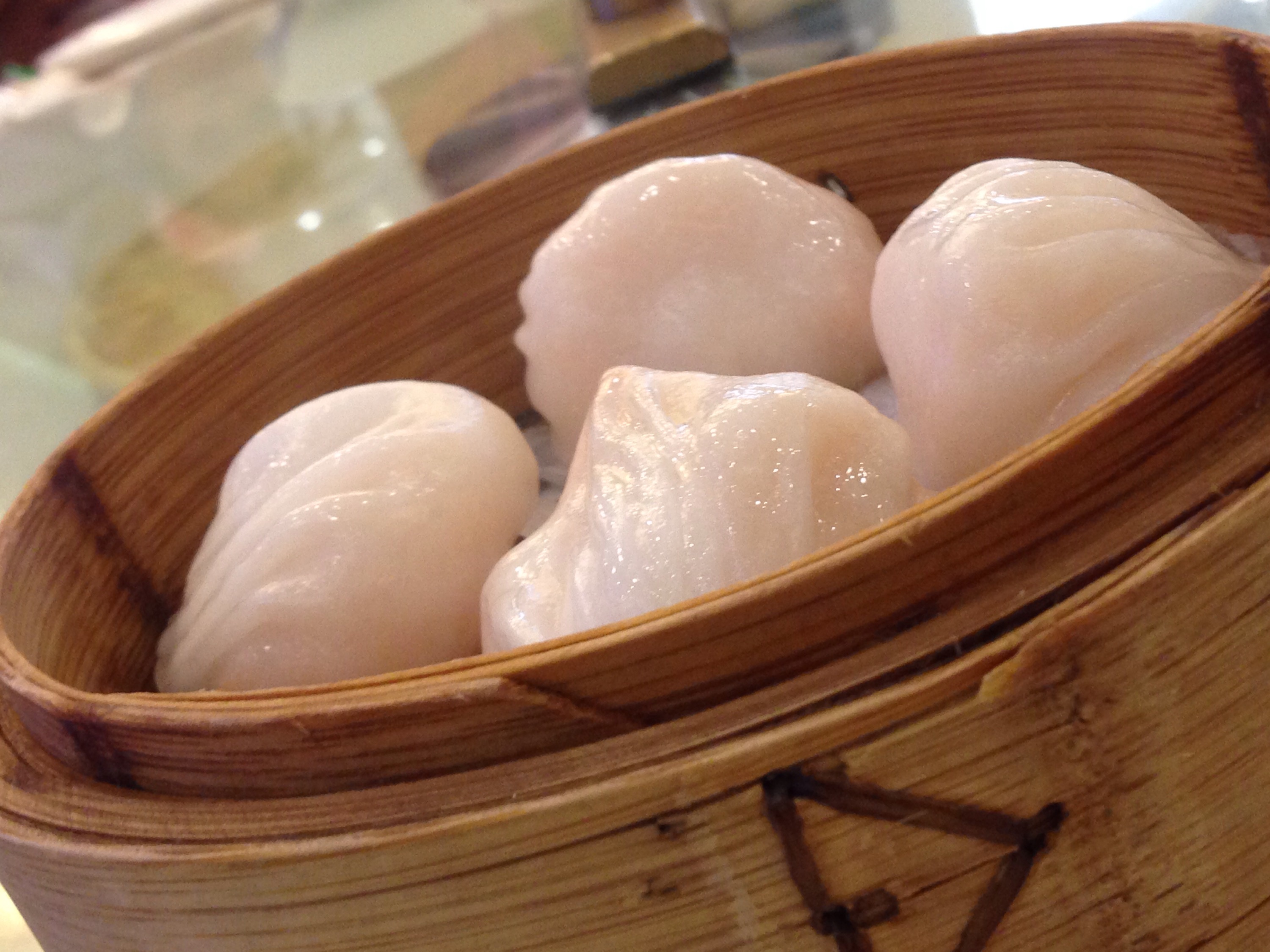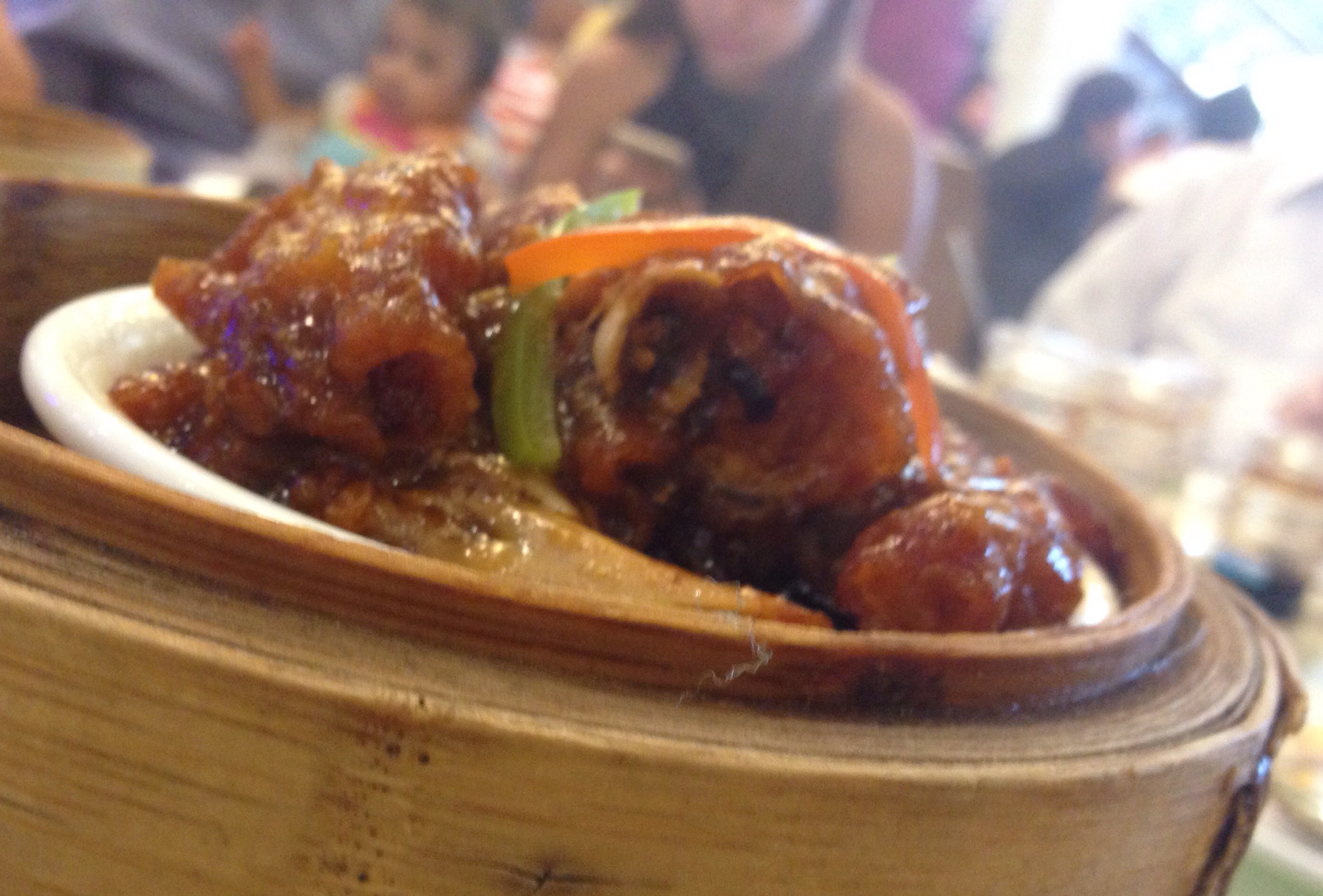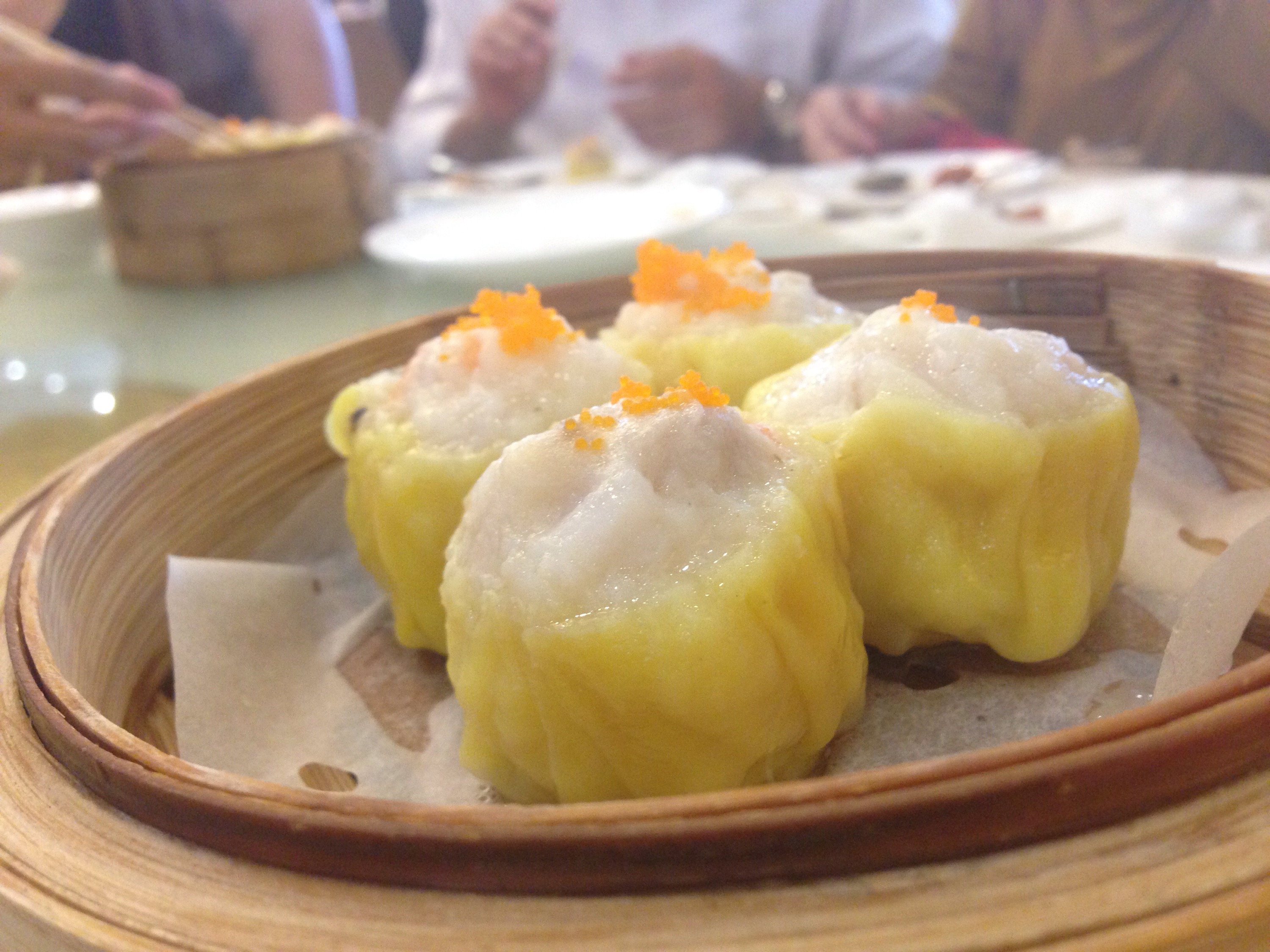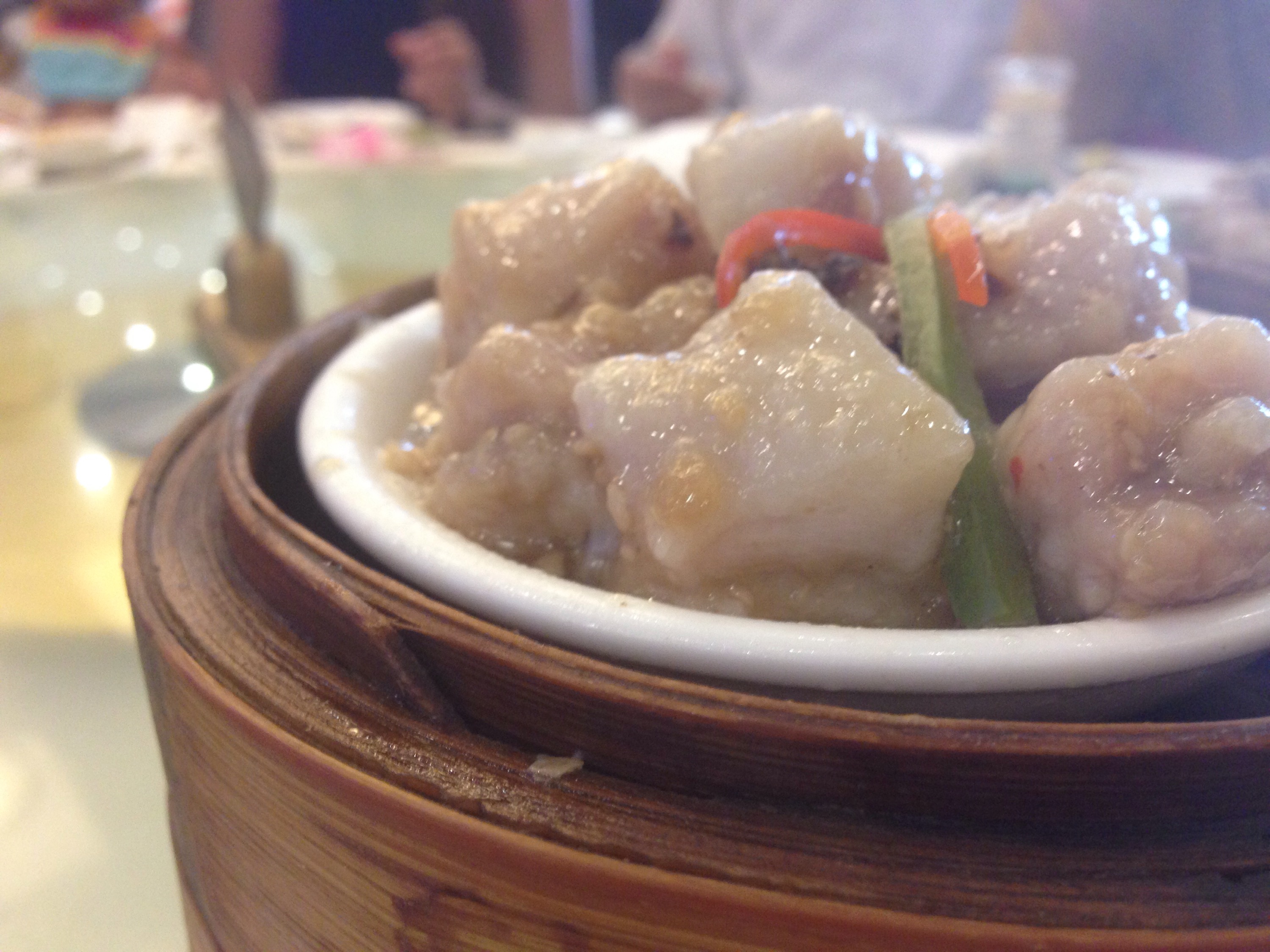 Up next was the Fried Crispy Seafood Noodle (Php280), the noodles were crunchy and it blended well with the sauce.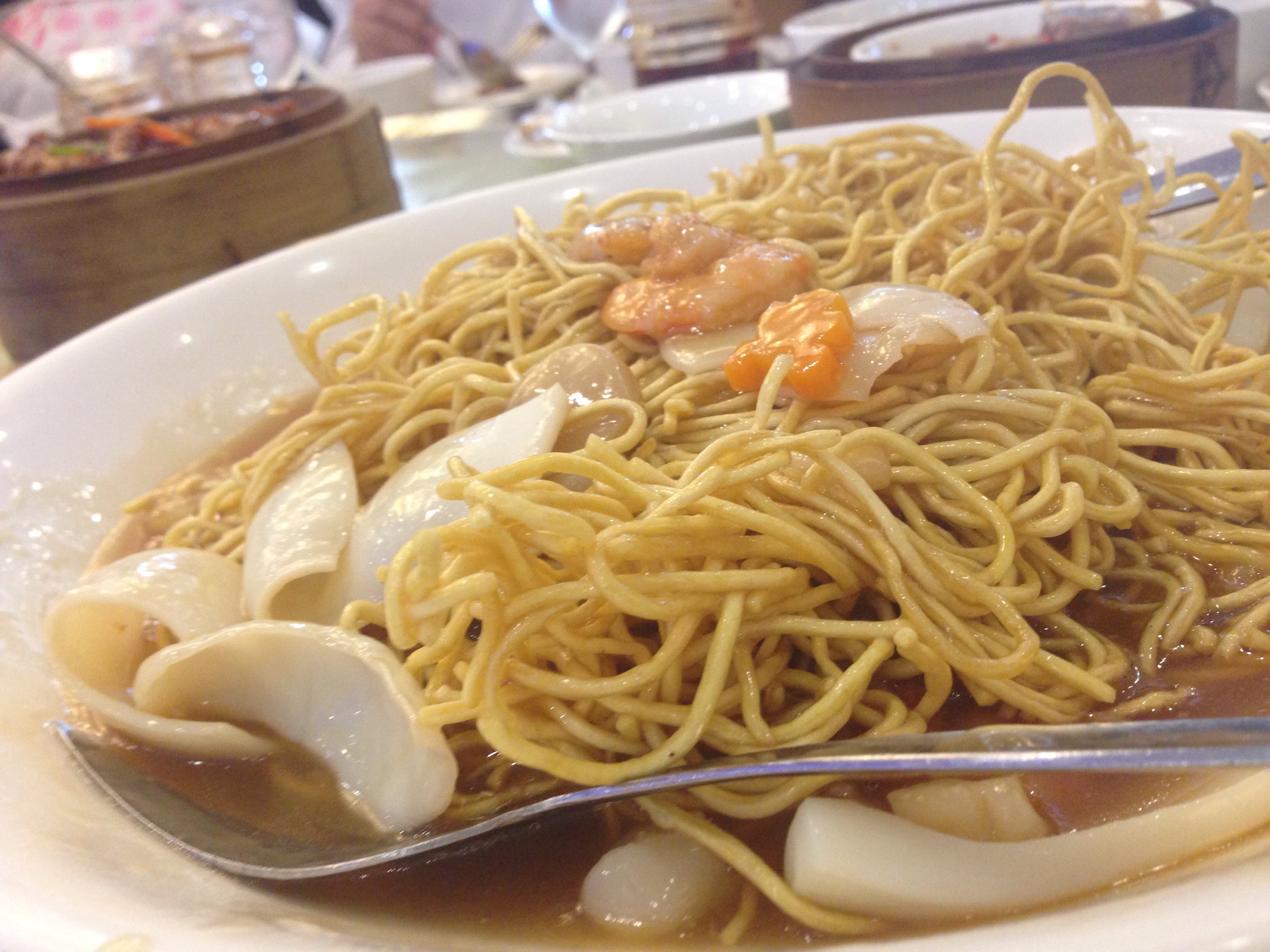 Although it was my least favorite among the entrée, the Pork Patatim with Buns (Php800) was also a hit! My family, especially the pork lovers among us, enjoyed it to the last bite.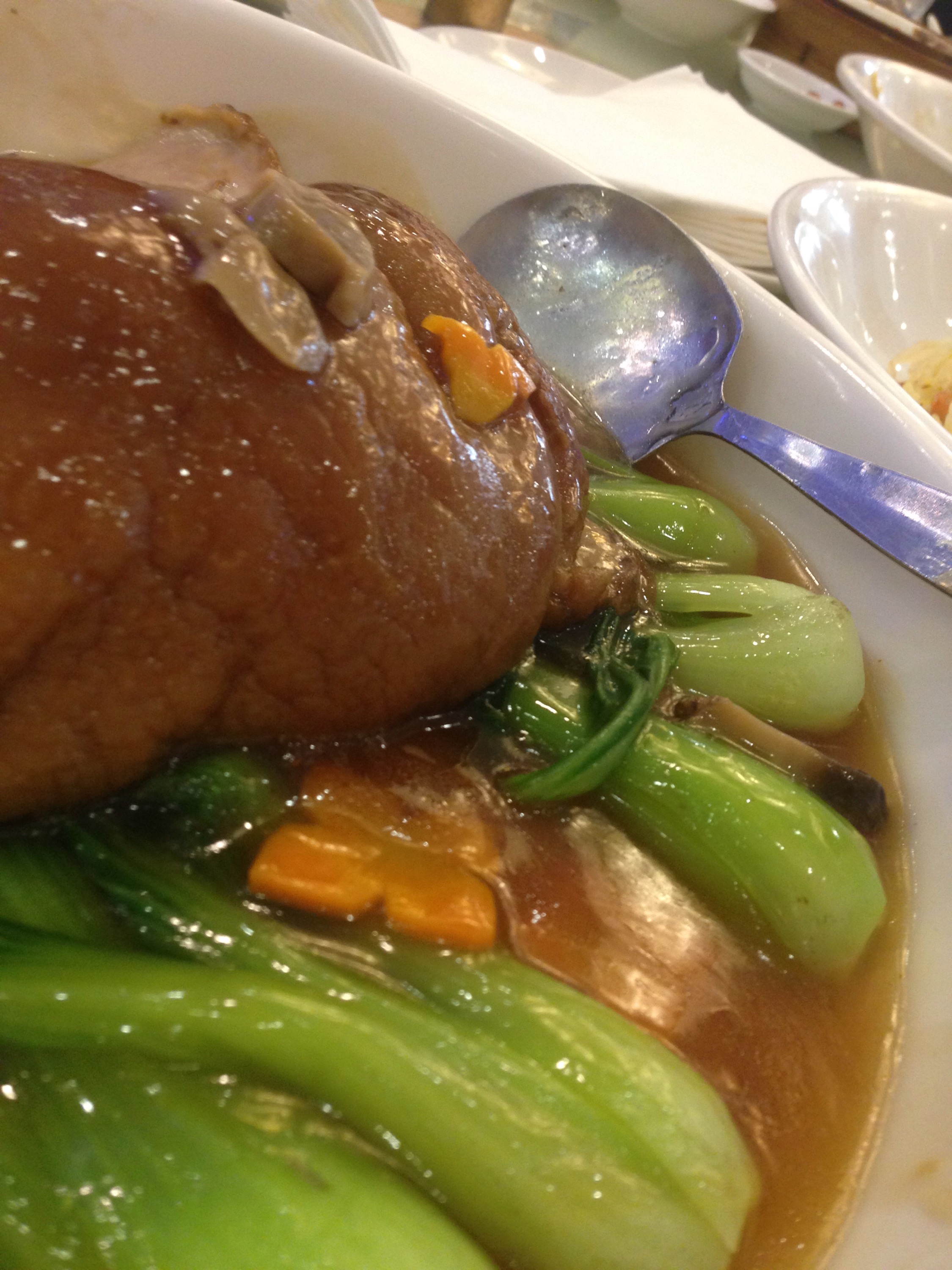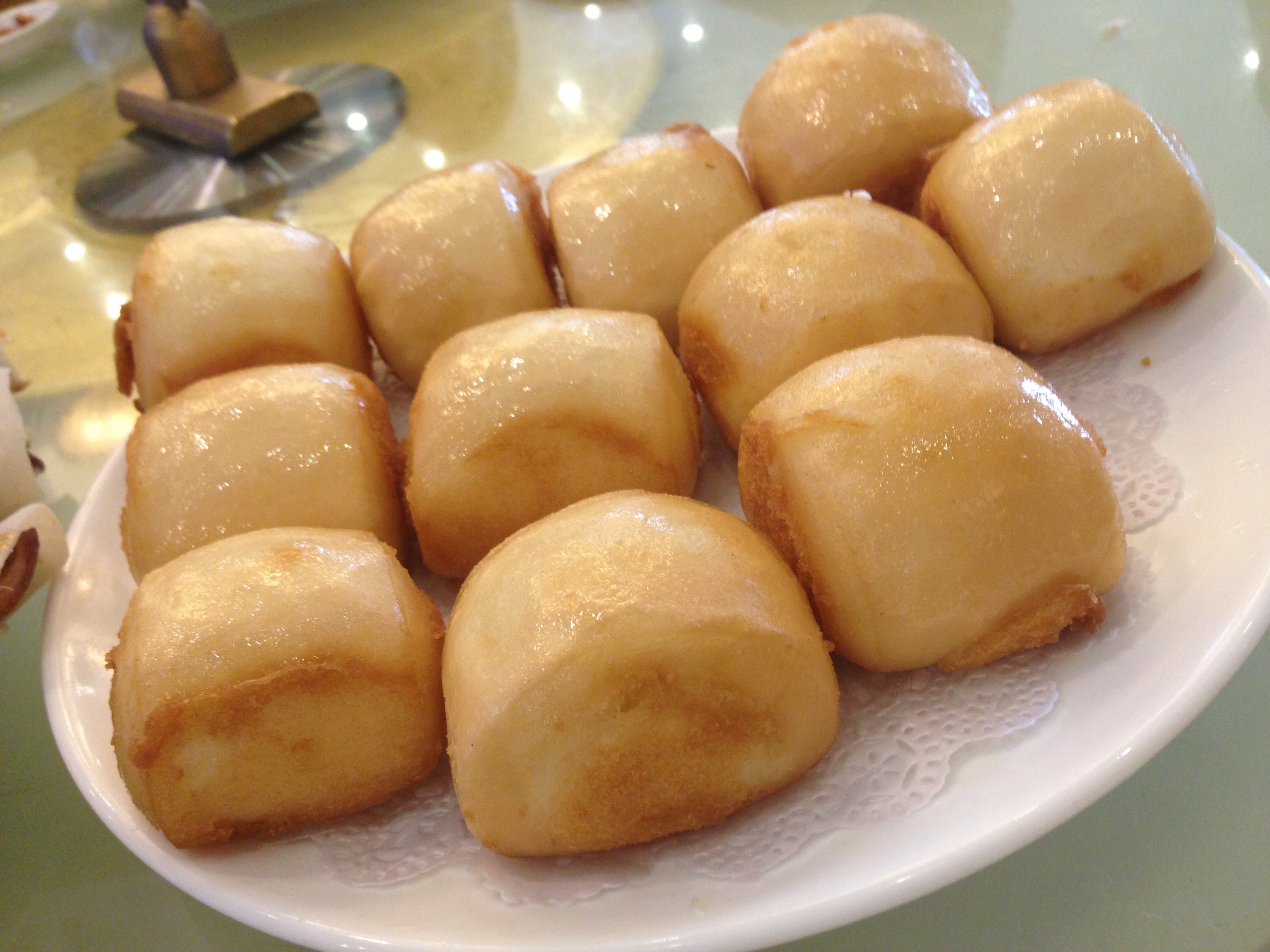 My top pick was the Peking Duck prepared in 2 Ways (Php1200) indeed in the most impressive at that.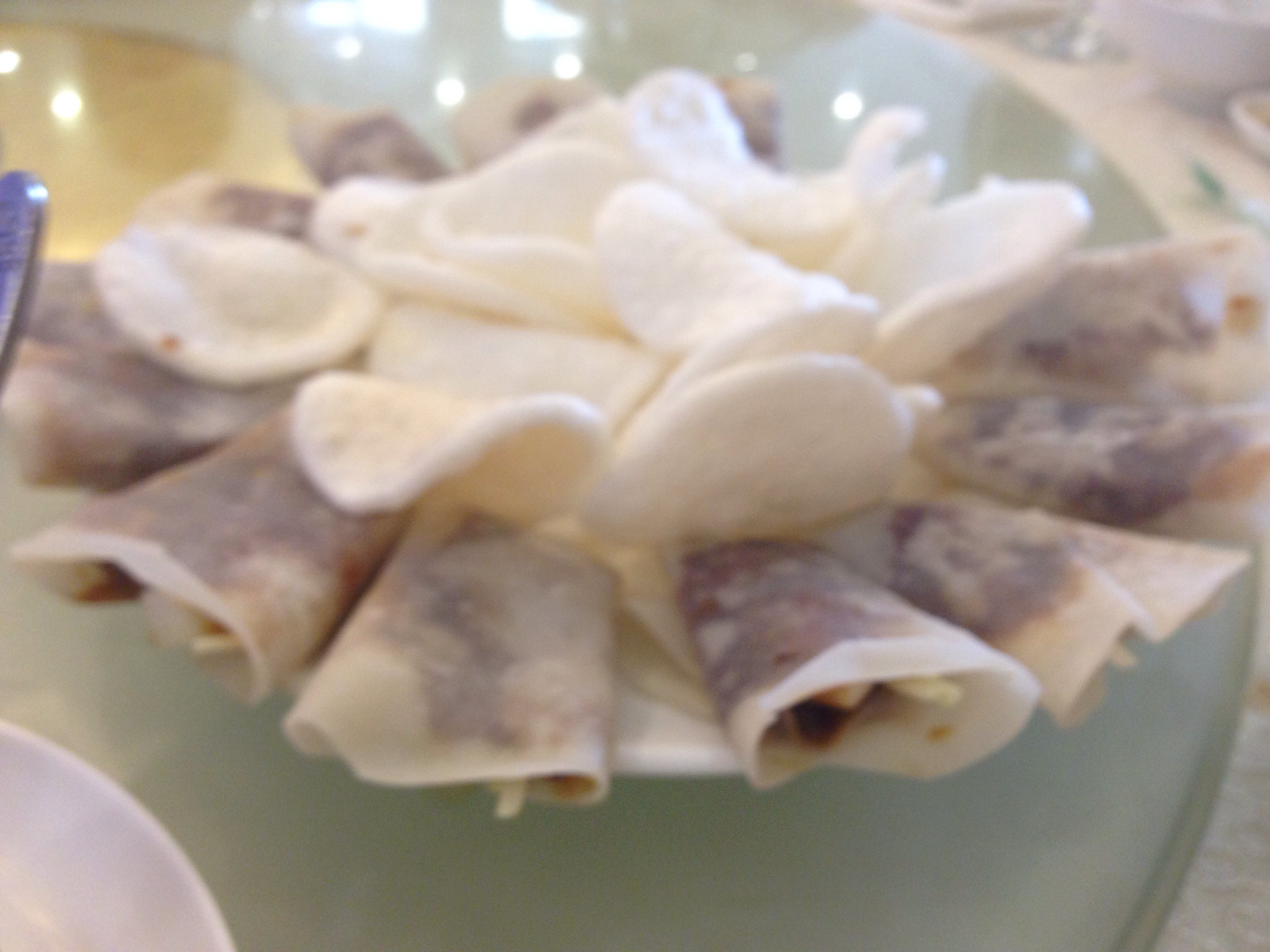 The duck skin wrap was seasoned perfectly that it melts in your mouth once you take a bite. The minced duck with lettuce on the other hand was excellent as well, I swear I could finish all of it if I weren't that shy.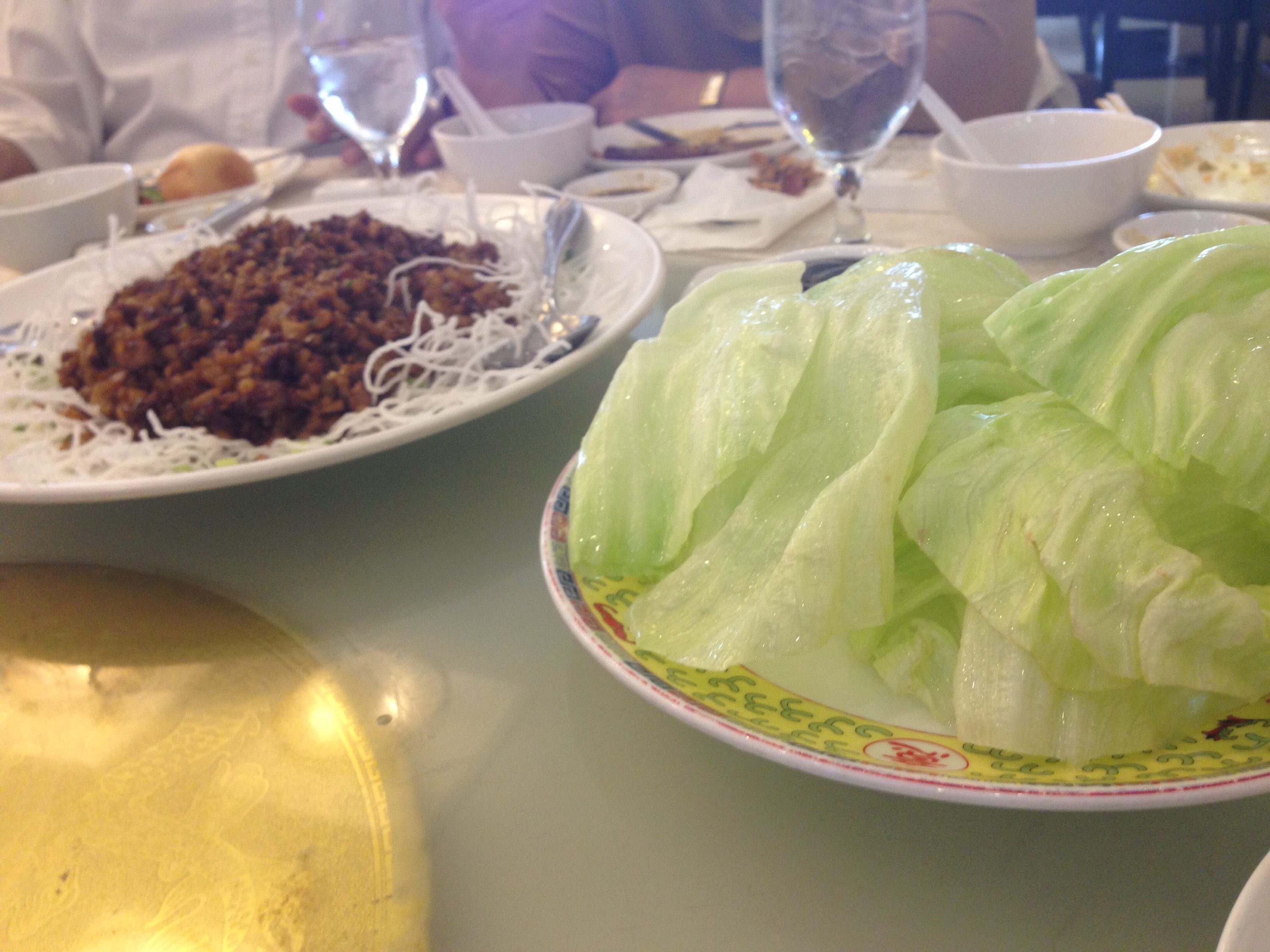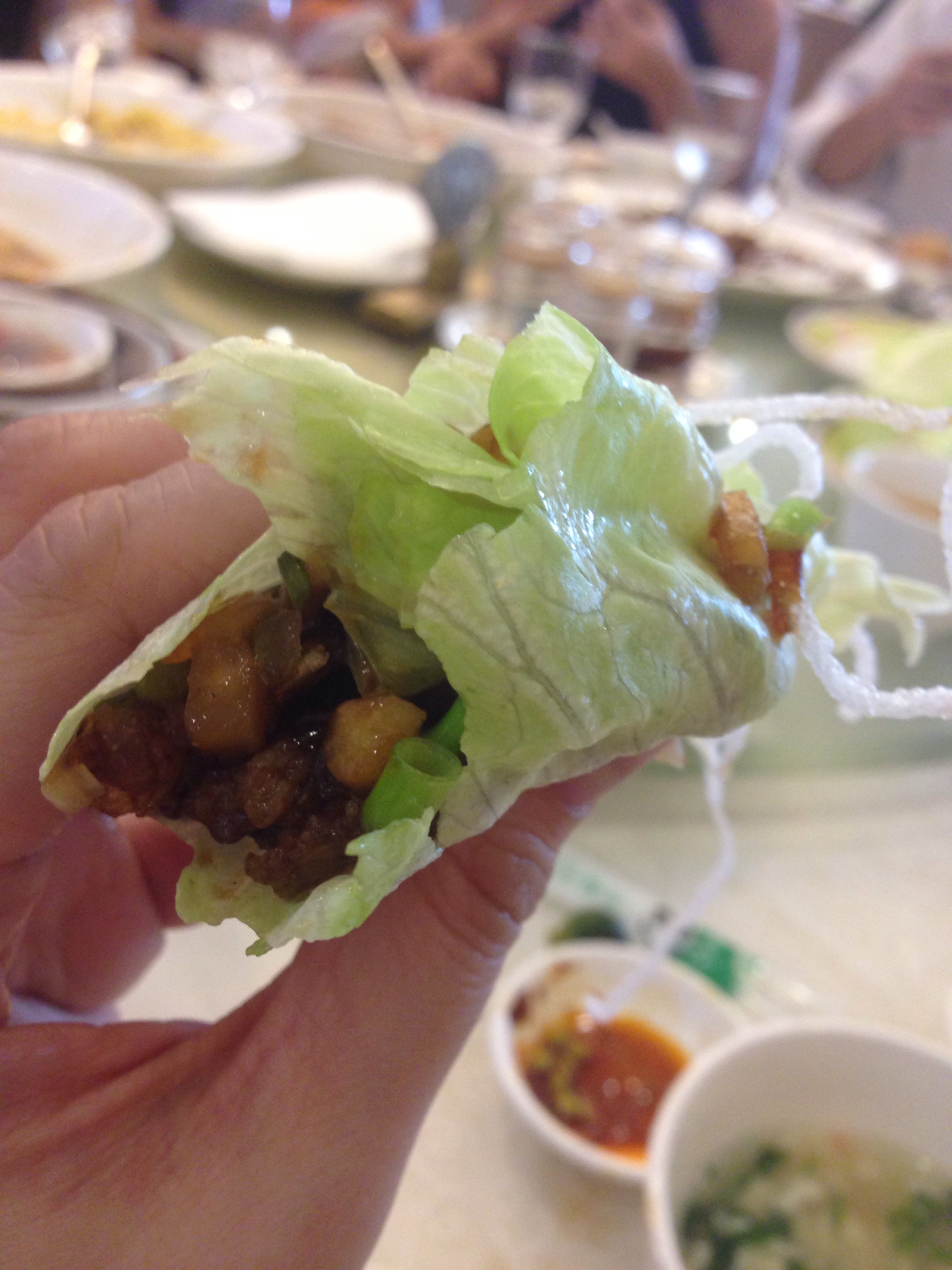 Of course we ordered a plate of Young Chow Fried Rice good for a family, and had Mango Sago for dessert.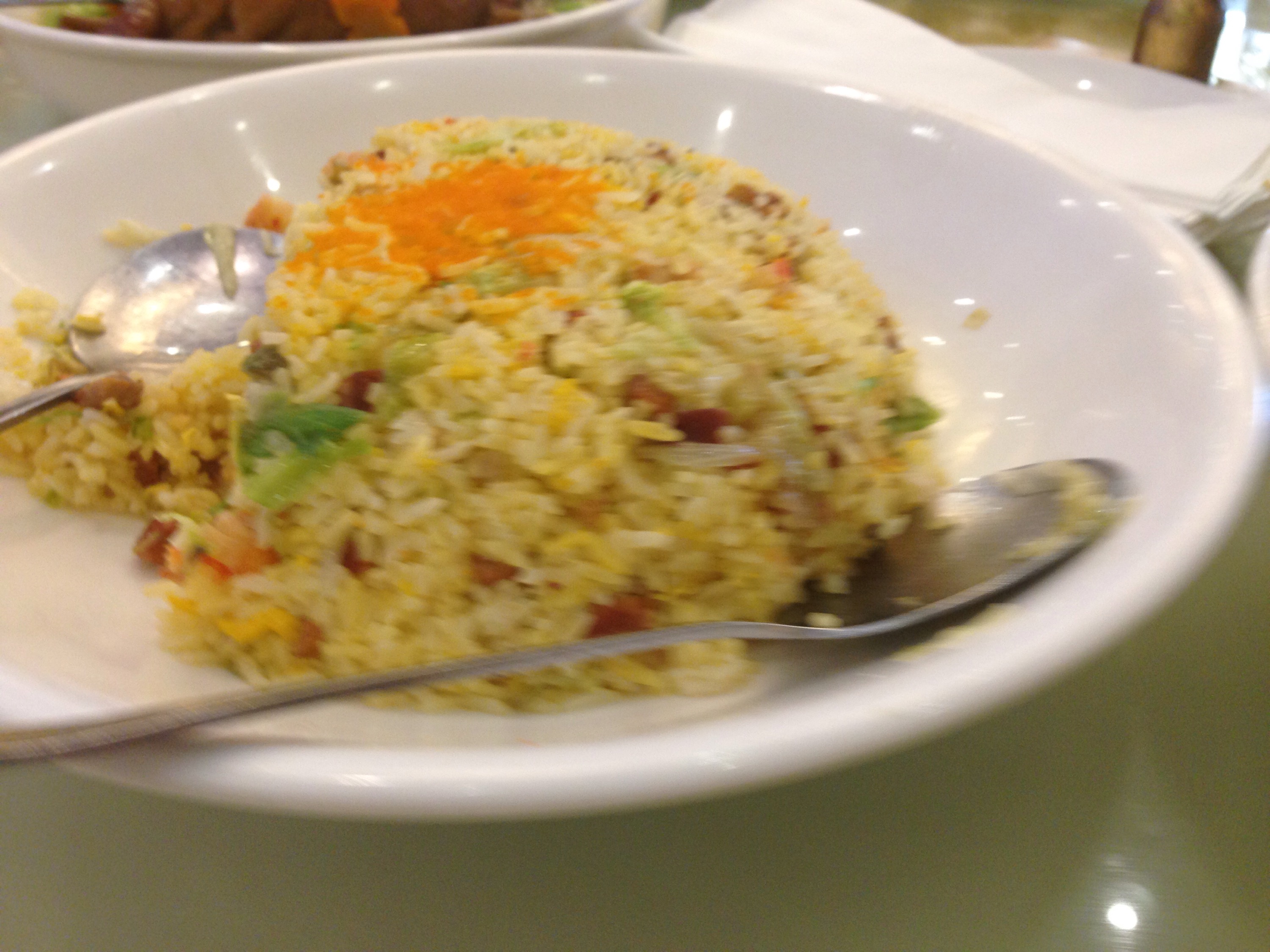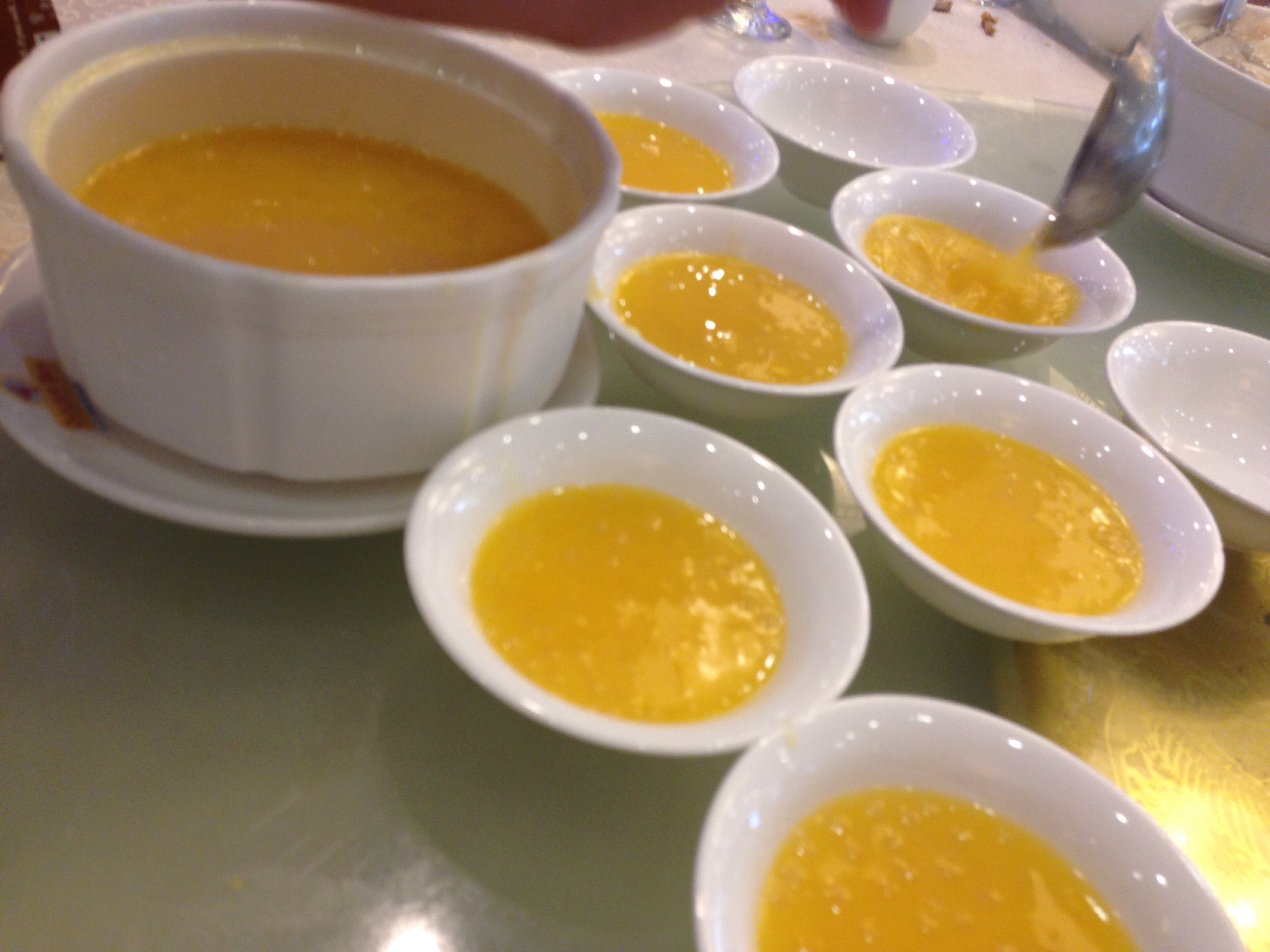 The restaurant atmosphere is great for special events, wedding receptions etc, and they even have small function rooms good for a small family gathering. The dining area was really large it even has a second floor almost as big as a ballroom. It's not somewhere I would go regularly but I would definitely go back again.


Cafe Via Mare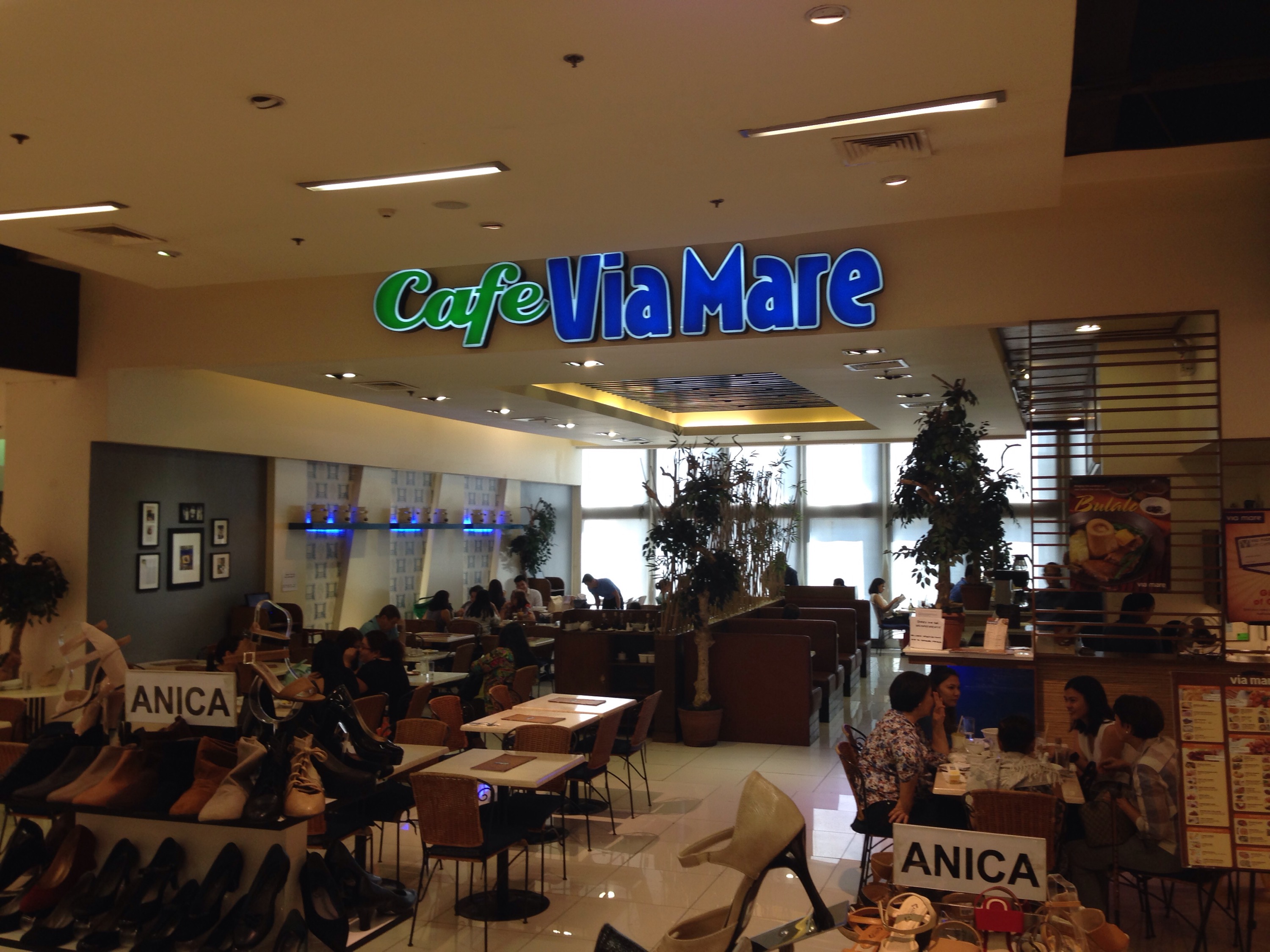 Great food and even better service! The place is located at the second level of Landmark Department store, and it's been there now for fifteen (15) long years. It's a one stop resto for the hungry shoppers of Landmark.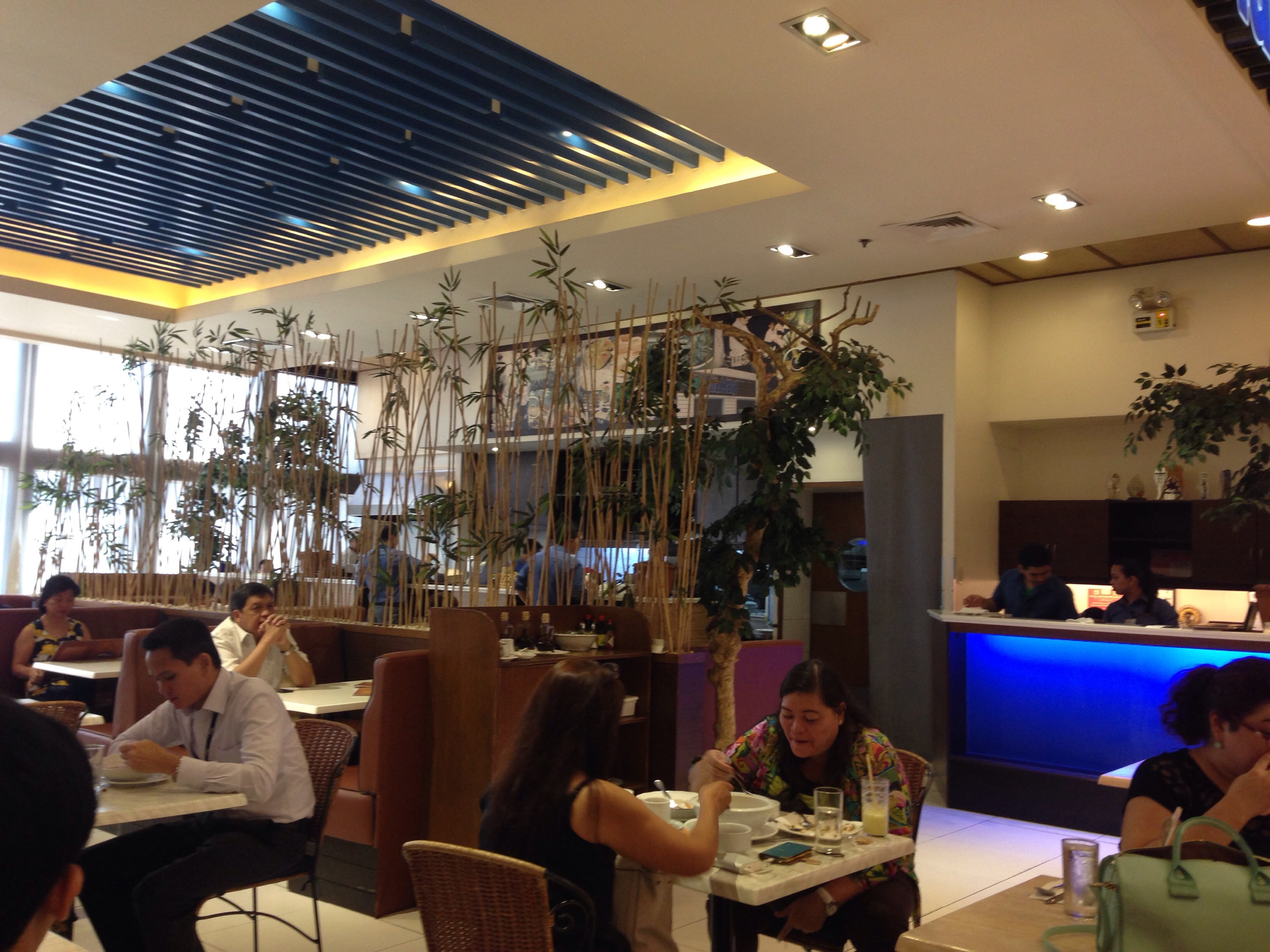 For our main meal we ordered a Pinoy favorite- Mongo soup (Php190) complete with ampalaya and those bits of crunchy chicharon.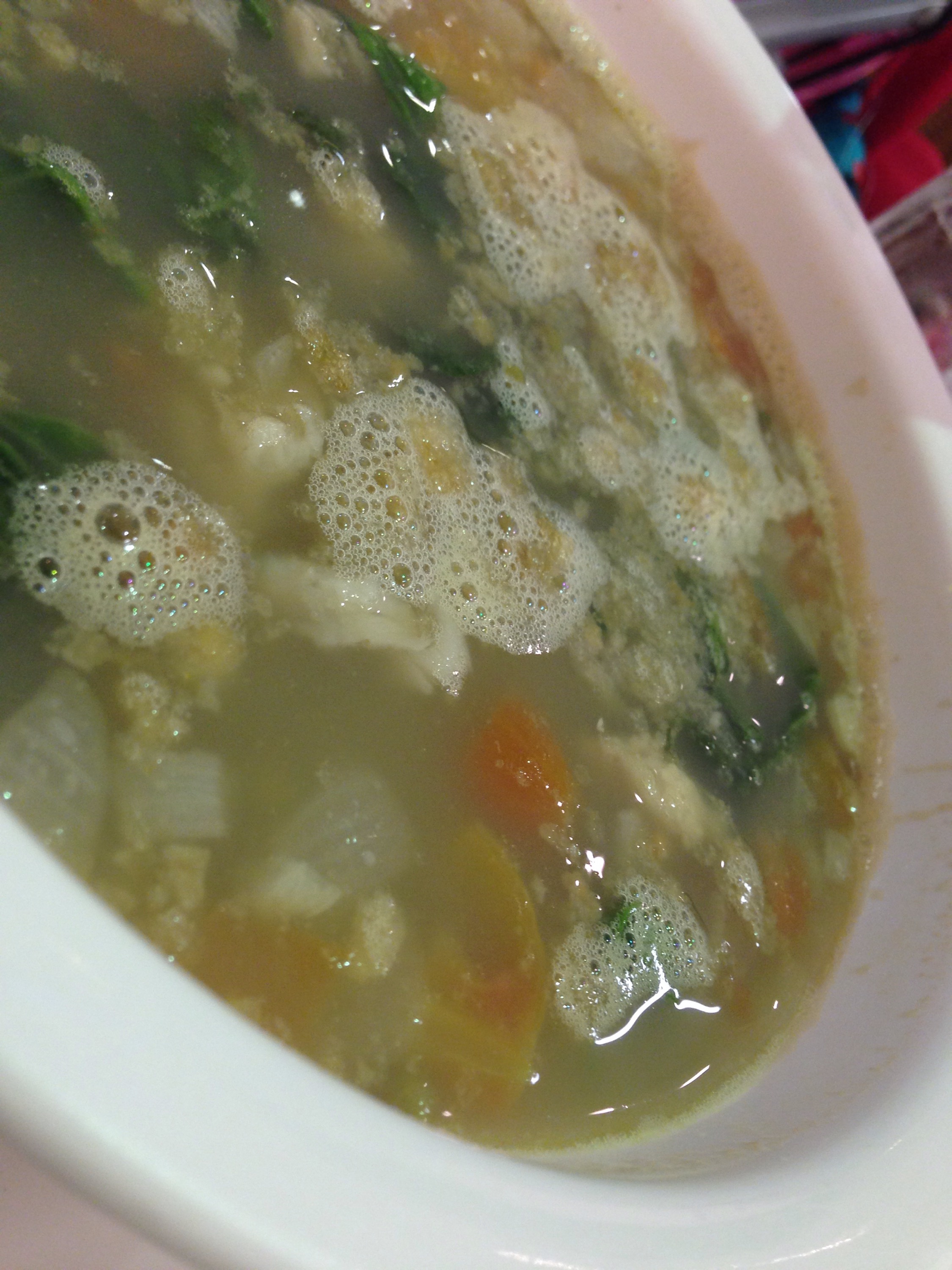 We also had the non traditional adobo deep-fried to perfection, Crispy Adobo Flakes (Php335) and we had Fresh Pineapple Juice (Php125) for our refreshing drink.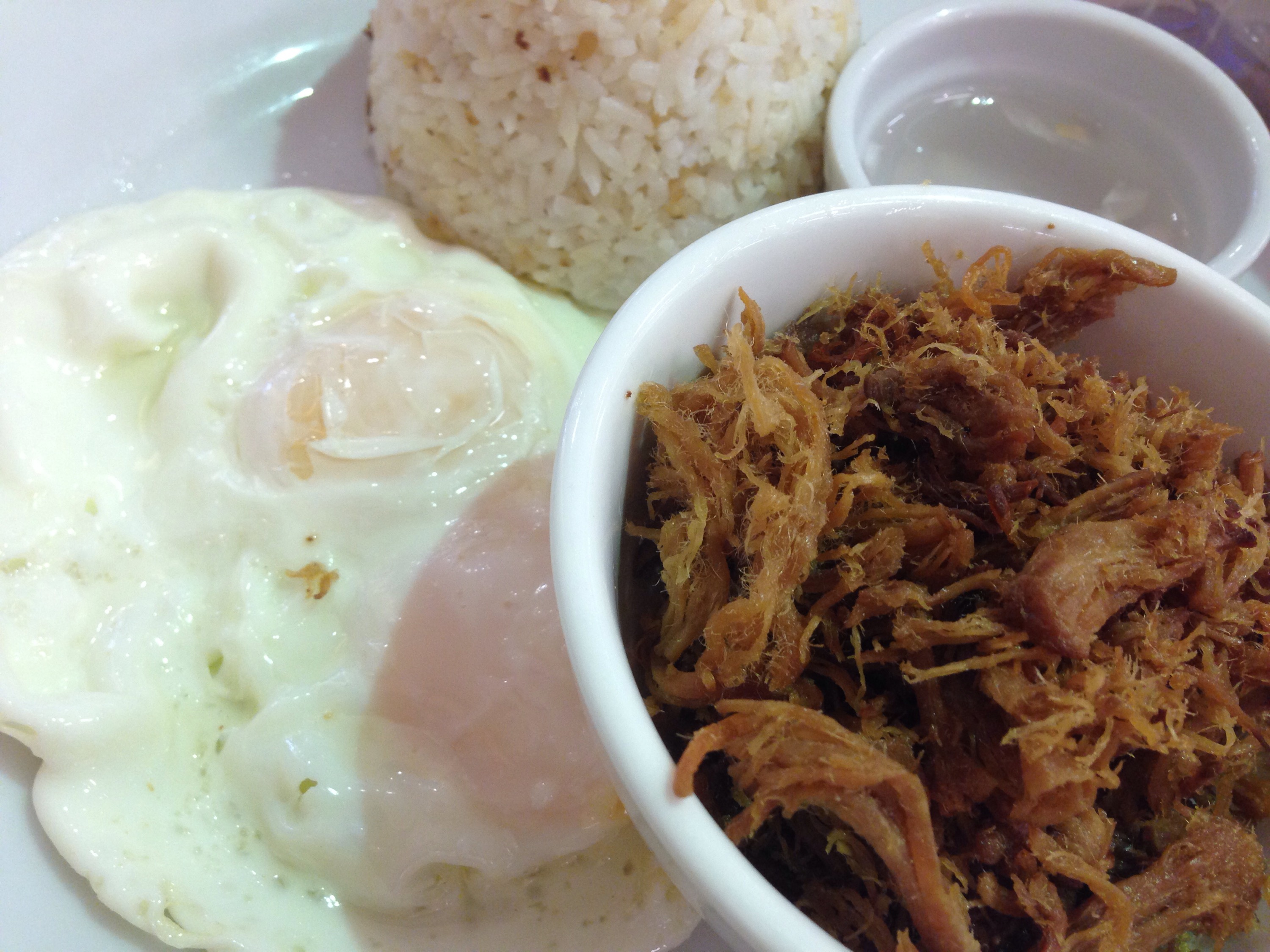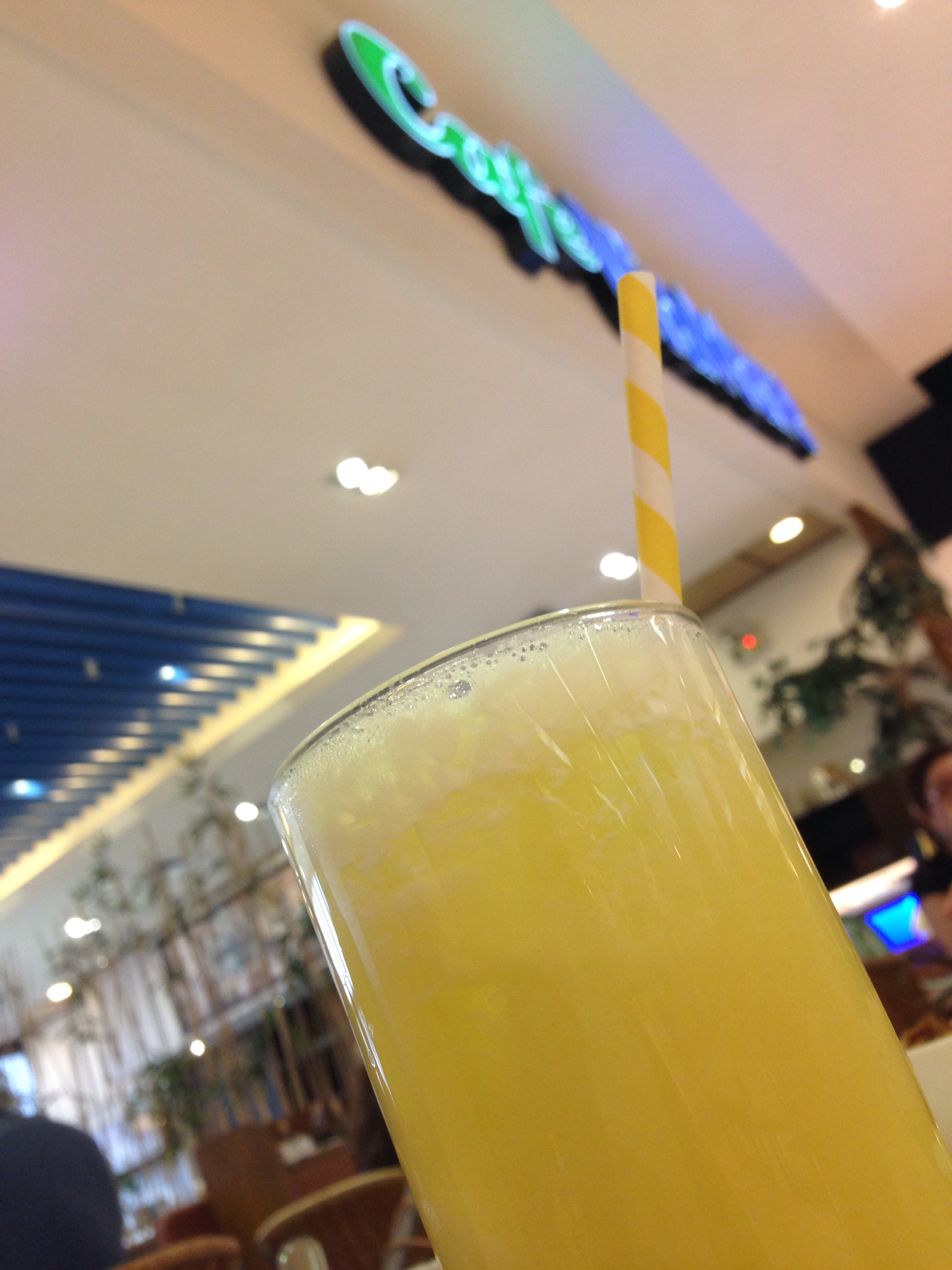 And since they serve bibingka and puto bumbong all year round not just during Christmas Season, we also ordered that. That mouth-watering taste of Bibingka (P160) characterized by the powerful flavors coming from their noticeably fresh ingredients, the galapong or rice flour, especially the salted duck egg combined with keso de bola and Laguna cheese and of course some freshly grated coconut. The texture is smooth and velvety, but very soft and fluffy inside, with a hint of butter and cream. It simply is the best bibingka I've tasted so far. Need I say, I highly recommend this for you to try.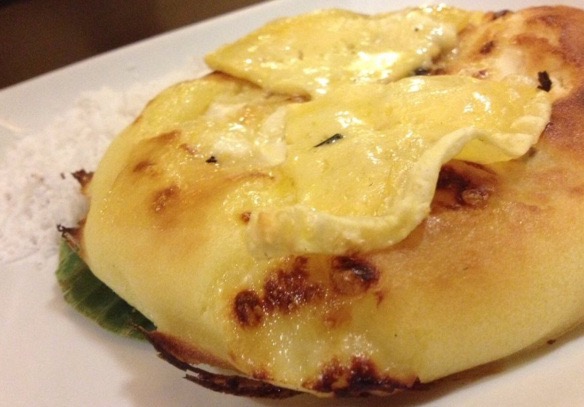 Puto Bumbong (P80) is a finger-shaped (well slightly bigger in size, maybe) purple-colored sticky rice cake.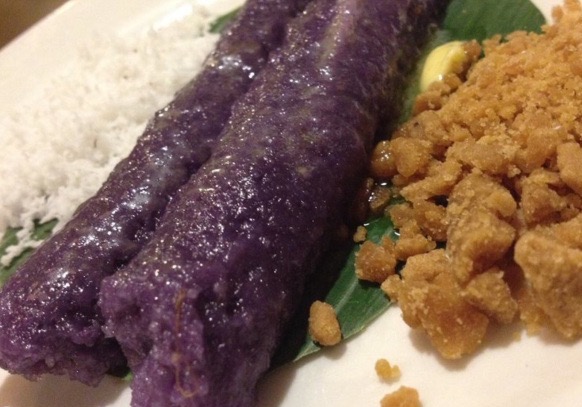 It was served to us with freshly grated coconut, muscovado sugar or panutsa, and some butter or margarine.
What I appreciate most about the bibingka and puto bumbong is that it looks picture perfect as it is served to you, what you see is what you get. Unlike other dish that only looks photogenic on the menu.
Came there hungry and left very satisfied!

The Round Table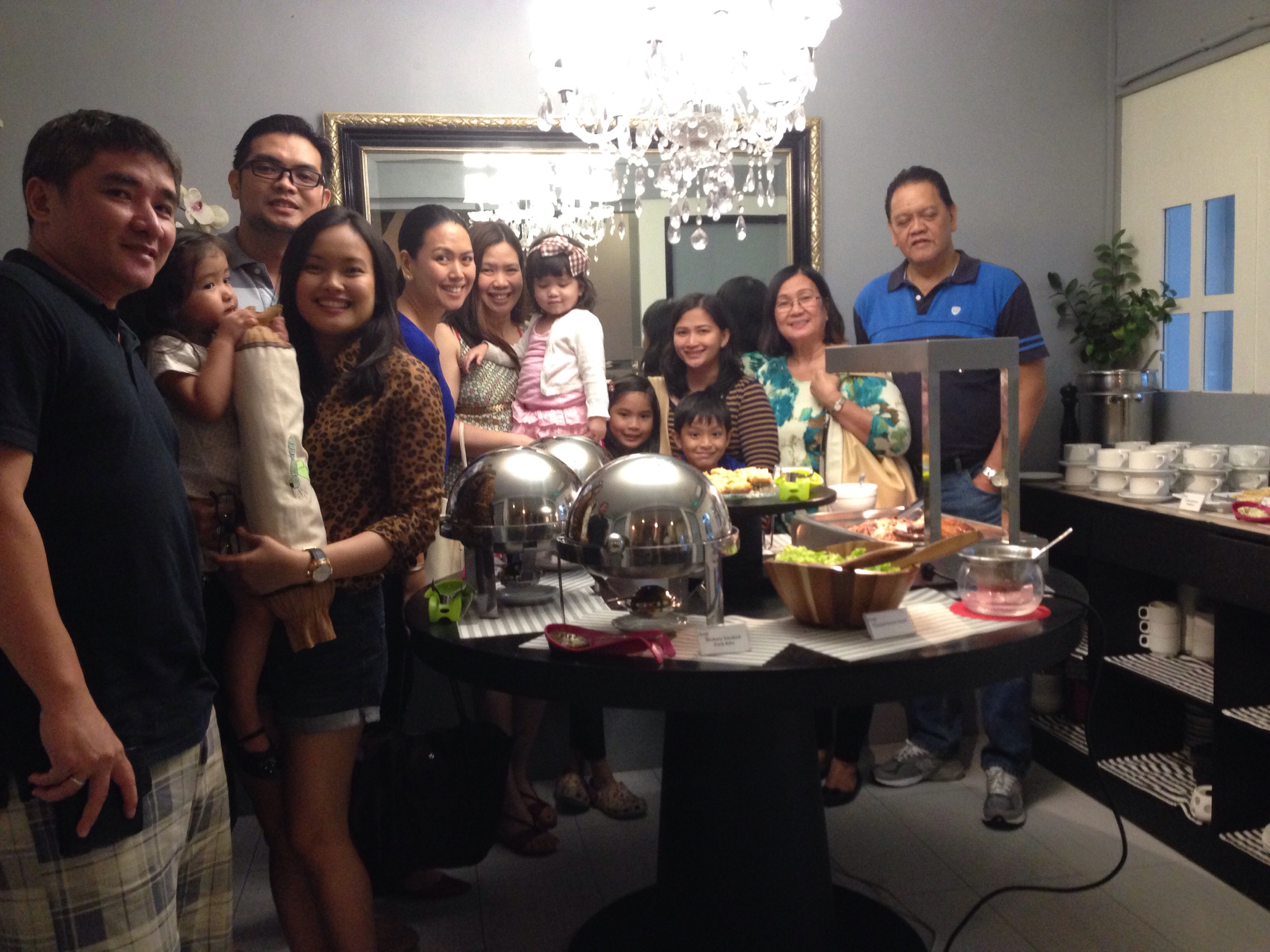 There's a place at the heart of Brgy. Kapitolyo in Pasig City that is becoming really famous… The Round Table, a very homey, cozy and conducive restaurant for people who would love to try different theme cuisines.
The Round Table maybe a little small, ideal for a small family gathering only, but this and the food-tasting concept are two exact reasons why The Round Table is a favorite among the nearby city dwellers.
The Round Table offers an all-you-can-eat tasting session of various theme cuisines that change on a daily basis. Their food options may be limited but they are delicious and very much satisfying.
They serve American cuisines on Mondays, Italian on Tuesdays, Mongolian dishes on Wednesdays, Filipino cuisine with a twist on Thusdays and Fridays are all about Roast Carvings. On weekends, they offer a combination of French, Asian and Spanish dishes.
We went there on a Friday. That gives us the opportunity to taste their Roast Carvings featuring the highlight of the meal, the Roast Beef, Roast Pork Loin and Herbed Roasted Chicken which were all so tender, juicy and flavorful. Of course there were the appetizers, potato and veggie salads, soup of the day and breads that complement the meat dish. For dessert we had the not to be missed carrot cakes with cream cheese on top.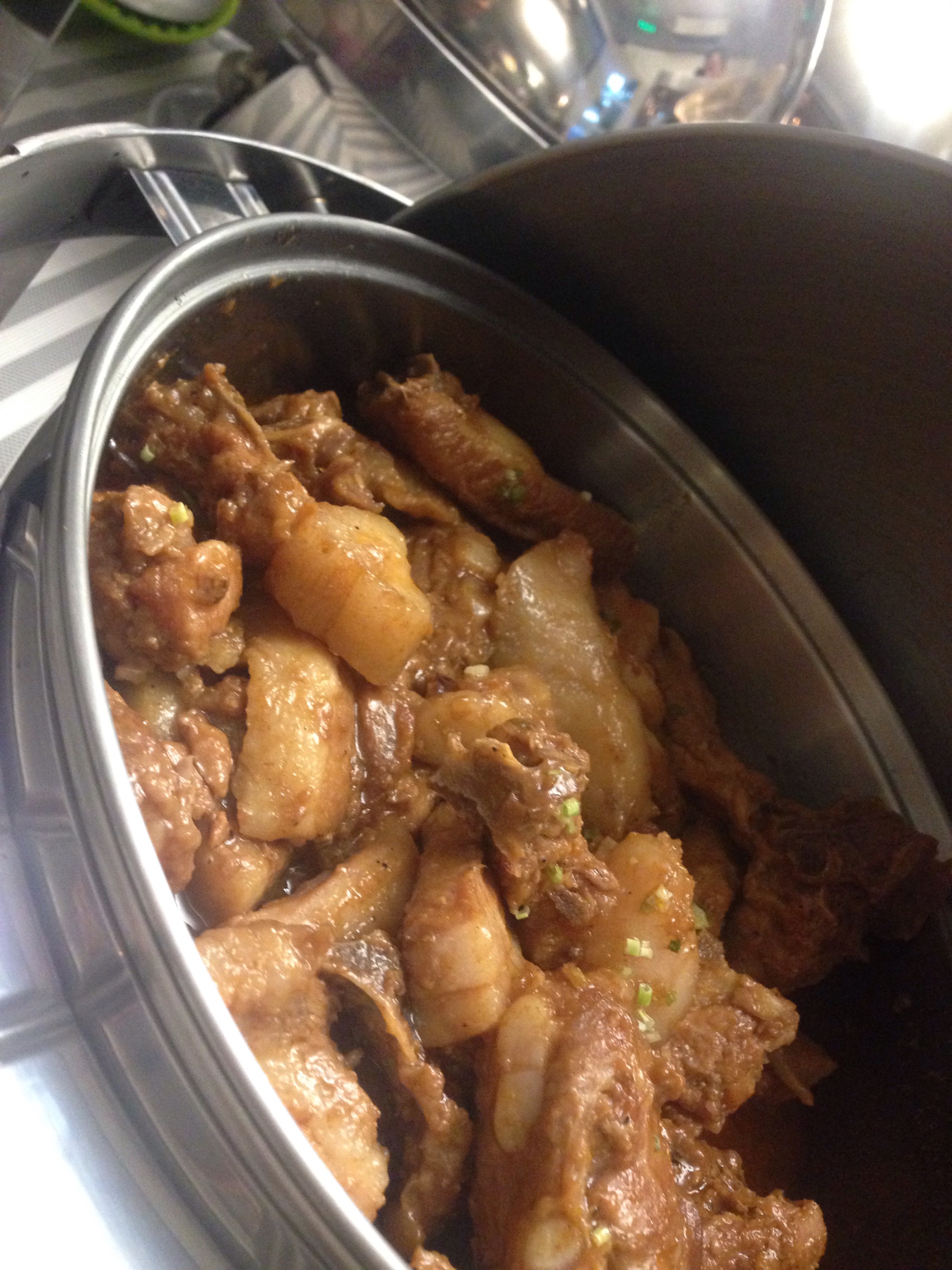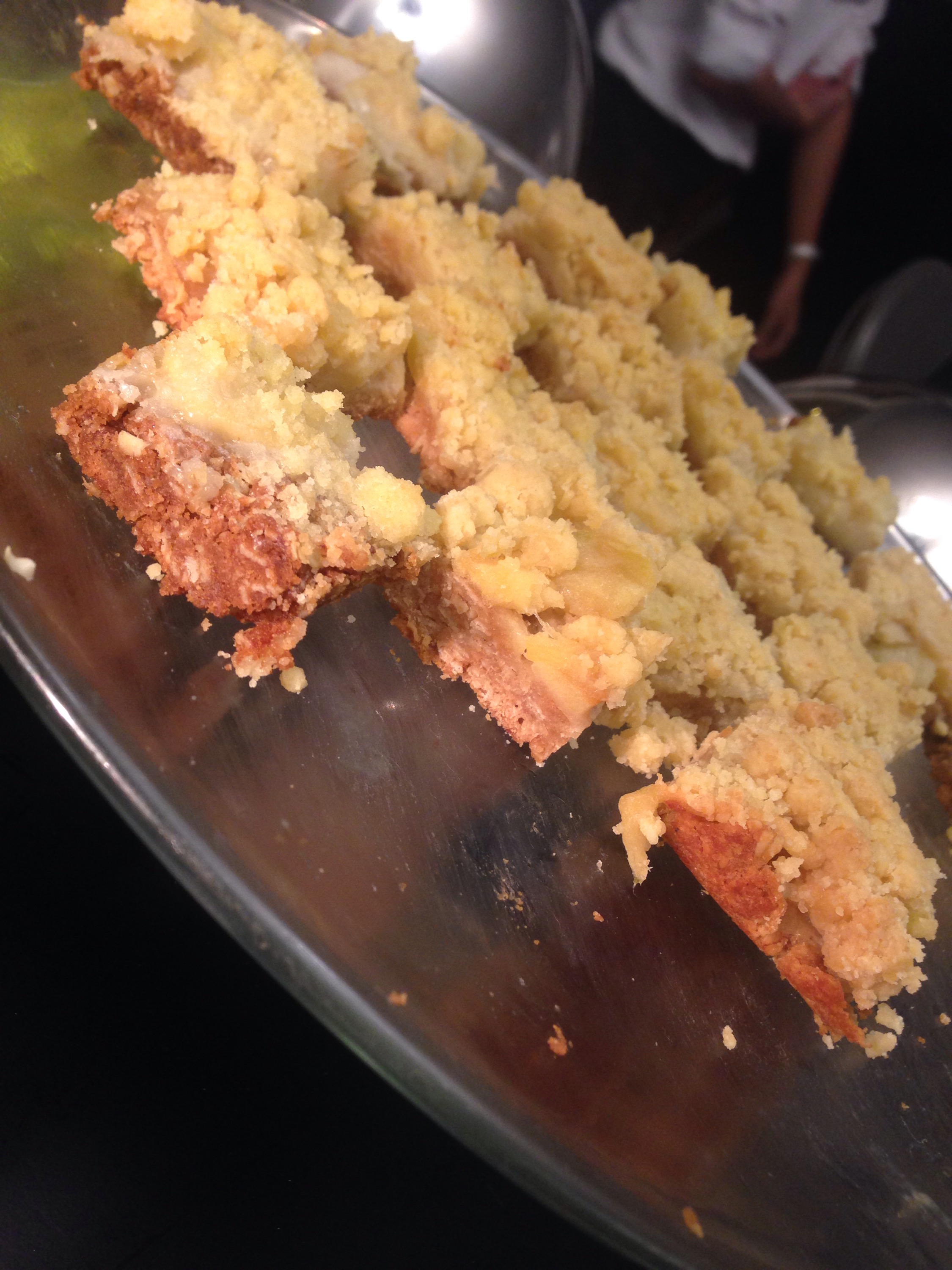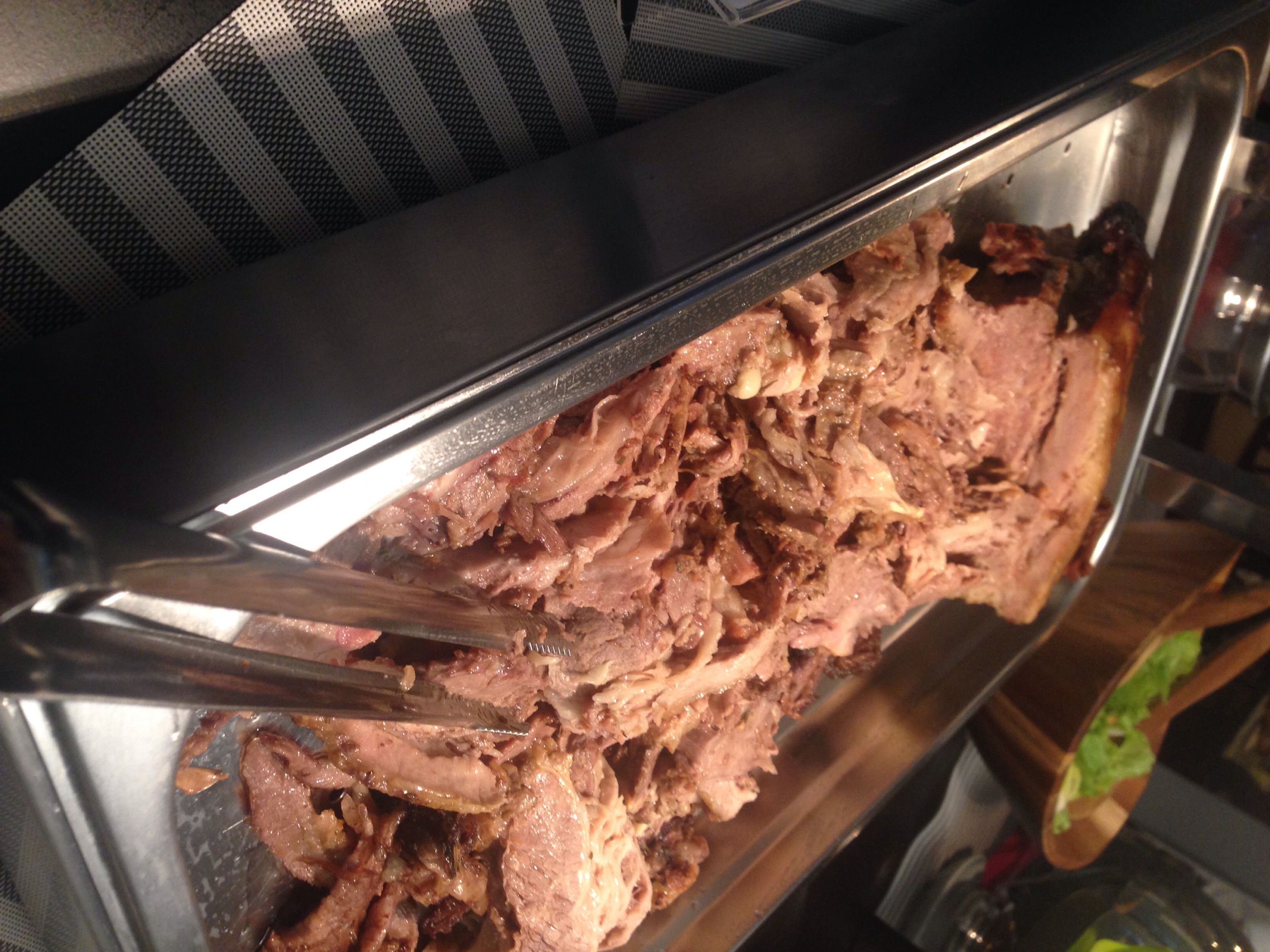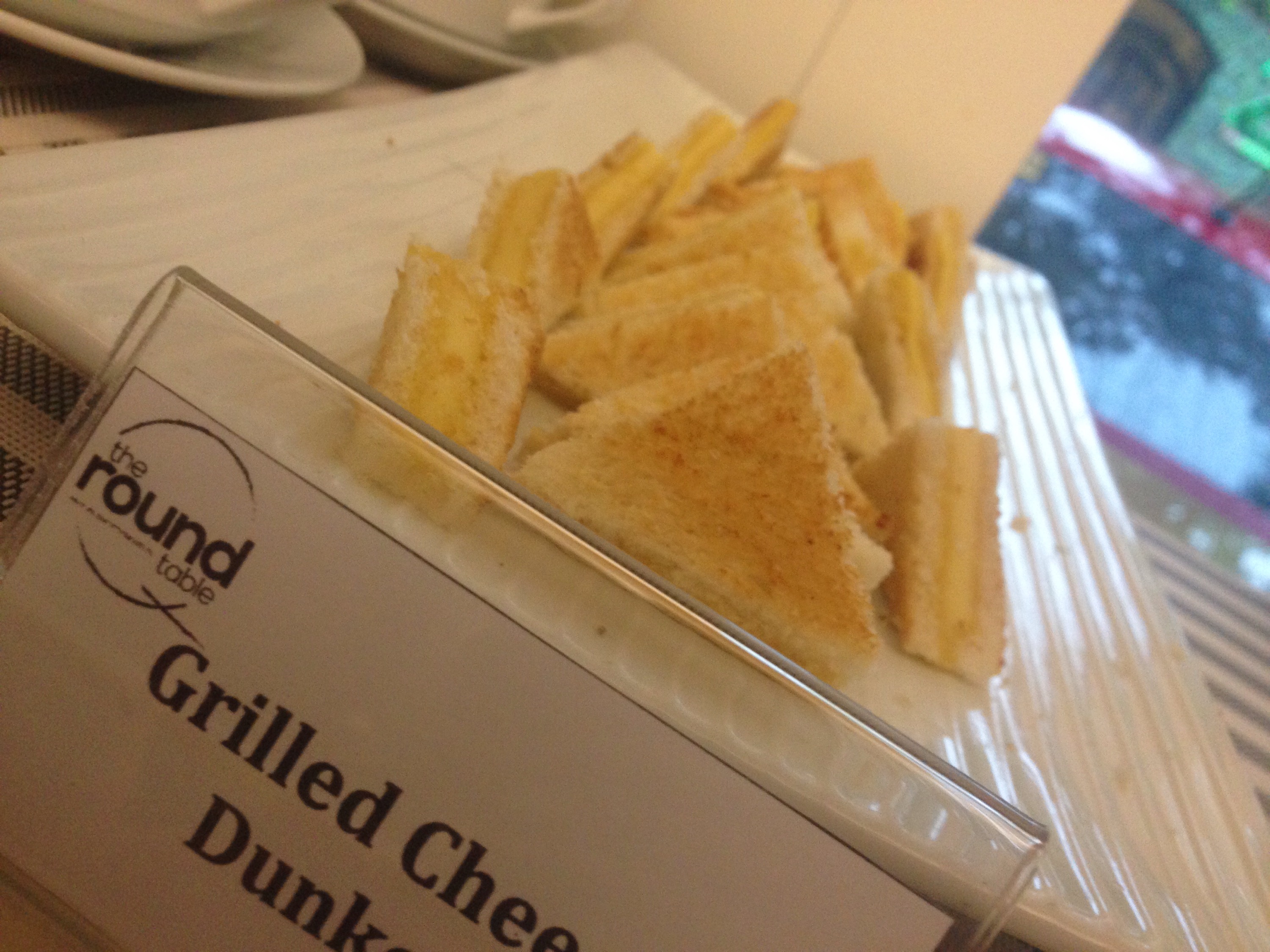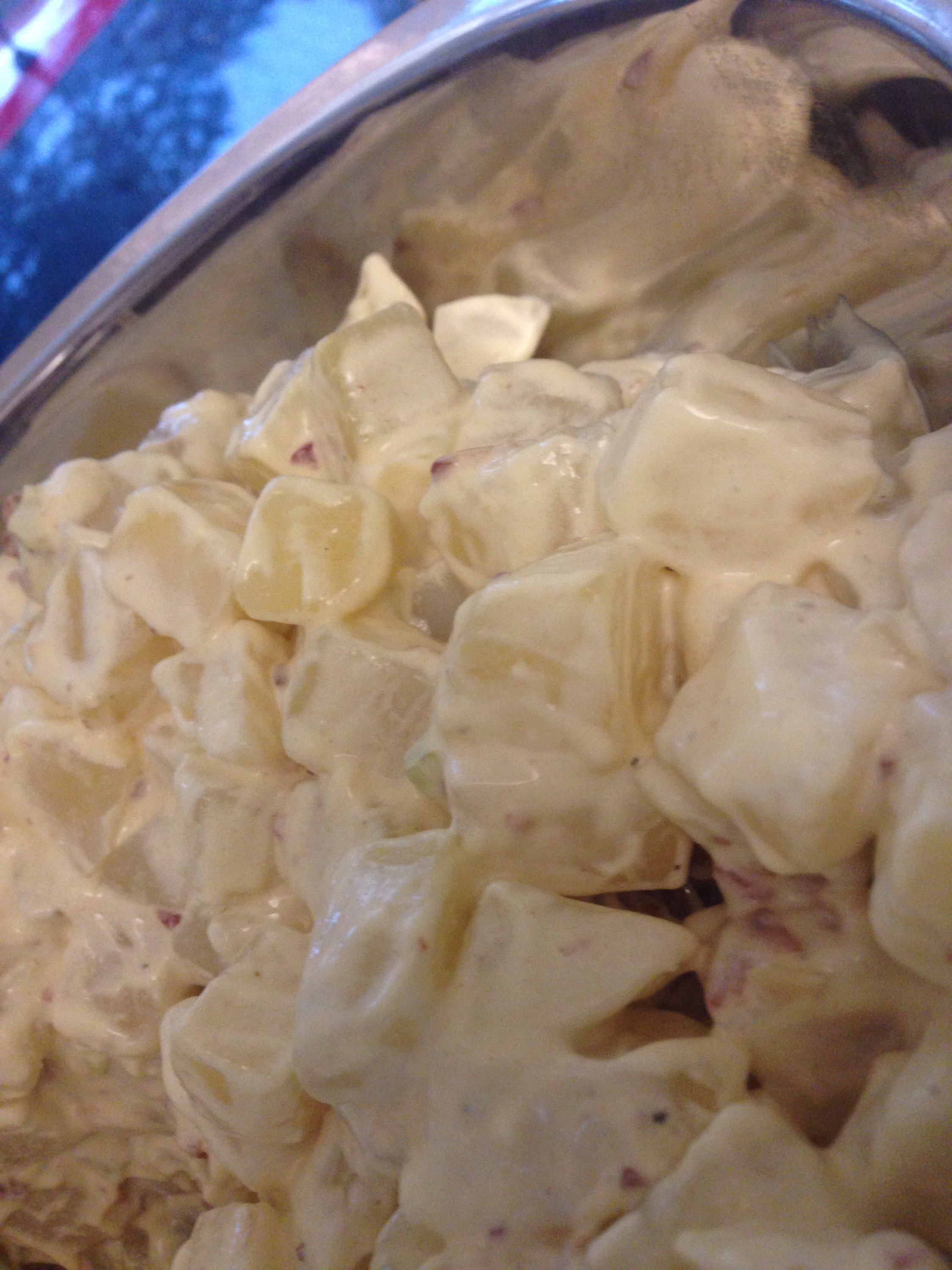 This came to me a surprise, but the best part really about this restaurant, aside from its sumptuous foods, is its price. The regular rate per person is Php295 only. I must say, the price is such a steal!
Recipes by Cafe Metro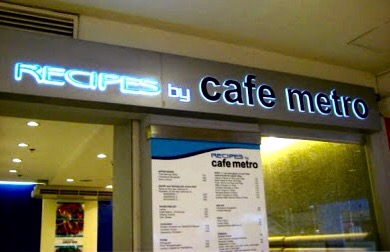 This is one of the Filipino Restos that I have frequented, for the reason that they serve my favorite staple food, I would simply eat everything on the menu.
The place is located at my favorite mall, ShangriLa Plaza Mall, in Ortigas so definitely, parking is not a problem. They're at the fifth floor. Small restaurant but very clean-looking and organized.
Food was great, as I said. The food presentation may be simple, canteen type but the quality of food is exactly everything you will crave for in Pinoy cuisines. They serve in big portions so most of it can be shared by two.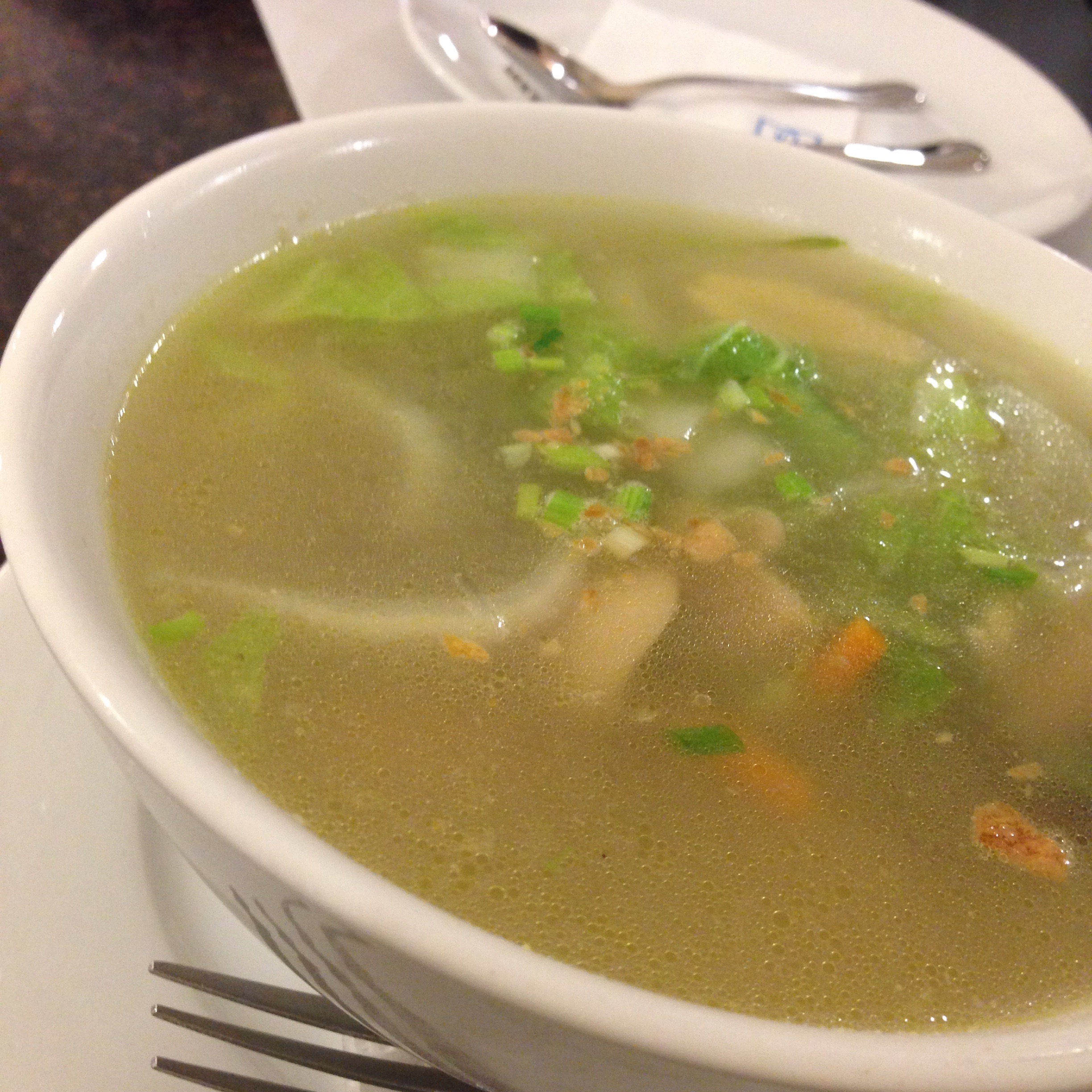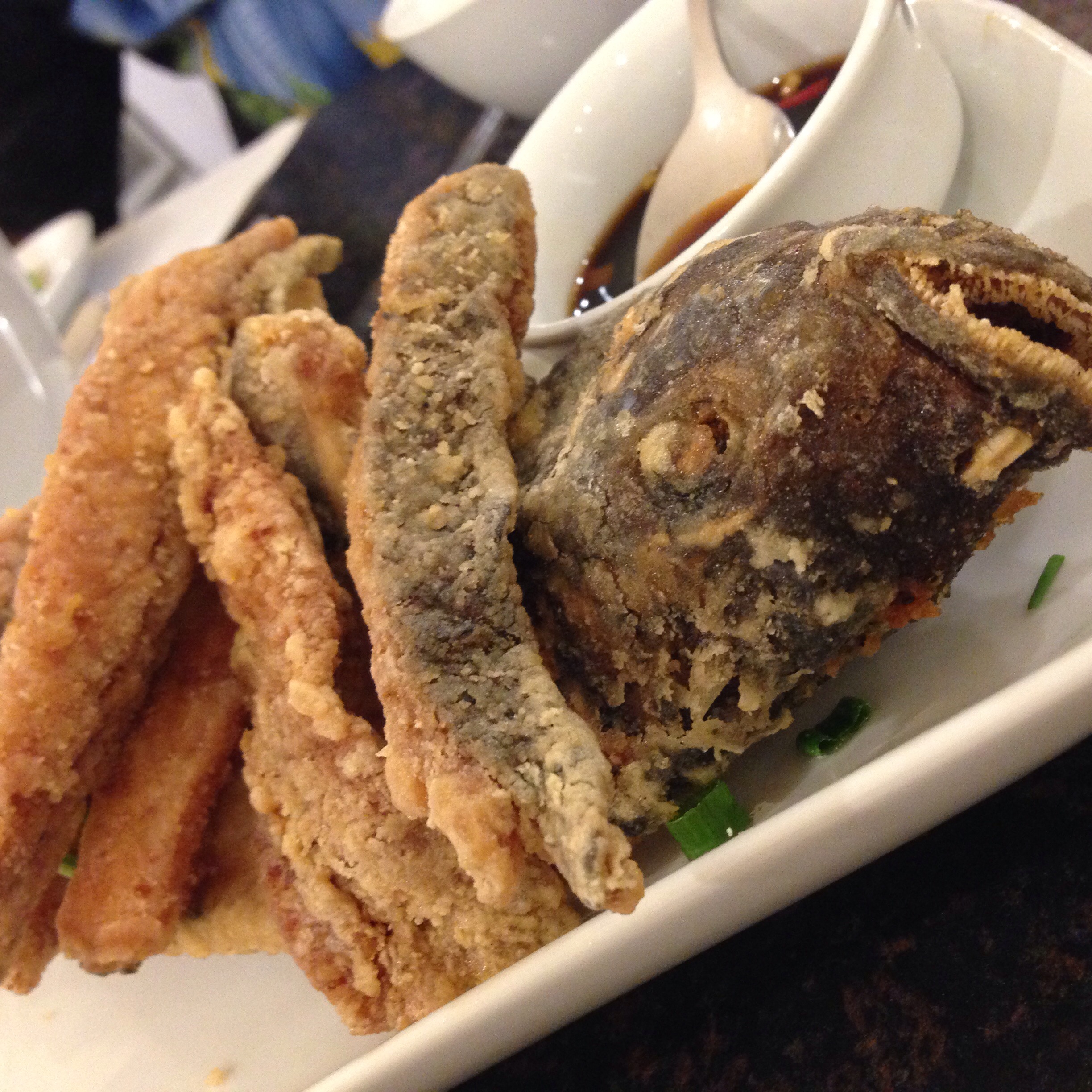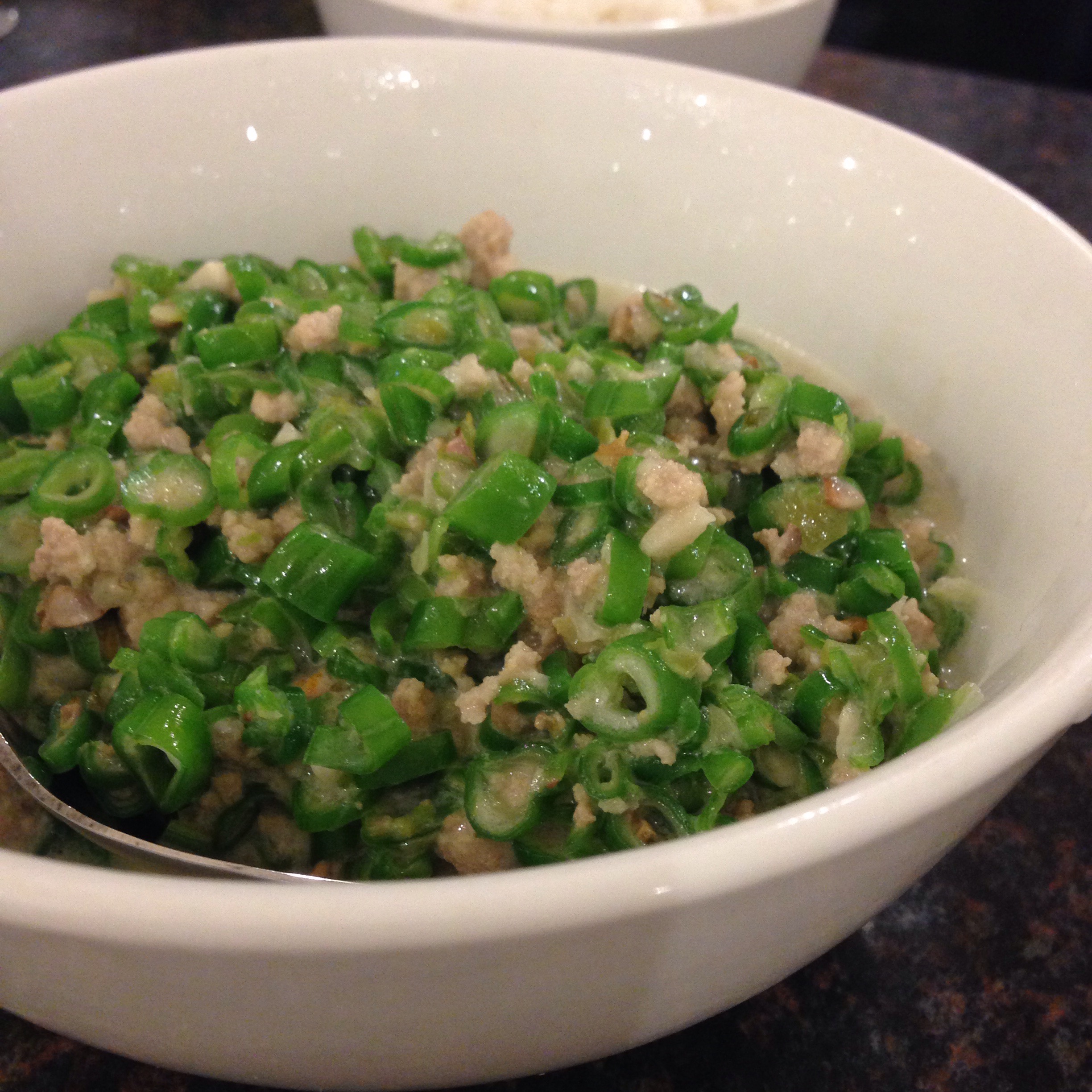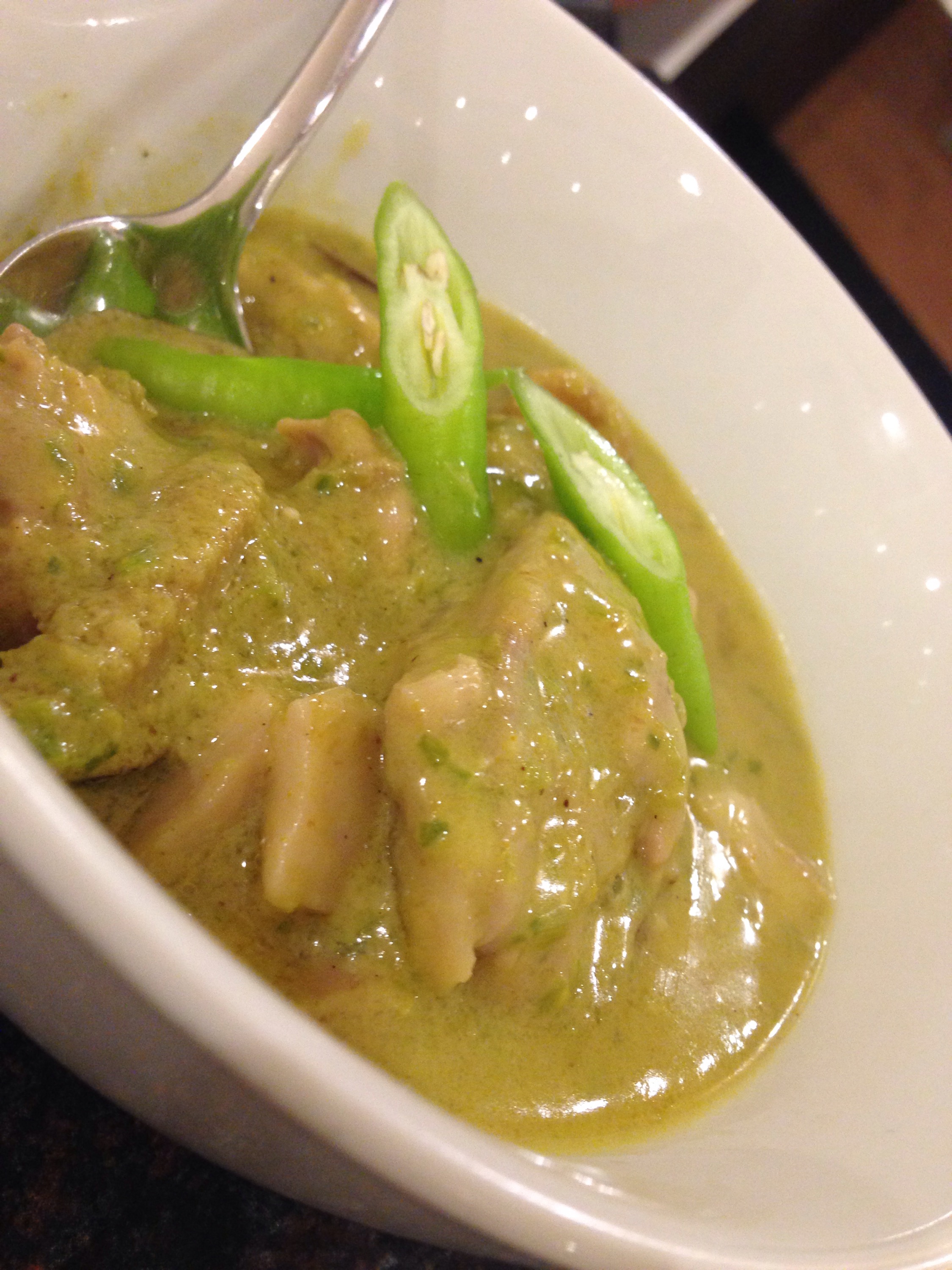 We ordered chicken sotanghon soup (Php120) my favorite Crispy Tilapia (Php225) Chicken Curry (Php 210) and another one of my favorites Gising-gising (Php185) Plain rice (Php40). The bowl of soup was good for 2-3 people, it was perfect for rainy days. The tilapia was really crunchy and superb in taste perfect match with the soup and the gising gising. The Gising-gising on the other hand, are bits of baguio beans in coconut cream with a bit spicy taste. I enjoyed the creaminess of their pinoy chicken curry So much. It was mildly spicy but very tasty.
Over all, Recipes is a great place for typical Filipino food a great one to visit. No pre-cooked food, everything is cooked upon order. I recommend this place if you are a fan of Pinoy lutong-bahay food. I am definitely going back to try their other food offerings.
Gino's Brick Oven Pizza
Another highly recommended pizza place in the Metro is Gino's Brick Oven Pizza branch at The Podium in Ortigas Center.
It's simply one of the BEST that I've tried- taste wise, food preparation, plating, and price wise.
For starter we had Burrata cheese (Php295) served with bread and arugula. The plating was "Instagram material" you could not help but take a few shots first before eating.
For our pasta dish, we tried their version of Carbonara (P285), it was okay. A succulent combination of the usual ingredients: Fettuccine, cream, egg, bacon and Parmigiano, and it goes with three pieces of breads (Php15) as well.
SMEGG (Php420) was my favorite among the pizzas that we ordered. It's made of eggs, Gouda, sausage, Shitake mushrooms and cream. Even my daughter enjoyed it.
I have been making homemade pizzas and have tried every ingredient I could ever think of as pizza topping, but never have I really tried eggs. Never thought it would give a perfect twist to an already exciting mix of toppings on a brick oven-baked pizza.
Both pizzas that we ordered were superb by the way. I am a sucker for Four Cheese (P340) as well. The cornmeal-sprinkled crust is perfectly soft & chewy, and well, the four stars of the topping- mozzarella, ricotta, blue cheese and parmesan with tomato sauce and herbs did their part in making the combo just as excellent as the rest in Gino's entree!


Another thing that I love about Gino's is that they don't charge corkage. My sister brought a homemade cake for the birthday celebrant and it was okay. The resto setting is fine and the customer service exceeded my expectation. Over all, I give Gino's Brick Oven Pizza an A+!
More of my food reviews at http://ph.openrice.com/gourmet/bookmarkrestaurant.htm?userid=474977105