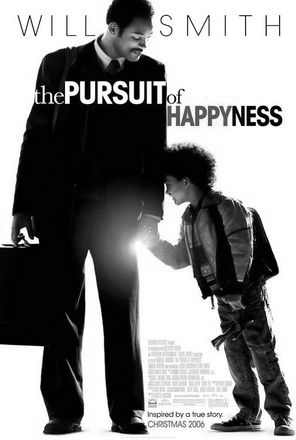 Another great, moving masterpiece starred by Will Smith: The Pursuit of Happyness is a film that would leave you crying bucket of tears, feeling as if you are actually part of it all—of the life of Mr.Chris Garner (portrayed by Smith)- a salesman's struggles and misfortunes, and eventually his triumphs. Happiness has been defined in this film as more than just a state of being- it is a goal, a finish line, a rewarding experience brought by the fact that such strong character could prevail-over all the hardship and miseries. A constant reminder that any person who dares despite all odds… has the greater probability to make it; and that at the end of the day, any penniless salesman with such will-power, dignity, integrity, courage and hope could really stand out and win over the mediocre.

What really touched my heart throughout the film was the strong manifestation of Mr. Gardner's values: despite him experiencing real life's battles—looking desperately for a place to live, finding food for his son and himself to eat or simply getting them both through the day. Not only for the viewers, but also for the salesmen who could in some ways relate, one would find the film very hard to watch for one reason: You can't help but feel terrible for both Mr. Gardner and his son. His son being in a way punished by having to rush through streets and subways to get around. But you can't help but also feel sympathy for Gardner, providing for his son and himself day-by-day, never letting sorrows fill their shabby souls. Despite a life of adversity and emotional scarring, he teaches his son some of the greatest lessons of his life, which he hopes his son would follow. In spite of where he came from and how hard life's challenges is, he could attain whatever goals he set for himself… He stressed this out over and over "If you want it, get it and never ever let anyone tell you, you can't do something, period."

The Pursuit of Happyness for me is by far the most appropriate title for such an inspirational story. I could not help but sympathize with how Mr. Gardner meant happiness as something difficult to achieve. How critical the fulfillment of those basic rights, including the "pursuit of happiness" or in this case "basic necessities" had been to their lives. Happyness spelled with a 'y' is a kid's point of view of anything that is but superficial, less complicated, and genuine. Happiness is manifested by a priceless smile and sometimes even with teary eyes—which were evidently demonstrated by Mr. Gardner at the last part of the film. Happyness is not a state of perfect joy… rather a simple act of being fulfilled. The father and son tandem have been capable of holding together and giving magic to even the most difficult moments. That is perfectly the pursuit of happyness.

With such strikingly beautiful and original story, very touching and often breathtaking performances by Will Smith and his real life son Chris Smith, virtually no weaknesses to speak of, for me, this movie very much deserves the highest rating any movie critic could give.