Making a homemade pizza from a home-prepared dough is just as quick and easy as making your homemade pandesal. It only takes a few minutes to the prep time to add your fave toppings to your dough.
For the dough, you need these basic ingredients:
2 cups warm water
2 tsps active dry yeast
1/3 cup white sugar
1/4 cup vegetable oil
1 1/2 tsp salt
Bread crumbs
To make the dough:
Add the yeast and a teaspoon of white sugar in the warm water. Let it stand until foamy, about 10 minutes.
In a large bowl combine the rest of the sugar with the oil (you may use canola, corn oil, olive oil, or any vegetable oil at that) mix until smooth. Add the salt, a cup of flour, and the yeast mixture. Add the remaining flours and knead until smooth and elastic.
Lightly oil a large bowl and put the kneaded dough in and cover with dump cloth or a cling wrap. Leave it in a warm dry place for atleast an hour, or until it doubles the size.
Once done, cut the dough in halves or depending on the size of pizza you like. Mine was cut in halves, and then the other half was cut in halves again to make one large and two double size stuffed crust pizza.
You may opt to toss your pizza in the air or just mold it straight on your pan.
Sprinkle bread crumbs or corn meal on your pan before molding your pizza in it. Be generous with the bread crumbs or cornmeal you spread on your pan, it will keep the crust from clinging while baking.
Stuff the crust with mozzarella or any cheese you prefer. Fold the dough inward and press against the base to hold.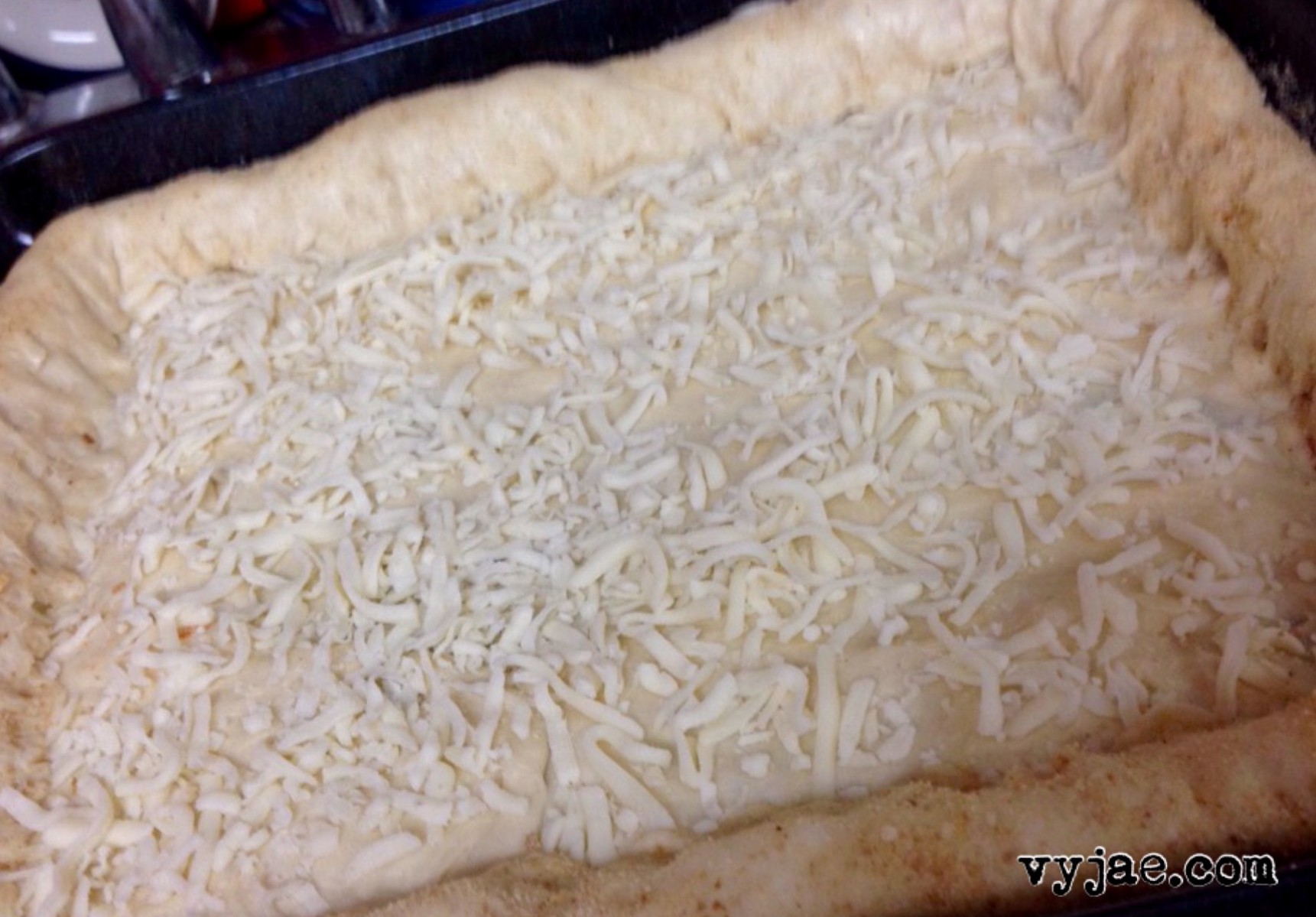 There is one basic rule in deciding on the kinds of toppings you put on your homemade pizza… As for me, choose only the ones you love!
If you are a veggie lover like I am, ingredients such as onions, green Italian pepper, pineapples, and basil are a must, note that they cook quickly in the oven.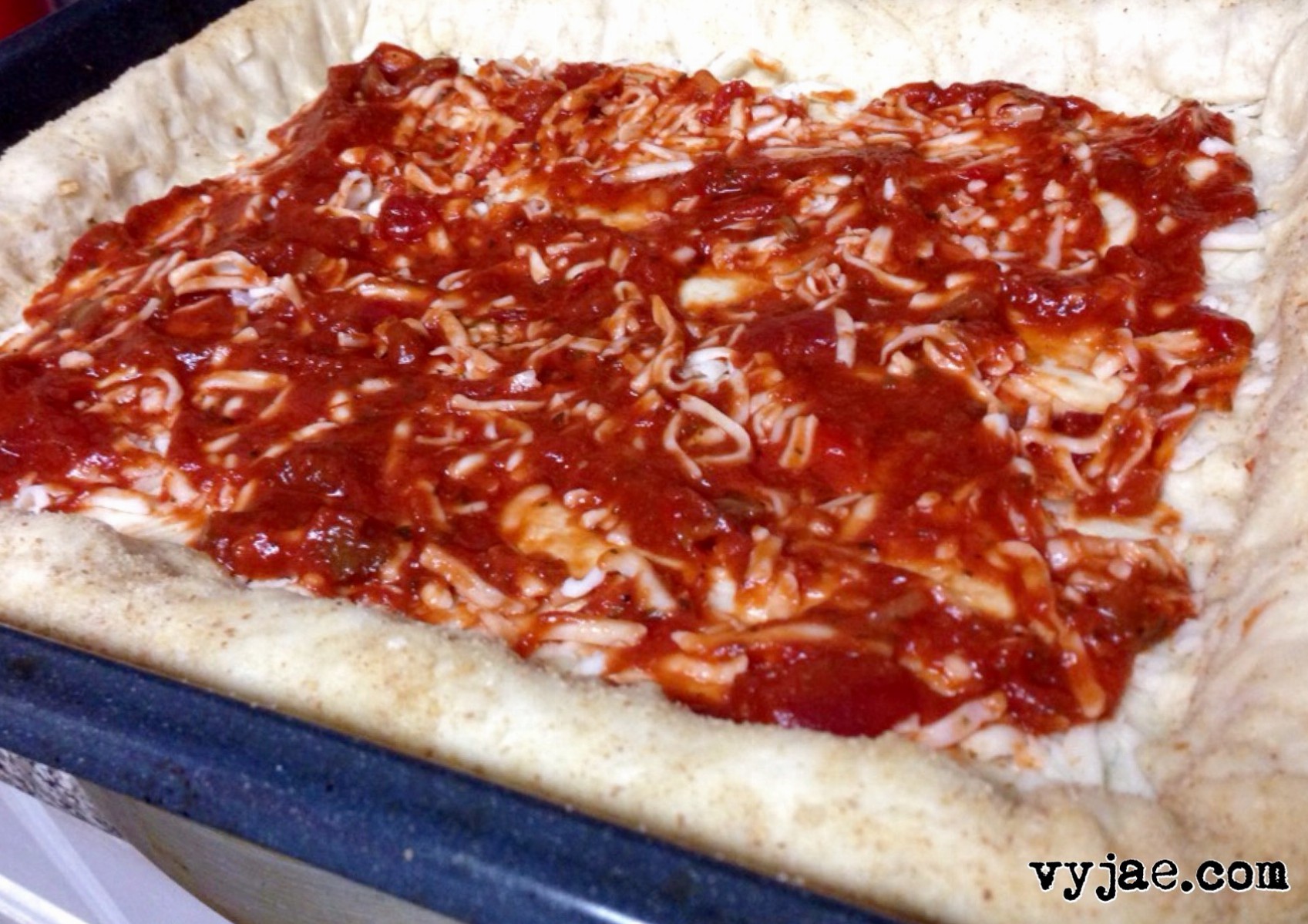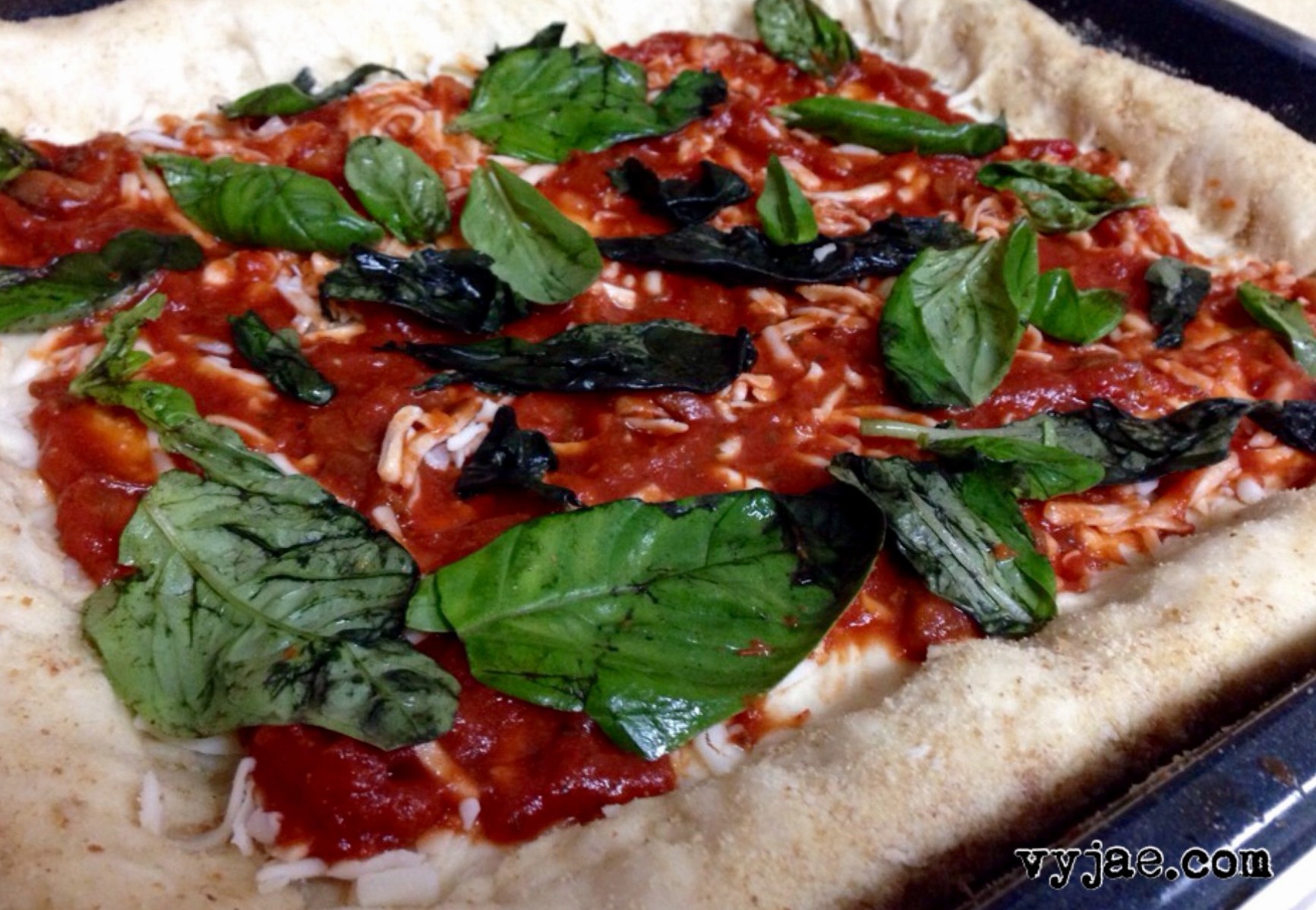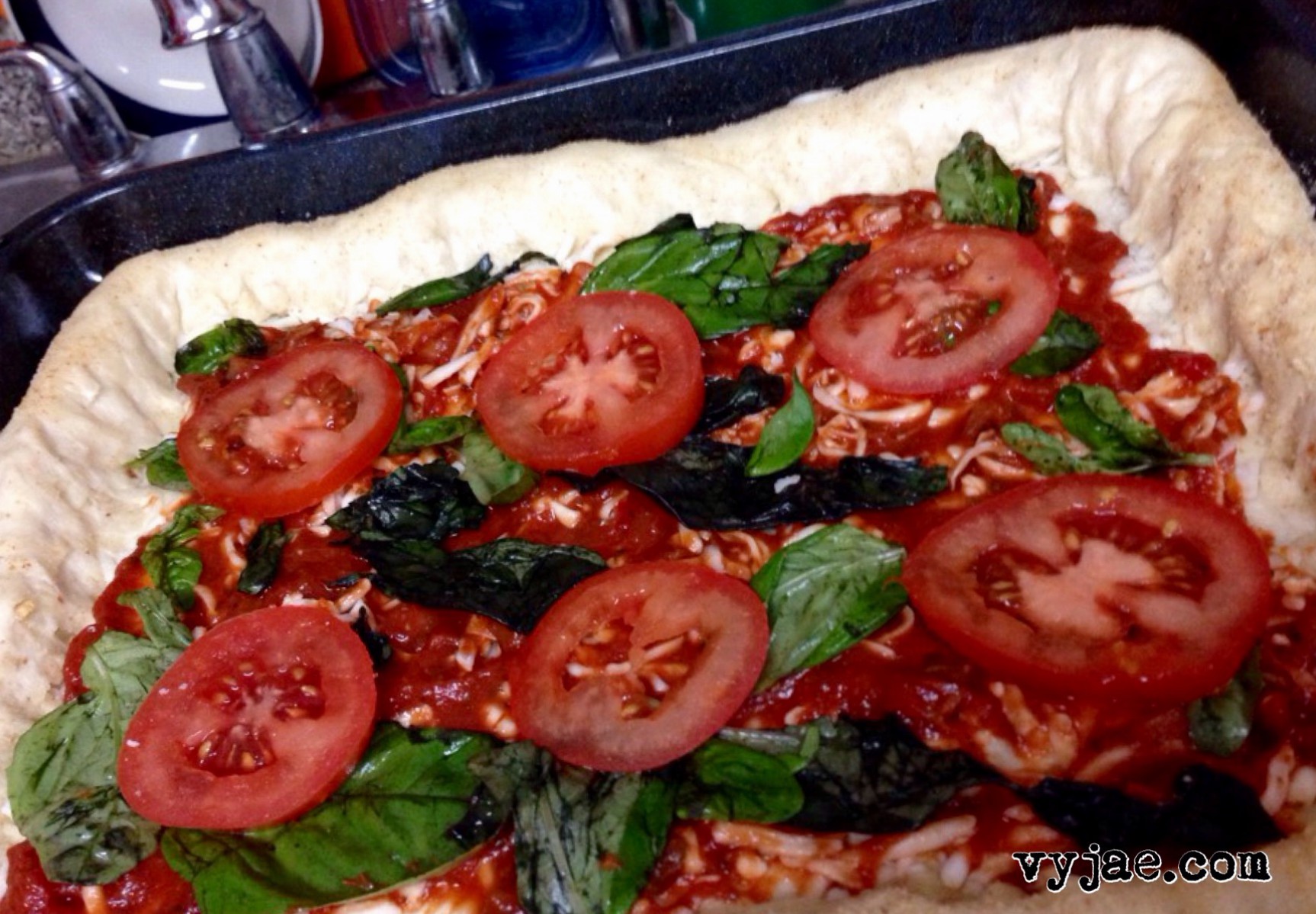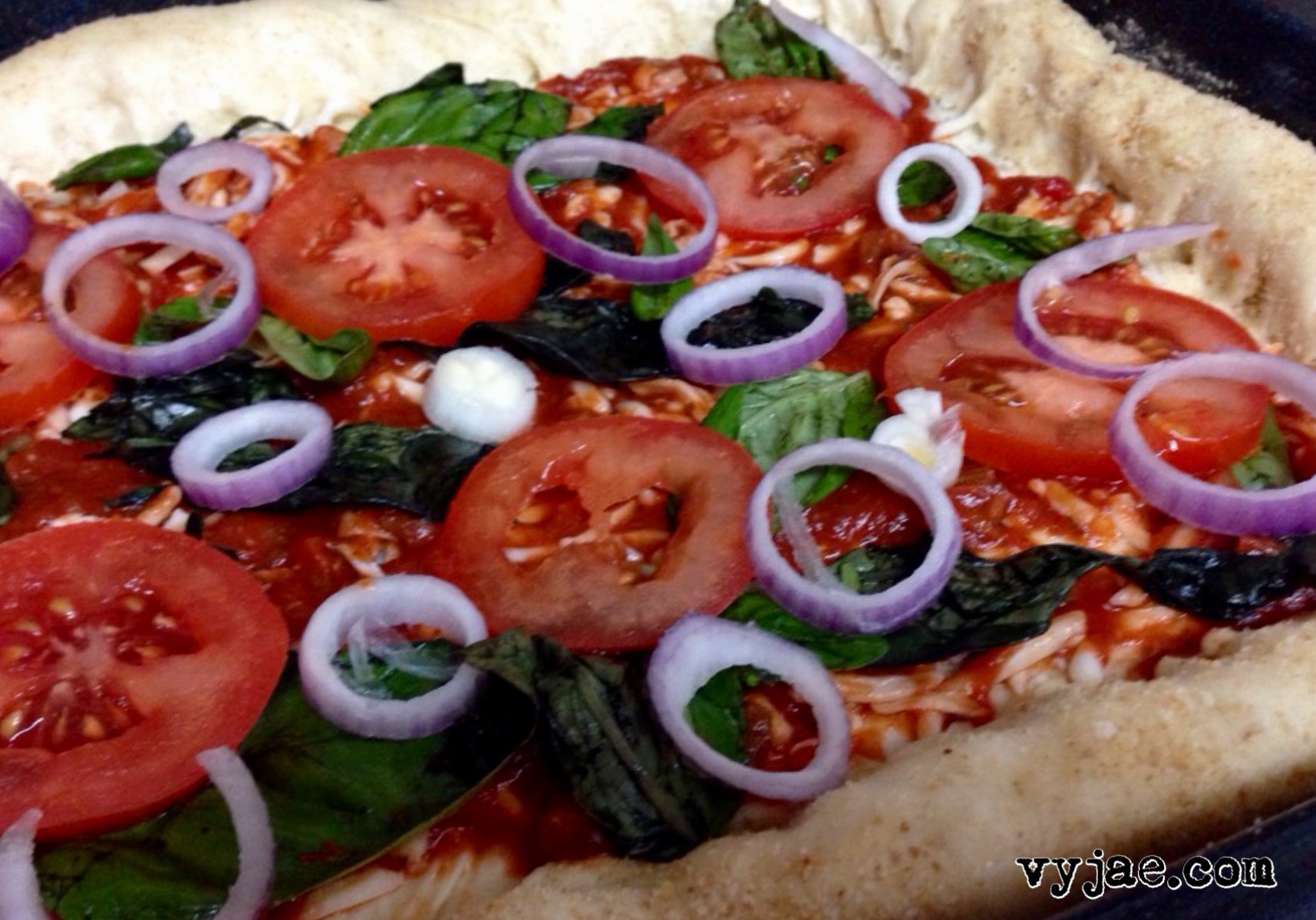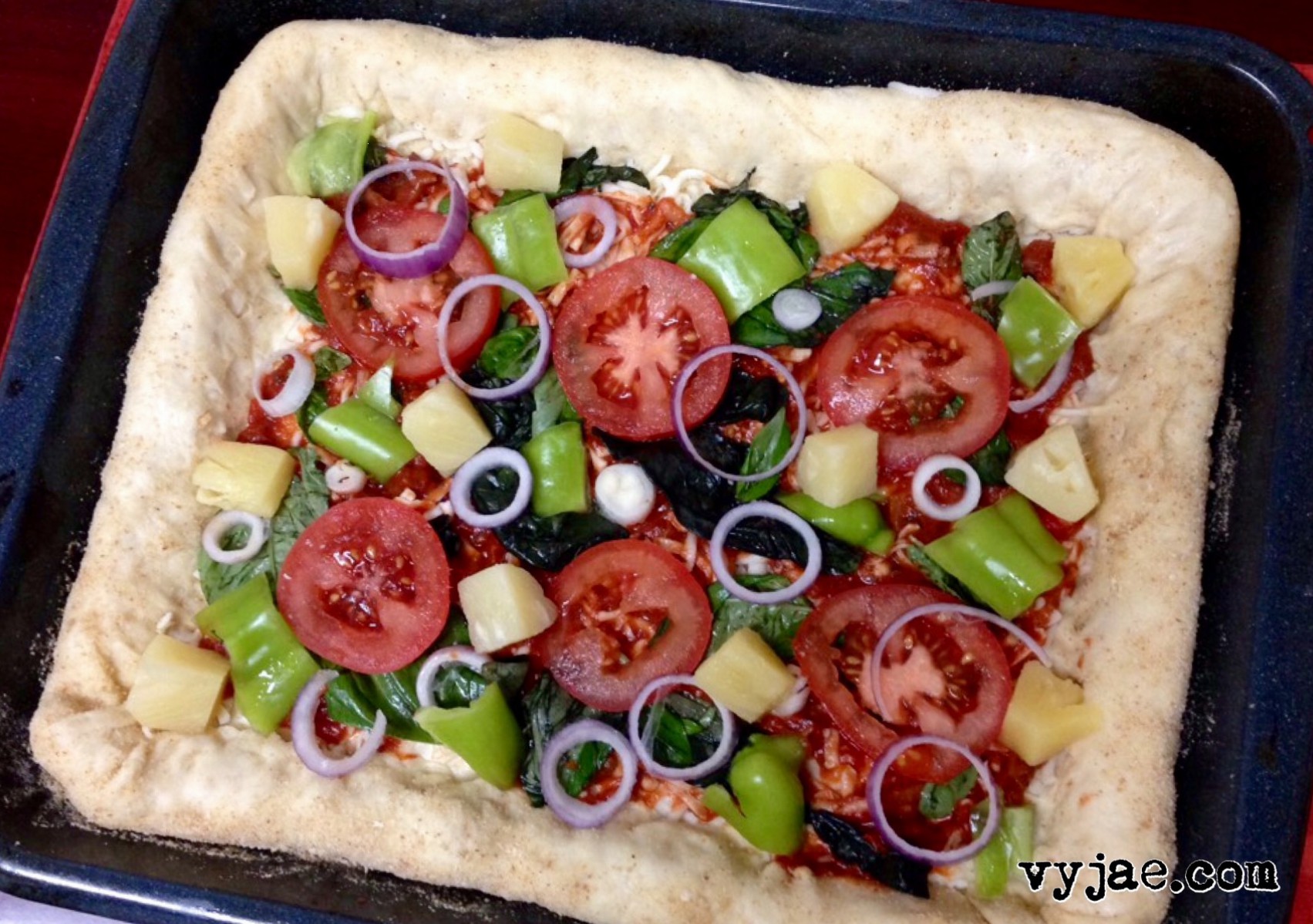 Shiitake mushrooms, bacon, pepperoni or sausage however needs some more cooking time, so allow it to cook separately ahead of time.
Fresh greens like arugula or basil, may be sprinkled over the pizza right when it comes out of the oven. The remaining heat from the pizza will wilt the greens just slightly and bring out their flavor.
An important key: Do not overload your pizza! It's best to keep your homemade pizza toppings to just a handful at most. Loading it down with lots of toppings, may take too long for the crust to cook well or make the crust soggy.
Whether you pile on the mozzarella cheese or put on veggies for a healthier meal, it's all up to you. Play around with this basic recipe and make it your own.
Be sure you have pre-heat your oven. Set your baking time to a minimum of 20 minutes (depending on how thick it is) at 350 degrees Fahrenheit.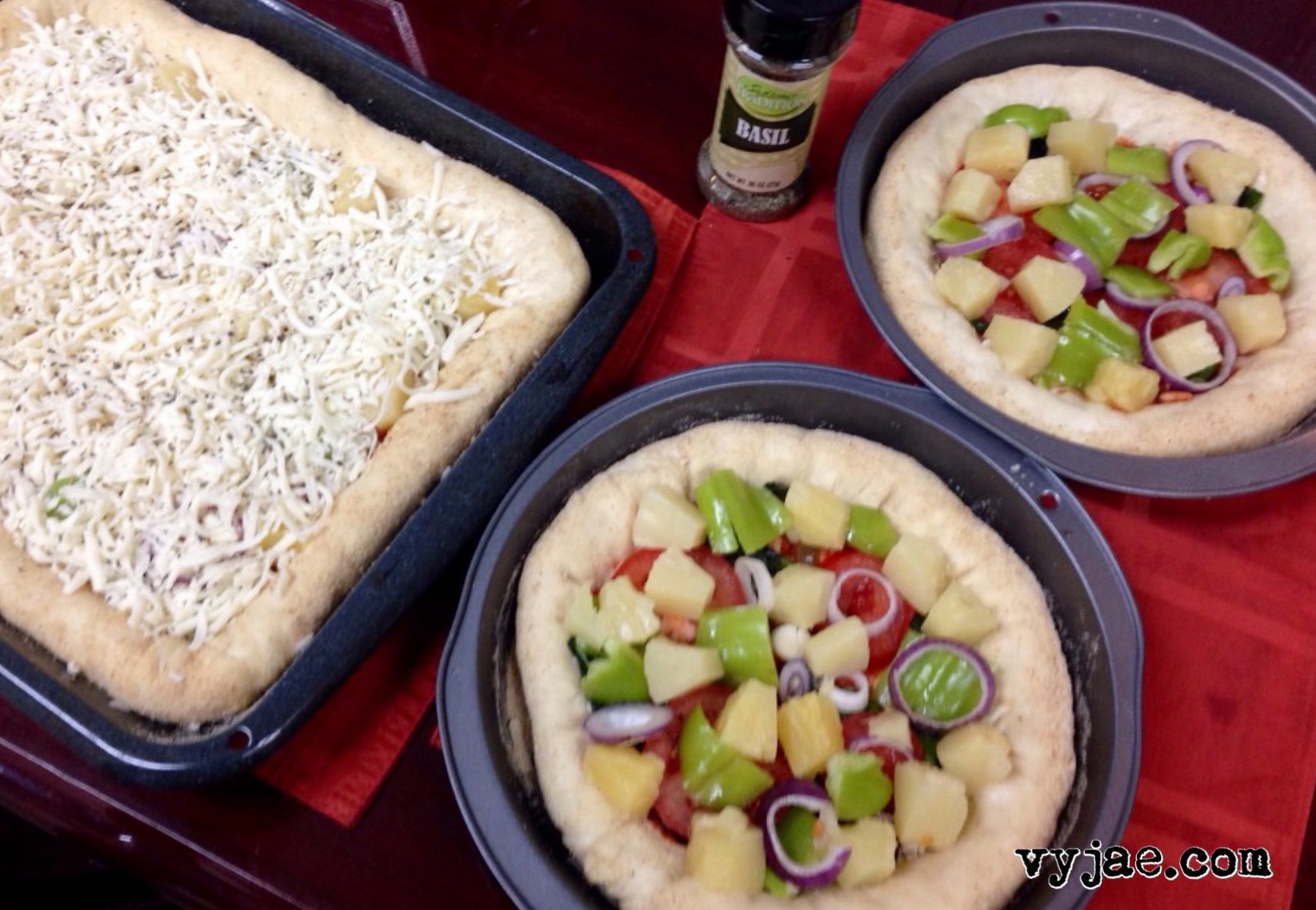 Lastly, for the finishing touch… I sprinkled dried basil for extra flavor and aroma and added some Parmesan cheese too.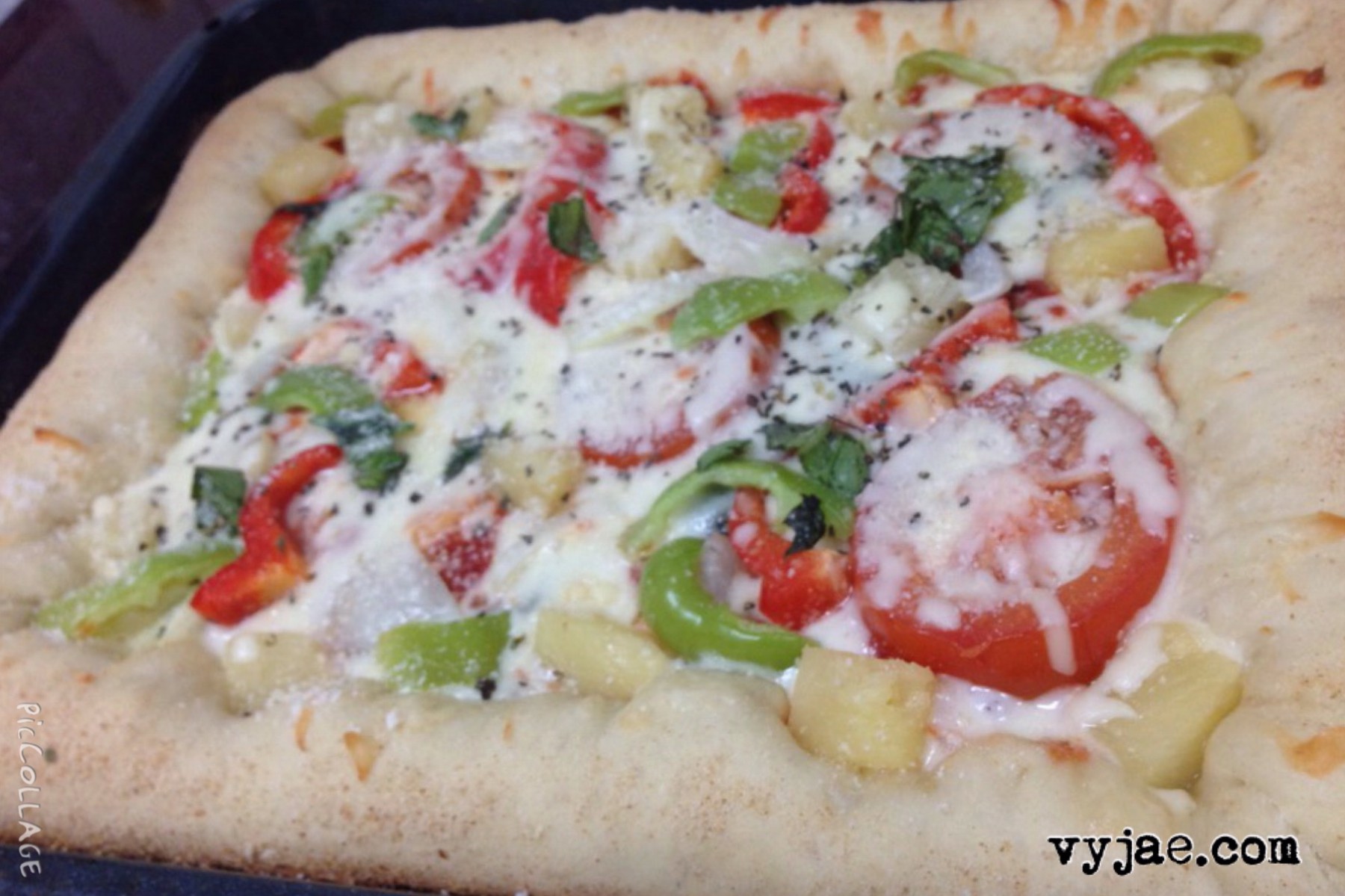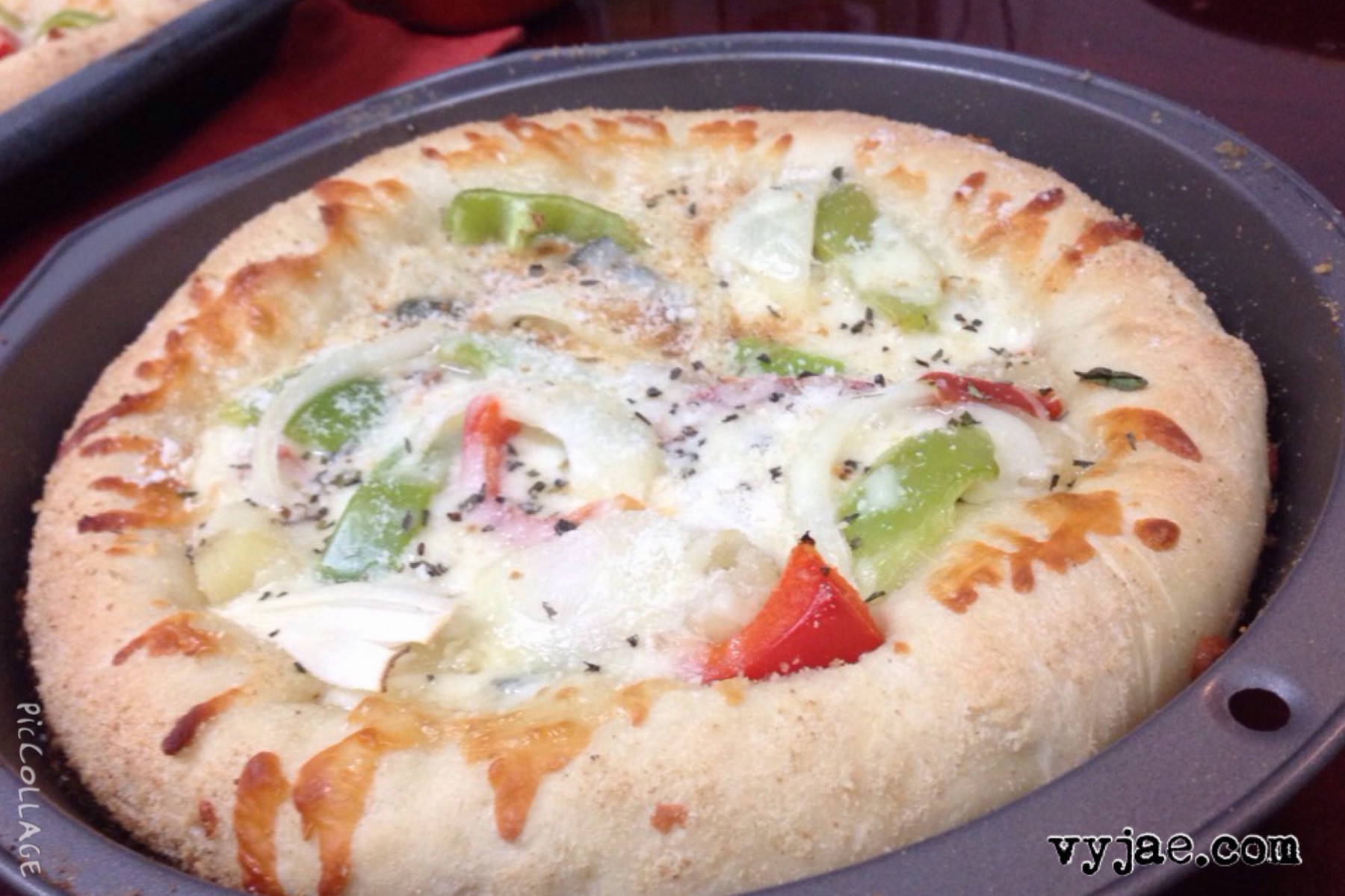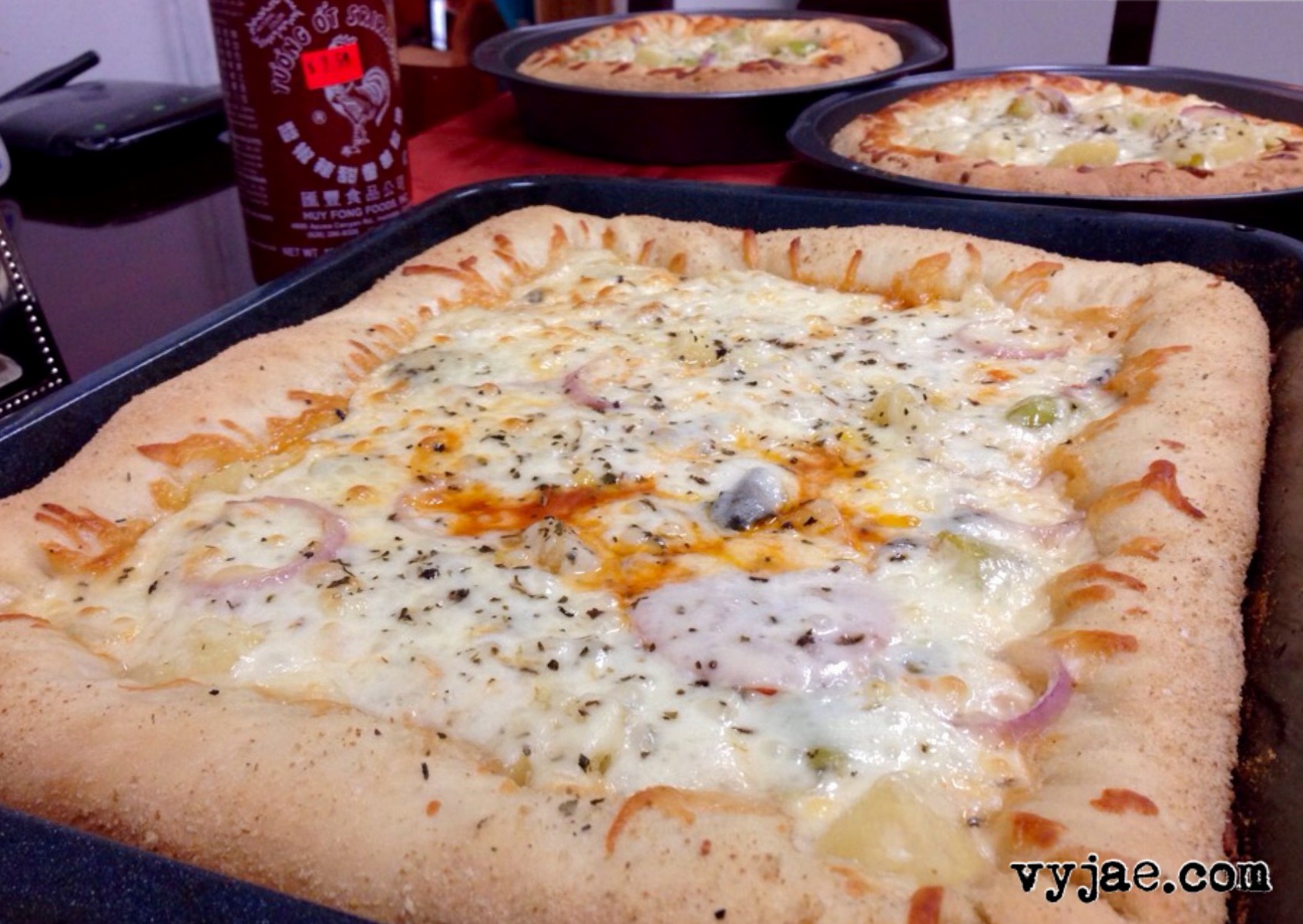 And there you have it your homemade pizza fresh from the oven!