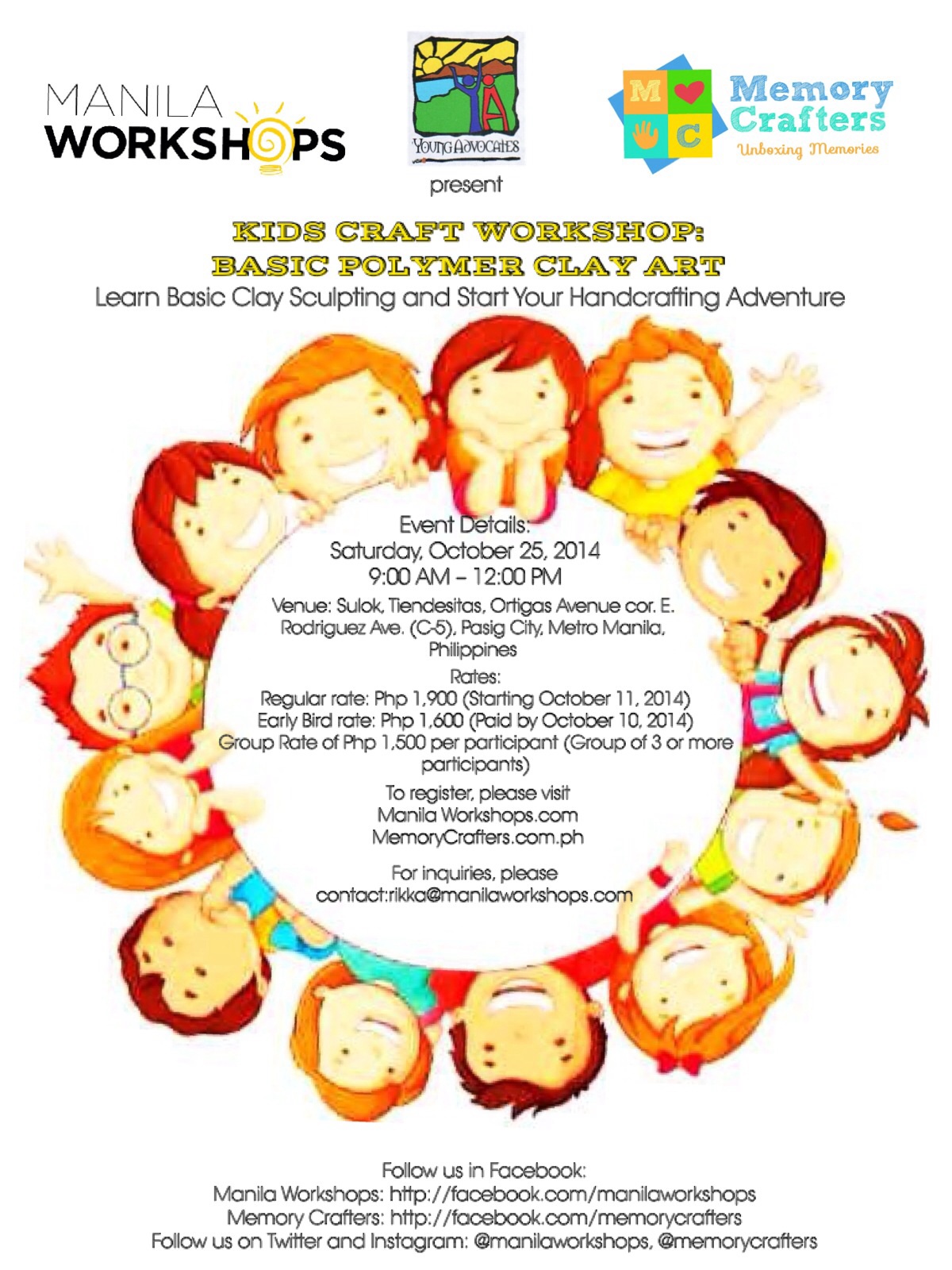 Learn the basics of polymer clay art, hone a new skill and hobby and start your own handcrafting adventure. Join us in our KIDS CRAFT WORKSHOP: BASIC POLYMER CLAY ART this coming October 25, Saturday, from 9:00 am to 12:00 noon at Sulok, Tiendesitas, Ortigas Avenue cor. E. Rodriguez Ave. (C-5), Pasig City, Metro Manila.
Presented by Manila Workshop and Memory Crafters together with the Young Advocates. The Young Advocates artists will conduct the workshop and demonstrate the art of sculpting, designing and baking clay.
The following are the joining fee for the workshop. Regular rate: Php 1,900 (Starting October 11, 2014); Early Bird rate: Php 1,600 (Paid by October 10, 2014); Group Rate of Php 1,500 per participant (Group of 3 or more participants)
The workshop is inclusive of the following: workshop kit which includes basic materials; snacks and refreshments.
Create atleast three different themed projects to keep for yourself or to give as gifts.
To register, please visit ManilaWorkshops.com, MemoryCrafters.com.ph. For inquiries, please contact: rikka@memorycrafters.com.ph. Follow us in Facebook: Manila Workshops: http://facebook.com/manilaworkshops. Memory Crafters: https://www.facebook.com/memorycrafters. Follow us on Twitter and Instagram: @manilaworkshops, @memorycrafters