It was all too sudden; how things changed, how fears grew, how those extreme emotions that I normally feel in a span of a year, got all fused together to try and get the best of me in just a short span. The depth of this emotion was overwhelming, it felt like I was in a roller coaster ride. But I guess, for most mothers like me, it's all just a matter of perspective.
Flashback to mid-March of 2020: a State of Public Health Emergency was declared throughout the country due to the worsening Corona Virus Disease 2019 (COVID-19) pandemic which took the lives of so many people not just in Asia but worldwide. This, resulting to a major global pause… travel restrictions; temporary closures of offices, businesses, schools, banks, stores, pharmacies, even churches.
As for my family, we completely understood the precautions we were taking, following quarantine protocols set by local authorities, abiding by the lockdown restrictions; though some things were beyond our control.
The Safety of our Frontliner was compromised. Being the head of our family, working at the airport, Daddy K was among those who tested positive of COVID-19. Third week of March when he showed symptoms of COVID-19, and it was the peak of the outbreak in Jersey City at that time. Hospitals were full, and unless you were at critical state, meaning you have all the symptoms plus difficulty in breathing, only then will you get admitted. To make things worse, he was by himself when that happened. We could have been there with him throughout his struggles, if it wasn't for the travel ban. But, maybe that was a blessing in disguise, for it could have been worse if we were also there with him– all three of us could have got it.
They say the toughest of people emerges during the most trying times. He had to endure and survive it by himself, nobody was there to even cook for him or bring him water and food while he's lying down weak on his bed. I remember, weeks prior to him getting sick, he managed to send us Vitamin C and Cough relief medicines, but did not think of buying for himself, yes he was that selfless. He started having high-fever, cough, body aches, diarrhea and was vomiting with blood. I was oceans away from him and I felt so helpless, we would talk on facetime most parts of the day, I'd cry while praying every morning, while my daughter's fast asleep. The thought of losing him kept crossing my mind, I couldn't bear thinking about how my daughter would take the worst scenario (if that happened) at her young age, she is such a daddy's girl. I knew I needed to pray hardly not just for him, but for myself as well, to have more faith and believe that he will survive this, and things will turn out fine.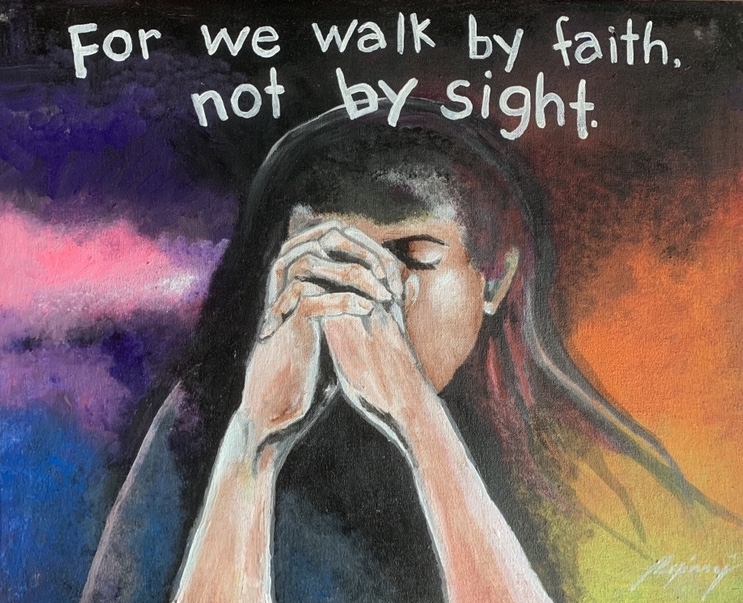 Prayers truly help. In my life, 100% of the times that I prayed, it helped. There were times it didn't exactly answered my plea, but it did calm my mind and bring me peace amidst the things I couldn't control. This time, my prayer was very specific- to restore Daddy K's health and give him a chance to live a longer life with her daughter, with us. That moment, I remember, I was so scared, crying while I was praying, til I honestly felt an Intervention that actually calmed me in an instant. All fears disappeared. Thank God!
Times like this calls for resilience and true grit, I gotta have presence of mind. I reached out to his cousins who live closest to him, and asked their help to check on him or send some medication. Thank God for they were truly such a blessing! They immediately responded, brought some masks, and vitamins to help him recover fast. More than the things that his cousins got for him that day, it was the thought of making him feel that 'he was not alone' during his most trying time that made me forever grateful for such good deed. He survived two heavy weeks in his Jersey City apartment. It was only on the 1st of April, when he got to confirm with a test that he was positive of COVID-19. His doctor prescribed an antibiotics which helped him recover quickly. The whole month of April he stayed home to completely recover.
Now, Thank God he is back to work. Hoping and still praying though that he is completely healed and won't have any re-infection. I also thank our family who prayed with us through it all.
Taking it slow. There is a brighter side in this time of uncertainties, somehow. I got to manage putting-up a happy, calm and assuring face in front of my child despite of what happened. I thought I had to minimize the impact of this pandemic on her, and let her live life as normally as possible despite of the lockdown. Makes me sad for my socially active kid who wants to do just about anything other than stay home. I know how she misses our daily routine even the times when I have to just tag her along in all my errands, even when that means just sitting in a shopping cart, she loved it by the way.
I had a full list of activities that could replace our usual routines, and these involved learning new skills. Luckily, there were a lot of FREE online workshops that were initiated out of goodwill, like Teacher Robert's Online Art Class . I am particularly grateful for this because it has helped my daughter in many ways. It's a one hour/day FREE art workshop for kids which uses basic medium such as pen and paper (although they sometimes use crayons, old magazines, scissors and glue depending on the project). From stick drawing, my daughter learned to draw using a better style and technique, and most importantly, she learned the value of patience, to try and try until she gets it, and to learn to follow instructions. Looking at all her work of arts, I couldn't be any prouder. I can tell by the way she does it that she would go along way as long as she keeps practicing, and I keep pushing…
Aside from art lessons, she also started playing the piano through online tutorials; and tried ballet lessons as well… Good thing her school also initiated a FREE Summer Enrichment Program online so she gets to see her classmates everyday for almost a month now… her days were full!
The best part of being confined at home for us, I guess, is that we both started Bible reading, and I am glad she has really been into it since then, that she would always ask me to repeat reading it so she could pay attention and really listen to the story of each verse. It was not only a good way to practice her reading and comprehension skills, most importantly, it makes her learn more about the Bible and be closer to God.
Another upside of this lockdown for us was starting our very own vegetable garden in our backyard. We planted seeds and re-grew from scraps and cut-outs. We started with tomatoes, ginger, beans, bell pepper, chilli, kangkong, kamote, ampalaya, okra, eggplant, calamansi, melon, pechay, papaya, whatever comes on our table. In two months, we are now reaping some of our crops, like the kangkong leaves and kamote tops, the onion leeks, and basils. Aside from these, I started propagating my succulents and cacti as well; such an awesome way to start each morning right.
We baked breads, cooked new recipes, mastered some fave dishes.. hoping I could share some of those recipes here. Looking at the bright side, this lockdown has a lot of advantages too. It pushed me to take advantage of the opportunities amidst difficult times.
And then there's the jitters. Two months in quarantine, and I am I feeling that pressure of 'getting back on track'… spending every minute of my day trying to be productive, improving myself, trying to focus on the steps I am to take once this Enhanced Community Quarantine (ECQ) is lifted. Truth be told- It's not that I was 'on track' before this whole pandemic thing happened… I guess being stuck indefinitely in my home made me realize how bad I've been in planning as well as the actual execution of my life in general.
Should I call this mid-life anxieties? I usually try to keep things positive, but right now, I am feeling this solid slap on my face, telling me how much I fell short of my target! Maybe I was just being hard on myself.. I wish I was, but admittedly, I have really fallen short of my life goals, FOR SOME REASONS, but weighing them, and seeing how my daughter is somehow growing up the way I wanted her to, makes me feel a bit of consolation.. my time to shine will come!
They say self care is how you claim your power back, so that's what I have been doing now, a few minutes of the day devoted to my spiritual well being, another few for getting physical (yes I do planking, a little bit of zumba and jump rope). Needless to say, I make sure to eat healthy and get the right amount of sleep.
I maybe missing normal life today. I miss Daddy K, I miss being in Jersey City, I miss my family, my friends, and my daughter probably misses her playmates too. I miss smiling back at people when we're outdoors, instead of wearing mask. For now I'd be contented making use of my time, cooking and food prepping for the little one, baking breads and trying to so sell some of them, gardening, doing the laundry, homeschooling my daughter, glamping, painting from time to time, learning new skills, and spending a lot of time in the couch enjoying K-Dramas, reflecting, trying to value things that truly matter.
Here it is looking like we won't be back to normal life until further notice… and it's sad to know that there probably won't be trips, or recreational activities to go to the coming months, even my daughter would probably be skipping this school year. I don't even know when we will be reunited with daddy K again. For now, a lot may still be put on hold. Hang in there.
I guess I could say that what I am doing right now, is my way of coping up from this pandemic. If you're feeling a bit burned out, like I am, just staying home, just know that's it's okay. Get it over and done with and know that tomorrow is another day.
Next year will be different, let's keep our FAITH and all look forward to it, just one step at a time. Let's be gentle with ourselves. We are all going through this collective traumatic experience. Before we know it we will be looking back and talking about these long days under lockdown–the struggles and uncertainties that our families, our businesses and those on the frontline went through..
We will talk about how we slowed down, prayed hard, and survived. Better days are ahead. Keep the faith.