Gone are the days when our typical Juan Dela Cruz' plight for brightness depends on an oil fueled lamp,
A lot of eyebrows were burnt from that rigorous process. Pain-staking old-school scenario equates to a person's patience to what's obvious: Scarcity of light, stalls our nation's road to progress.
One can also imagine during night time back then wherein streets or even roads are in complete darkness and the only source of light comes from moon and stars. Sadly, up until now there are areas in the country which lacks the luxury of having a decent street light, in particular, our rural areas.
Lucky are those in the urban community as Local governments found it imperative to come up with projects that involves improvement of lamppost. Stand-alone business offices and even residential communities also contributes to lighting up the community at night with their fence and yard lights.
These lights gives security to the community as it acts as hindrance for lurking culprits who are always waiting for the perfect time to strike.
CDR-King, Your one-stop media provider introduces another green technology as it brings to you the Solar powered outdoor lights that requires only 6-hour solar charging and can give hours of light usage throughout the night.
This technology aims to save you a lot from your electricity bill and pushes for the usage of solar energy.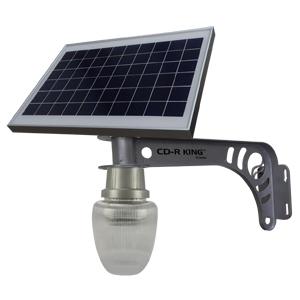 CDR-King Solar Powered outdoor light features:
· Solar Panel: 15V/15W
· Lithium Battery: 37Vah
· LED Power: 4W
· LED Drive Current: 220mA/pc
· Static Power: 0.064W (MIcrowave induction)
· Detection angle: 140'360
· Number of lights: 6pcs
· Lumen Value: 600-720lm
· LED chip: Bridgelux
· Color Temperature: 3000-6500K
· CRI: 75Ra
· Light Control Voltage: 3V
· Sensor Area: 1- meters
· Charging Time: 6 hours
· Working Time: 3 rainy days
· Working Temperature: -20 degree – 60 degree
· Lifetime: 5000 hours
Visit your nearest CDR-King branches nationwide to check on other Solar-powered products.
#press release