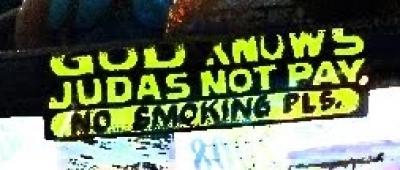 Driving along the very tight Dapitan road one ordinary Monday morning on my way to Binondo, Manila for an early morning meeting,  I was just playing it cool. Passing-thru a sequence of lefts and rights and U-turns like a never ending ordeal, feeling that the more I steer my wheels the longer I seem to get stuck in a hell of a bumper-to-bumper traffic jam. Darn it! Such daily road encounters are sure to push a lot of drivers to bid their GOOD MORNINGS… goodbye!
Since I became mommy, I have slowly mastered the art of keeping my cool. Not crying on spilled milk, water, juice, coffee… name it. But I'm no saint, so forgive me, I get effin pissed-off too with how hopeless Manila traffic has become.
The early peak hours are the most unbearable. It always seems to me that they have turned every road in this city to a parking lot. Not to mention, the ever-growing numbers of annoyingly reckless pedicab drivers and motorists on the streets of Binondo.
Unlike men who normally would roll down their window on blood-simmering driver's temperament and curse the one that just cut them? Those culprits used to get just the most annoying horns from me, with the nastiest look I can put on and a matching dirty finger, until I soon realized it never spelled a difference to them.
It's all a matter of perception.
I constantly remind myself, that there practically is nothing I can do about the ever worsening condition of Metro Manila traffic, after all, I am only responsible of my own actions, so might as well just keep my composure in such situation.
As I begun 'appreciating' the 'beauty' of the roads of Metro Manila, all the people and the humor behind all the classic 'antics' that made it such an entertaining and pleasurable driving experience for me. I am pertaining to the billboards, bumper stickers, mud-guard phrases, and road signage that we see everywhere. I saw just a couple of signs that day, enough to remind me of the rest of the funny bloopers you can find ONLY IN THE PHILIPPINES.
Bumper2Bumper Stickers
Nothing beats such simple yet hilarious safety reminder that says: "Bawal Tutok, Galit Barok." A very effective blurb as I was driving along Bambang Avenue written in bold font size 30 which insinuates "Kung nababasa mo ito, masyado ka nang malapit… DISTANSYA AMIGO!" There's another bumper sticker saying "GOD KNOWS HUDAS NOT PAY" perhaps reminding those commuters who are hoping for a free ride. The classic pick-up blurb: "Kung hanap mo'y ligaya, Sakay Na" is just one way of wooing their lady passengers. And of course there's the cordial ways of expressing how drivers mean serious business in "Ang Hanap Ko'y Pera, Hindi Karera."
There are Pinoy drivers attributing the acquisition of their vehicle from some commodity product they have sold or perhaps services rendered, their tapalados would say: "Katas ng Bigas", "Katas ng Manukan" "Katas ng Barko" "Katas ng Saudi", "Katas ng Dubai", "Katas ng Brunei", "Katas ng Japan"… Everything katas! I guess everybody's got something to boast about. Until one day, you won't believe what I saw… a jeepney along Quezon City area with a clear written statement saying "Puro Kayo Katas!" Hahaha obviously one got fed up with the bandwagon bragging.
Signs that made me sigh!
Some time ago, I remember seeing at the back-draft of one provincial bus a supposedly a romantic song line, but I got really confused reading it, because it says "ANYTHING I DO…DO IT FOR YOU!" hahaha. Signs of irony, like one Convenience store being renovated screaming a very loud "SORRY FOR THE INCONVENIENCE," top that!
On a private property beside a car repair shop along Retiro is a big signage that says: "No Parking and Repair Here." Aaaah-ano daw?
We all know how grammars and punctuations play important roles in communication. Missing on one could mean the total opposite of what you intend to say.
As I was driving along Quezon Avenue, I saw one at Philcoa bearing the warning sign "No Crossing Pedestrians Will Be Apprehended" lacking just one period (after Crossing) obviously have messed-up the thought of the message, just like "WALANG TAWIRAN NAKAMAMATAY" along Q.Ave. if you're stupid enough to think that it meant "there is no such thing as a deadly pedestrial lane" rather than "NO CROSSING. DEADLY." I also find the "SLOW MEN WORKING" kinda hilarious, thinking why would they hire slow men? Lol.
Remembering some of the notoriously named small scale business establishment that I saw, nothing beats "Cooking ng Ina mo" on a carinderia in Manila.. and "Cooking ng Ina mo rin" right across it.
Believe it or not, we Pinoys are the most creative geniuses when it comes to humor in all aspects. Those Hollywood stars and movie inspired names, such as: "Petal Attraction" for a flowershop; "Maruya Carey" and "BananaramaCue" menu signboard of Potato Corner kiosk at Greenbellt; for cakes, breads and pastries, there's "Anita Bakery" and "Bread Pitt"; "Crispy Per Minute" a crispy pata Eatery; "Elizabeth Tailoring" obviously a dressmaking and tailoring shop; "Farmacia with Love" drugstore; and lastly, Lito.. Lapida Maker! Hi-hi-hilarious!
So there you have it. I have lots of them still stored in my mind, but I'm afraid I might be boring you guys already. My bottom line is, we cannot really do anything about Metro Manila Traffic, well, nothing major but to abide by the laws and road signs and rules the best ways we can, and while at it I guess the least we can do is find the silver lining (in any given bad situation for that matter), find something to be happy about…perhaps some more rib-tickling words and phrases, for our own enjoyment. Who knows if we all have that positive attitude, maybe things will get better… here's to spreading good vibes… here's to wishful thinking!
#jnv