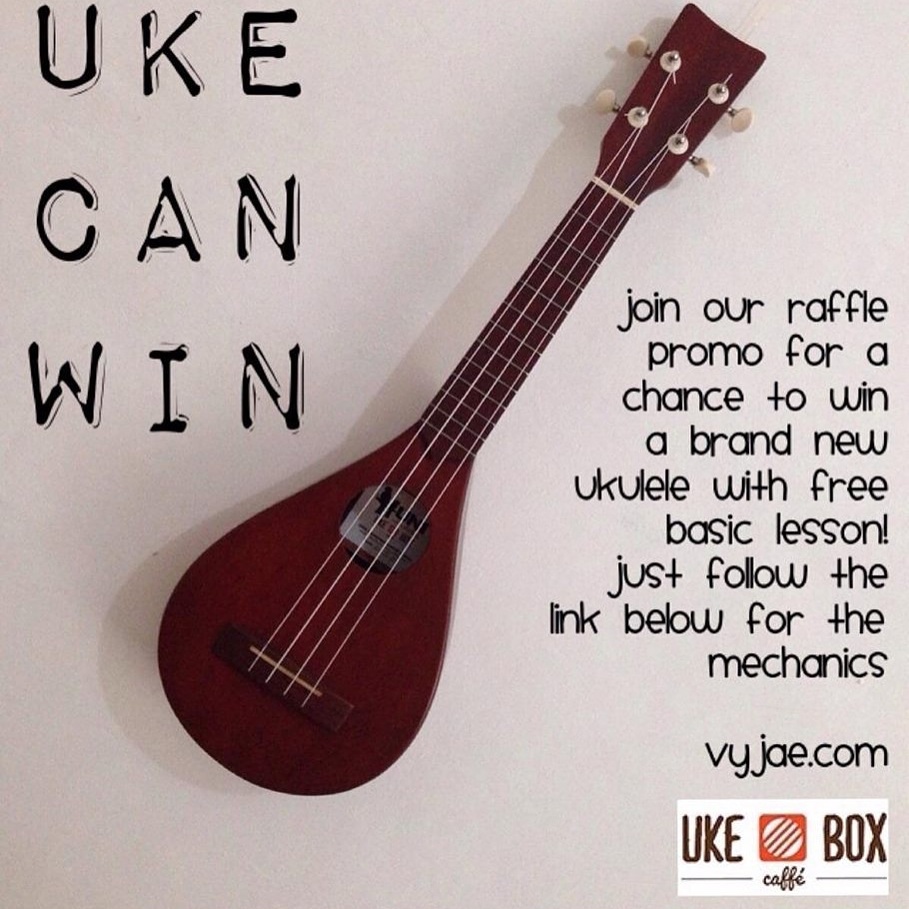 Imagine having a cup of tea and your favorite artisan cake in a cozy setting surrounded with colorful wooden totem poles, surfing boards, flowers, puka shells, luau inspired drapes and curtains, handwoven loin fabric pillows, hanging mason jar lights, tiki torches, double decker wooden nooks with beautiful beach scenery posters as background, and within its compact space, more than a dozen of colorful ukuleles hanging on its walls, to top it all a super chill, laid-back acoustic background music playing…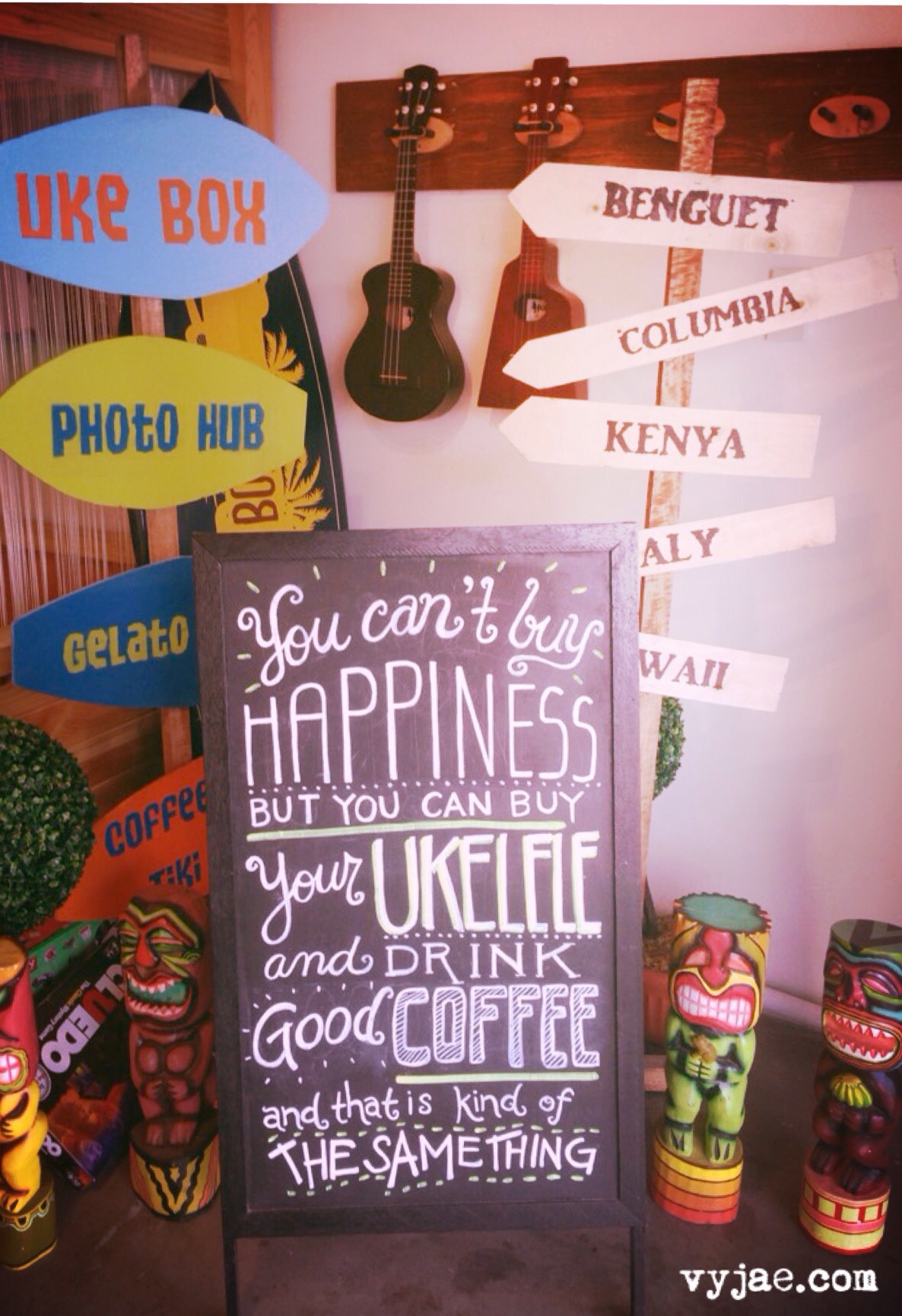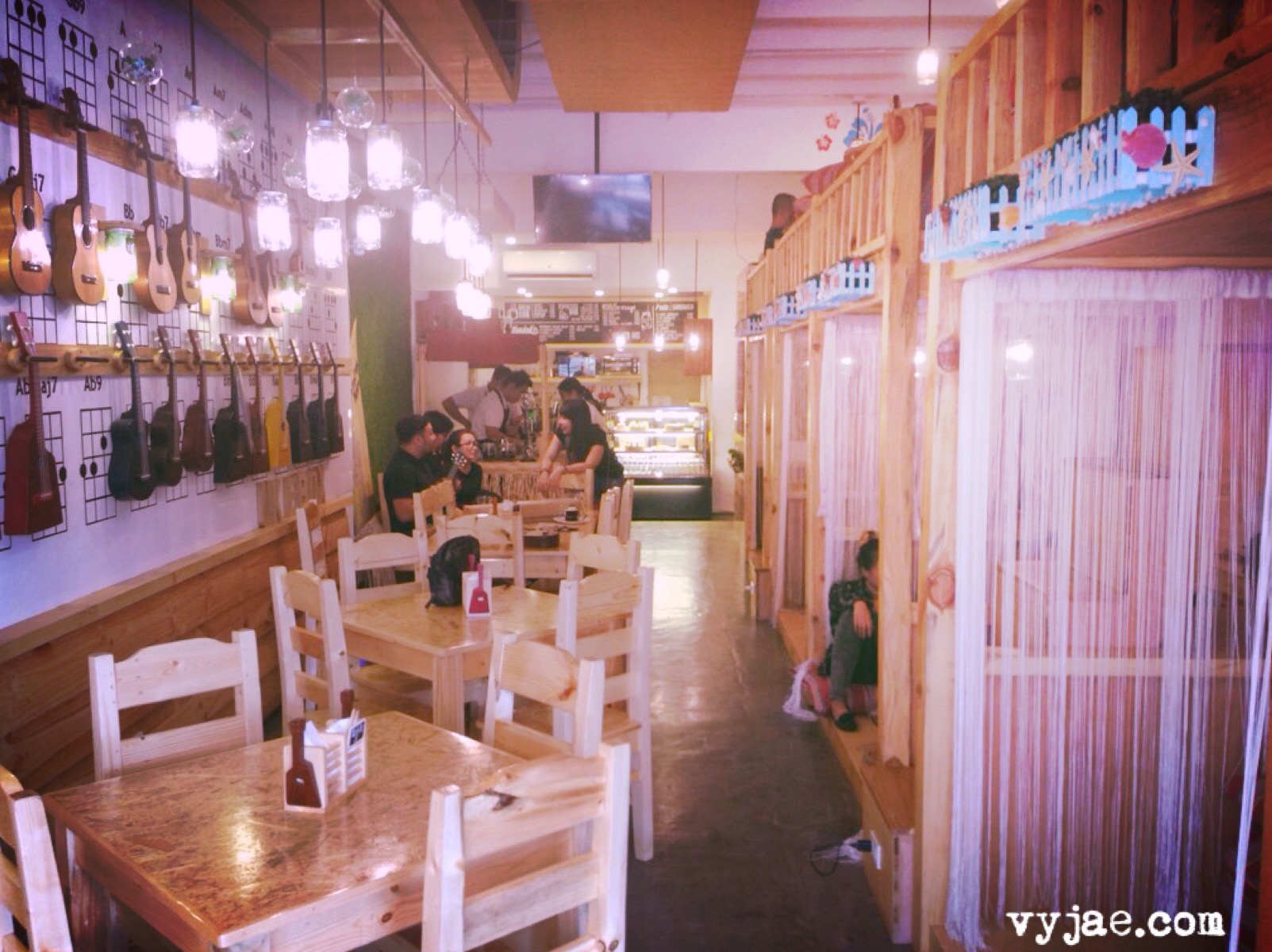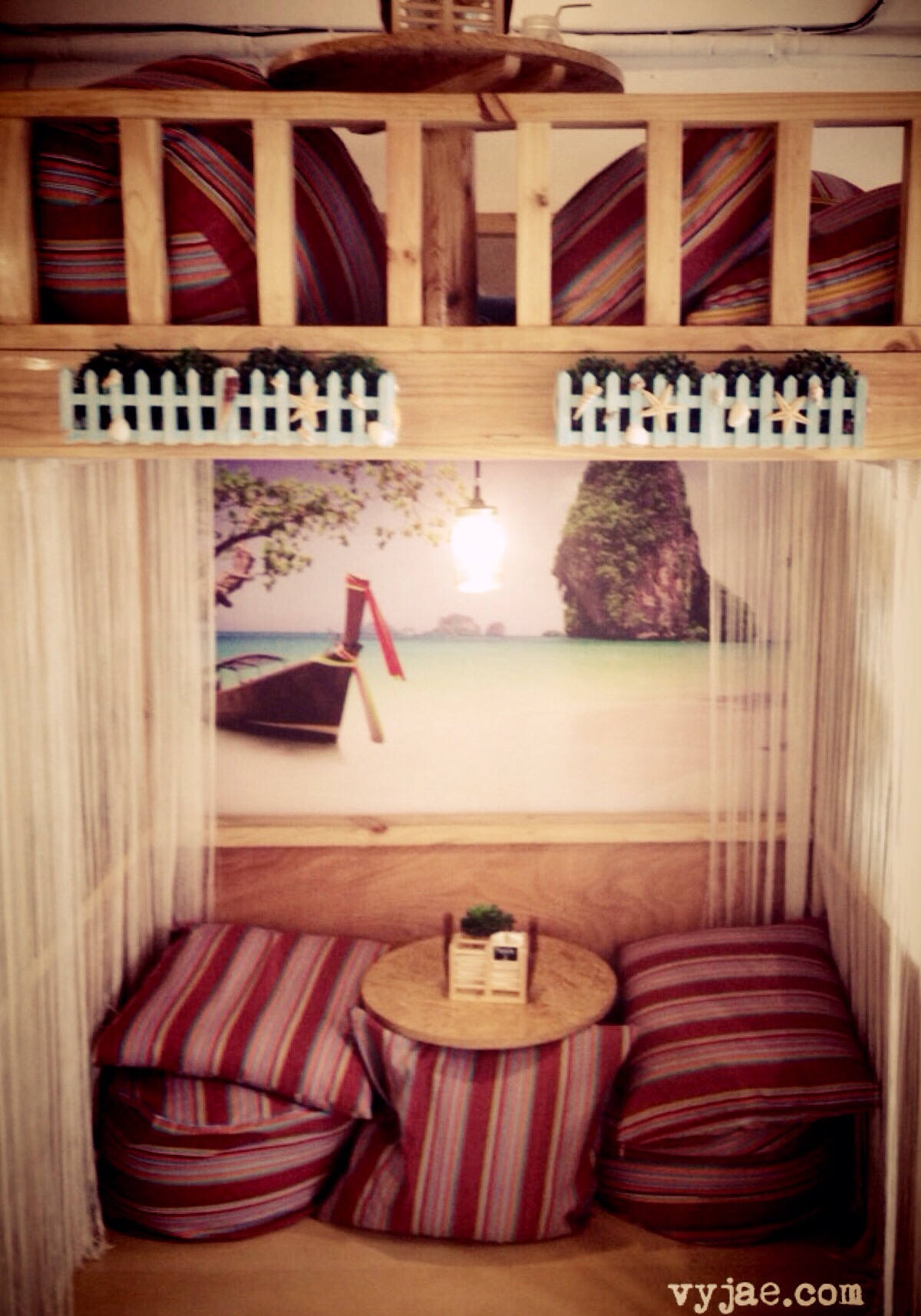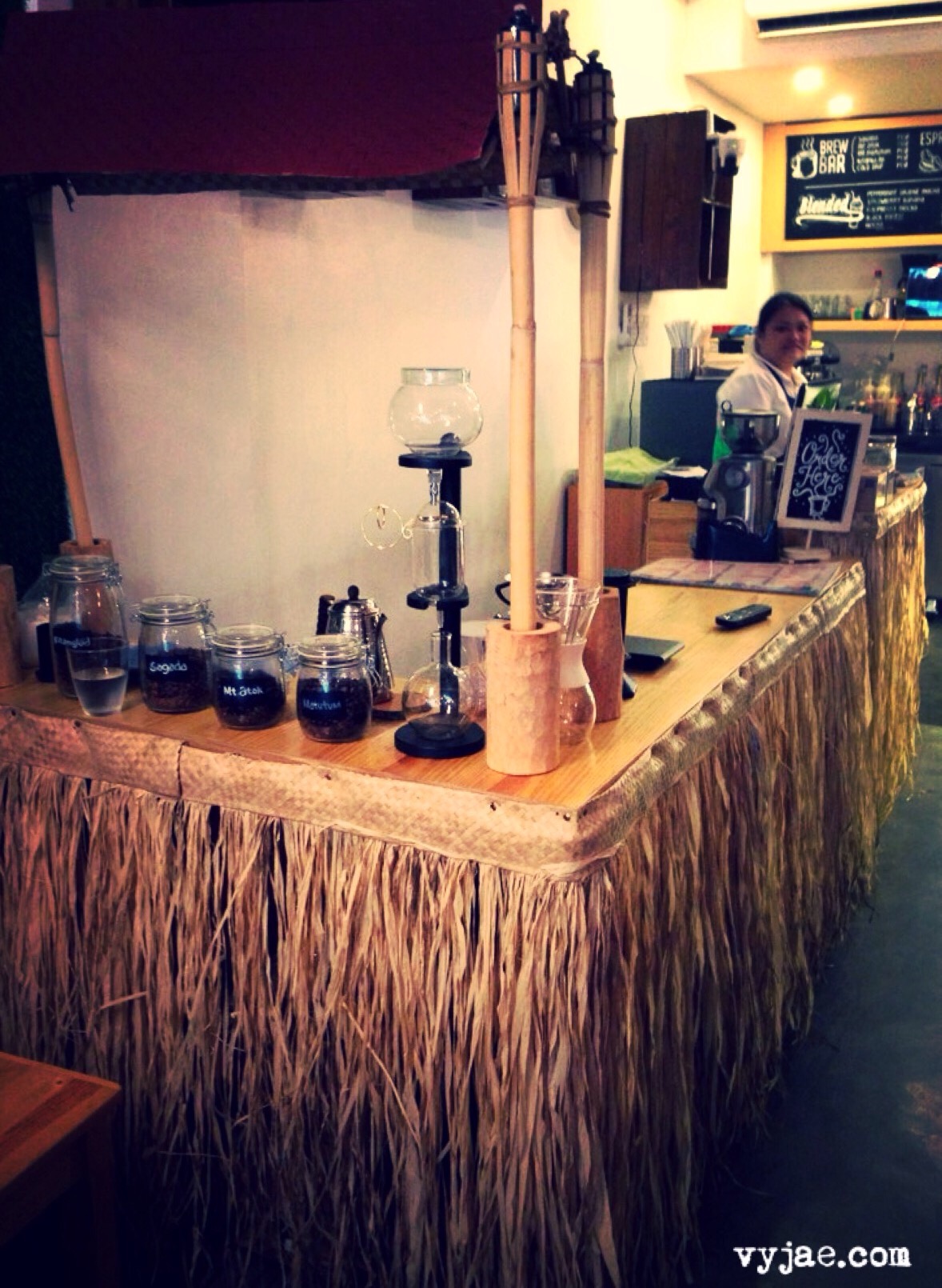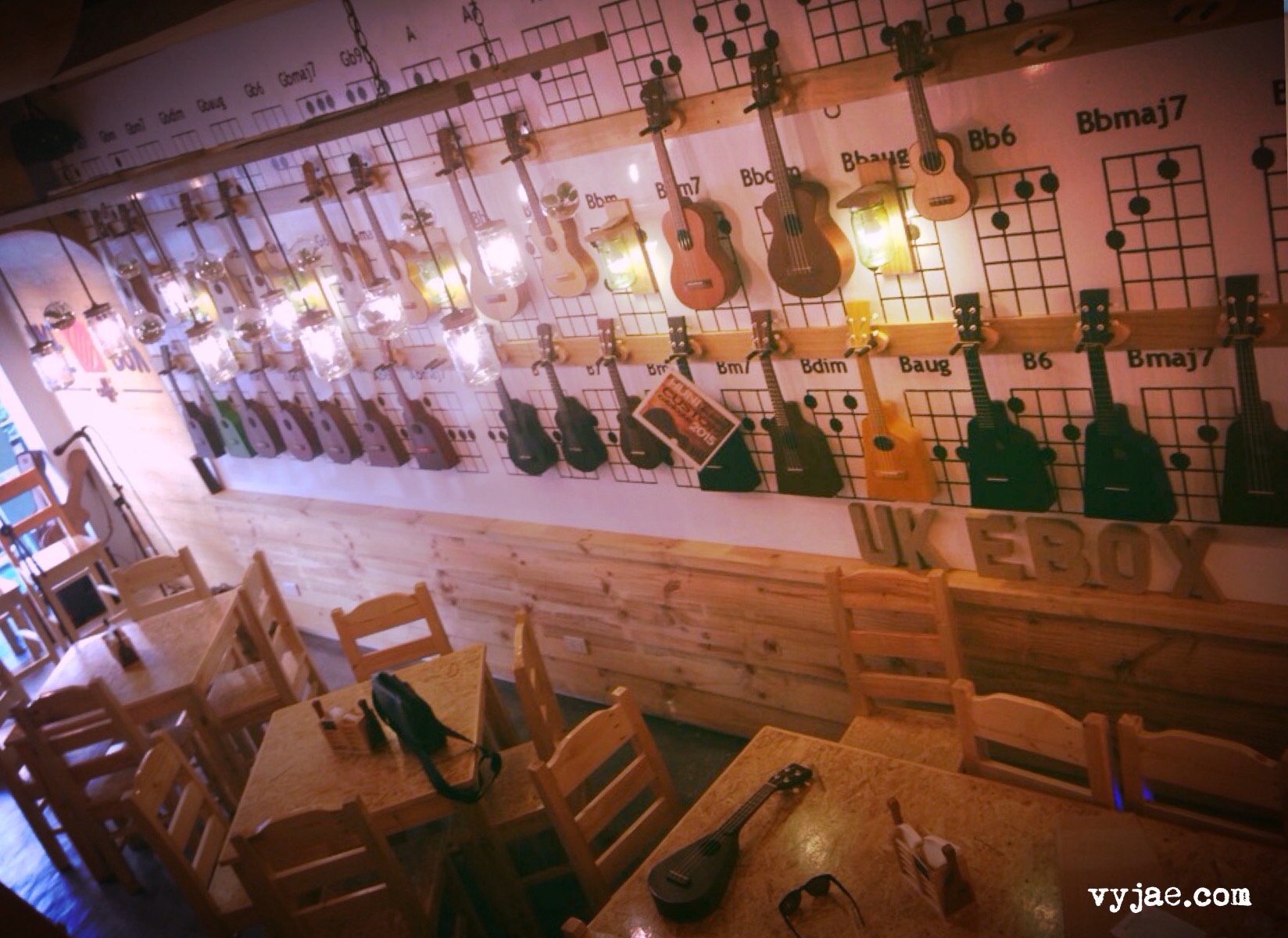 I can almost hear the sound of the ocean waves, and feel the tropical Hawaiian breeze… Except that, SNAP! SNAP! I was not anywhere near a tropical island, ironically, i am somewhere at the center of the metropolis.
Right along the busy road of C5, just a few blocks away from Eastwood Center in Libis, is one of, I must say, the coolest, most unique theme cafe that I've ever been to, UKE BOX CAFFE! (pronounced as 'yuk') A place dedicated for the love of ukulele, music and, well, coffee.
Didn't I just find my new happy place?!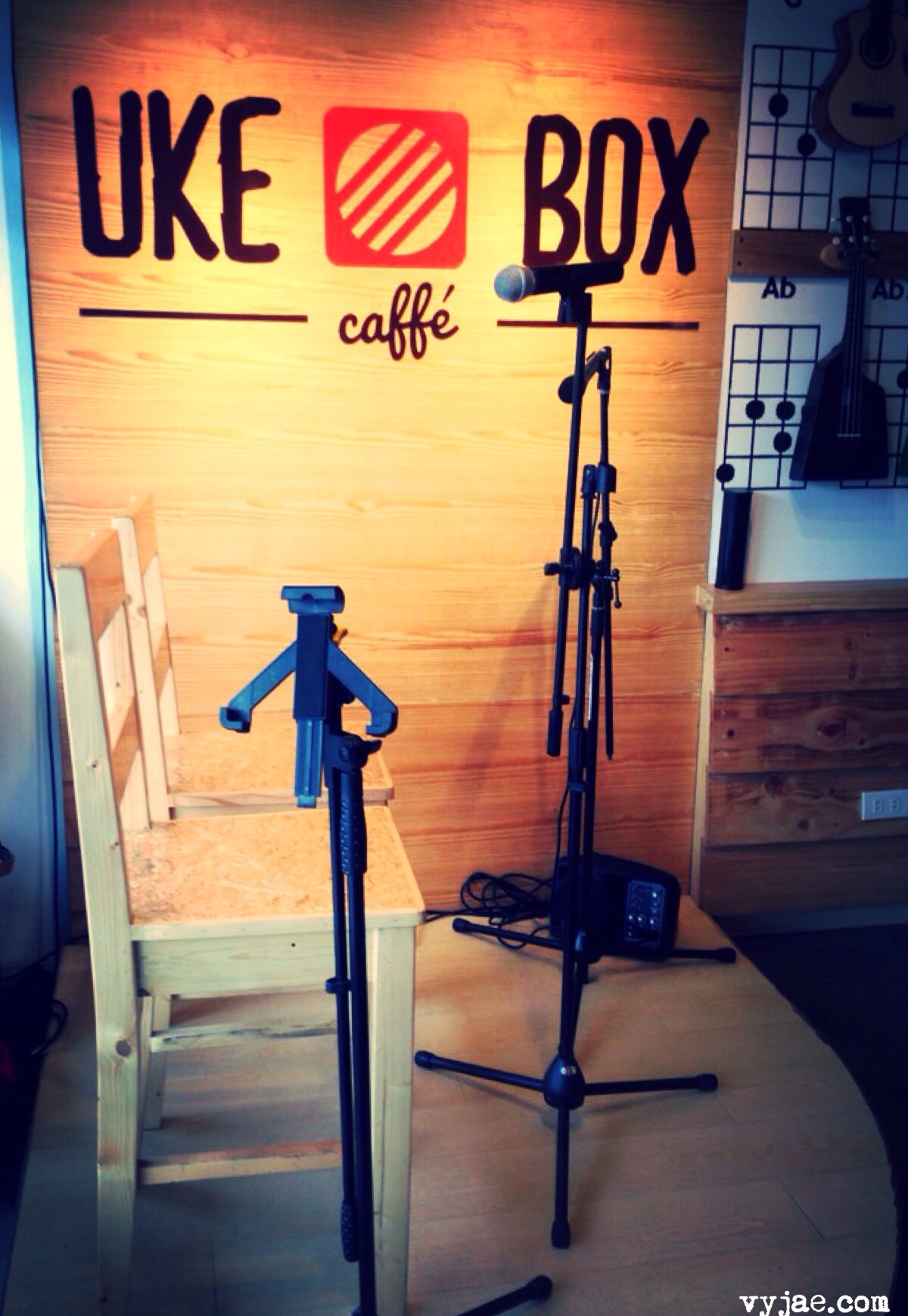 The shop, which opened its doors only last May 2, was born out of a collaborative effort between girl friends and young entrepreneurs: Michelle See, Celina Baraoidan and Apple Alegro, who all agreed in putting up a place where music lovers (or not) can simply chill and relax while sipping a cup of coffee; listen to fine acoustic music or jam with uke players and enthusiasts.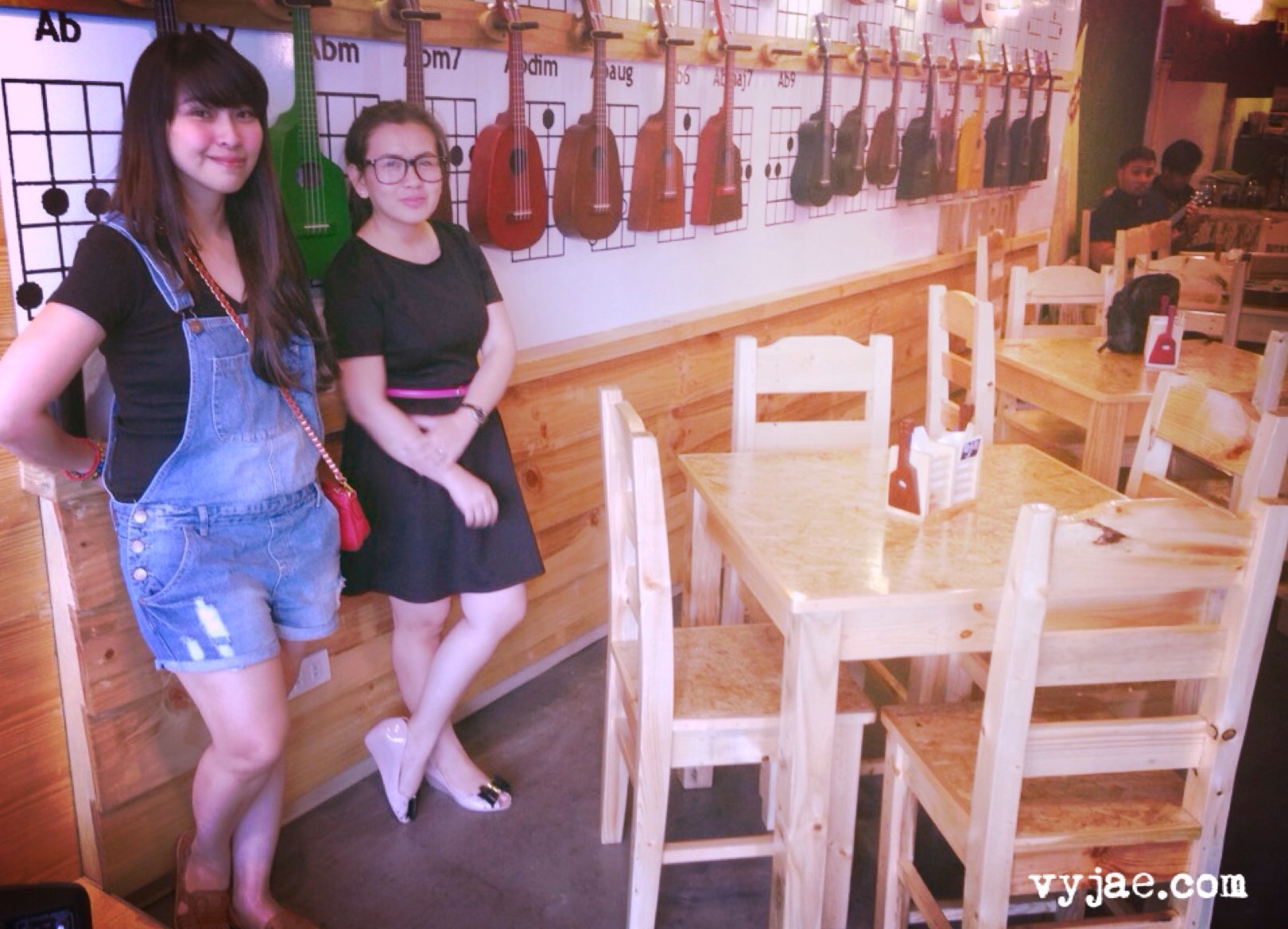 Why Uke? Recently this four-stringed instrument has seen quite a bit of a revival and is becoming a staple among Pinoys. "Some kids nowadays have it in school. The schools are using it to teach concepts and music theory to kids in ways that are less complicated," says Alegro.
The customers that UKE BOX CAFFE attracts is exactly what they had hoped for according to Alegro. "The way we have set up this cafe is all under the idea that we want to represent the diverse group of uke enthusiasts. And we hope to encourage more people to appreciate the simplicity of the instrument. That's why we welcome everyone to either play and jam with us, learn or simply hang out and try our artisan coffee and other offerings" she says.
A few months after officially opening, UKE BOX CAFFE has managed to establish their crowd, with a group of people taking ukulele lessons. During the week the shop sees a steady flow of customers as well. "It's a pretty diverse crowd," says Alegro. "There are a lot of students and yuppies that come in because of our proximity to schools," she adds. The shop holds Open Mic Nights, where musicians, singers and wanna be singers can simply jam and enjoy.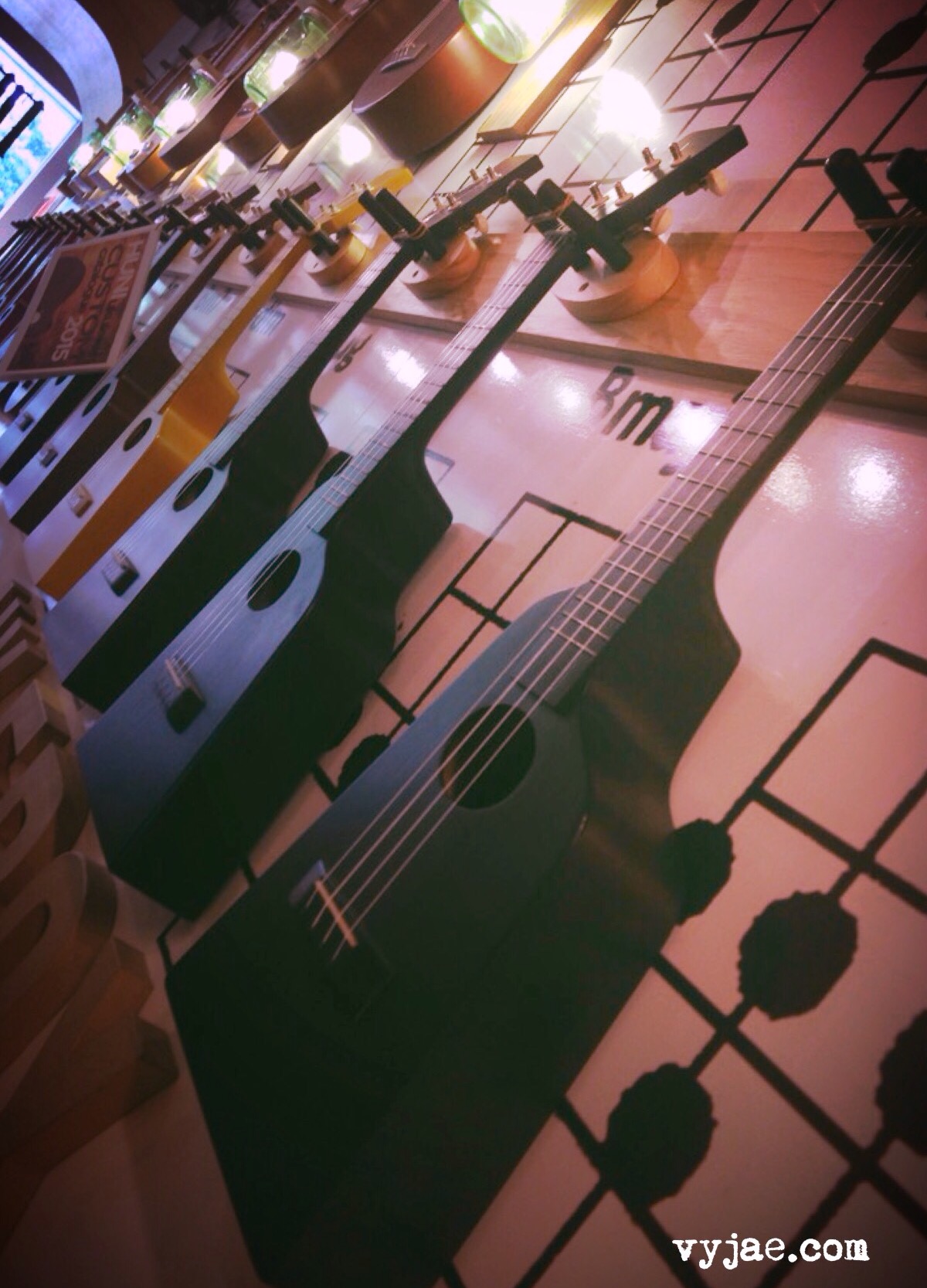 Uke Box Caffe offers Cebu's fine handcrafted Ukulele- branded Huni, made from the finest woods available at a price that is still affordable to the average enthusiast. Depending on the type, the ukulele price range from Php3,500- P4,000. Their ukes are all Filipino-made and of high quality and playability making the joy of music more accessible to music lovers of all ages.
Wait. Did I mention that they also rent out some of their Ukes? Yes they do. As part of their vision to promote Ukulele, the girls opened the shop to uke players wanna bes who just want to explore first. "Some people buy the instrument right away, without knowing if they're gonna love it. We thought by renting out some of our units, we can give them "the feel" first before they jump into buying one," says Alegro. Uke rentals are at 100/hour, and anyone can have free Ukulele Lessons on the management's prescribed dates and schedules.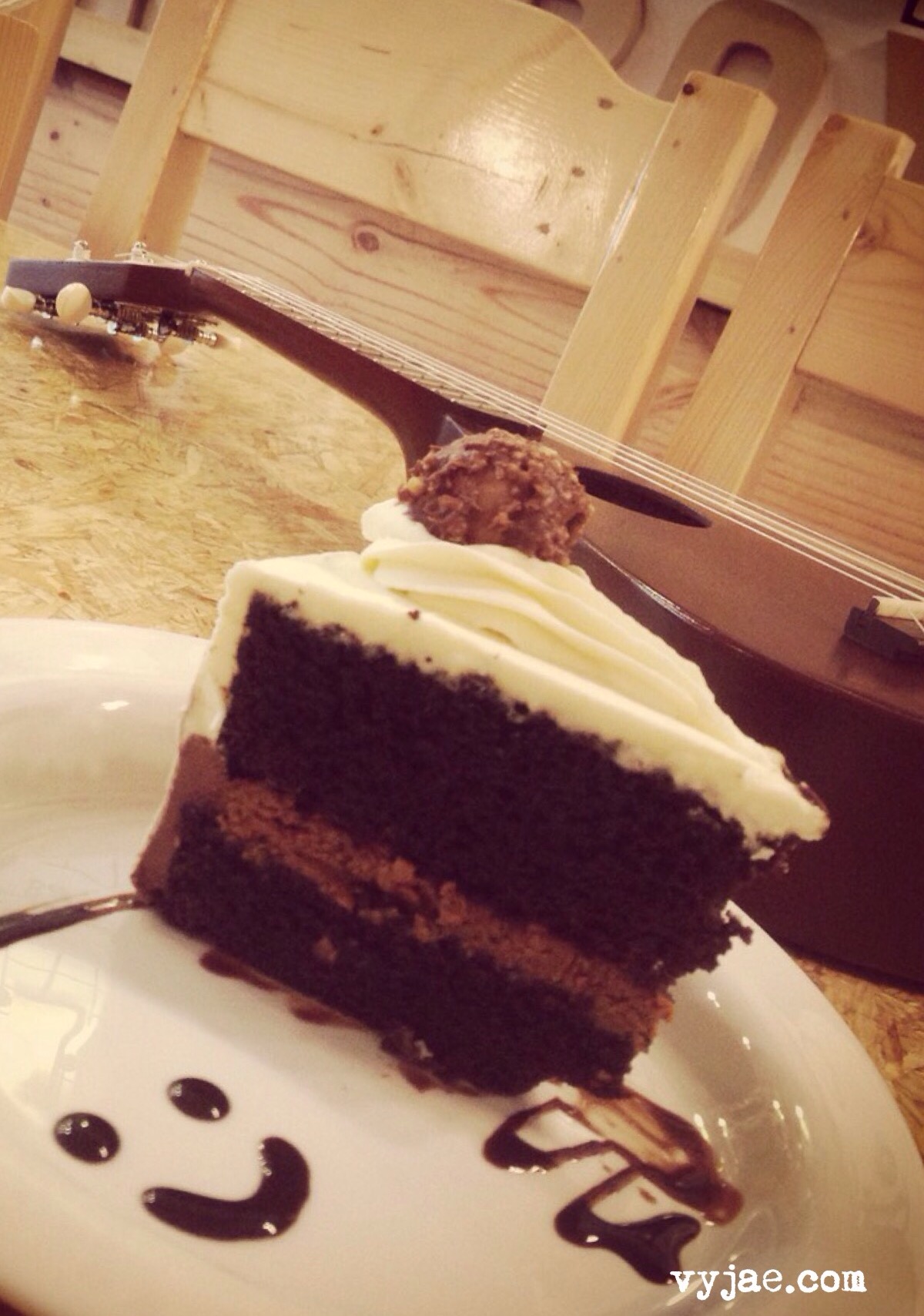 Personally, I fell in love with UKE BOX CAFFE'S whole concept, combining the simplicity of uke acoustic music with a coffee shop, in a tropical island feel. And the food that they serve are excellent as well. They hired some pretty good chef and baristas, and their staff are all friendly and very attentive to the customers needs. The idea of promoting UKULELE especially to the younger generations while at the same time creating a wholesome venue for uke enthusiasts to gather, jam, and enjoy their music is just impressive… indeed a concept out of the (uke) box.
UKE BOX CAFFE is located at 2/F Village Center, 187 E. Rodriguez Sr. Ave (formerly Libis), Quezon City. You may call for reservation at +63 2 3747467. The store is open Mon-Thur 9am-12am. Fri & Sat 9am-1am, Sun 12pm-9pm.
Here's a good news, dear readers. Because we're turning 2 this month, we're giving away a special prize! You can win one of Uke Box Caffe's Huni Ukuleles by simply joining my anniversary raffle promo. It's very easy. Just click the link below, follow and complete the mechanics to qualify for the contest. Please don't forget to leave your name and email address at the comment box below. This promo will run until August 7, 2015. Thank you and good luck!