I have been trying to avoid baking chocolate cakes in the past, because I know it's something I'm at risk of overindulging in. So for my new found hobby, my Handcrafted Confections, it was by choice that initially I was promoting my carrot cakes and buttercream cakes to customer-friends so they order it instead.
Not until I discovered this particular recipe. Spoiler.. Dang! it is soo good, I honestly don't bother adding frosting to it anymore. But, well, for the sake of my customers, and you my dear readers, I am sharing my frosting recipe in this post as well.
A disclaimer though, I am not a pastry chef and had no professional training, and technically did not 'invent' this recipe. Let's just say I'm a mommy who tries to bake and happened to accidentally find out that an egg-less cake taste just as yummy, especially when mixed with secret ingredients which I am about to share (mayo, vinegar, coffee) from each choco moist cake recipes that I've come across with.
I can only wish I hated chocolate cakes but then again I ask… how is it humanly possible to hate a super moist chocolate cake like this?
This recipe is too simple, that when my sister asked me for it, I just texted her the ingredients and said 'mix it all!' no fuss! Here you go..
Ingredients:
3 cups cake flour
2 cups brown sugar
1 cup cocoa
2 tsp baking soda
2 tsp salt
2 cups water (milk, or coffee)
1 cup vegetable oil
2 tbsp mayonnnaise
2 tsp vinegar
Mix all ingredients well, using a wooden spoon… (electric mixer if you're in a hurry)
Fill the pans with batter and bake at a pre-heated 350 degrees F oven for 30 minutes (for cakes) 12-15 minutes (for cupcakes). Let it cool down on a wire rack.
*Best when stored in a tightly-sealed container a couple of days (to a maximum of 7 days), in the ref before frosting. 6 cups batter makes one cake or 30pcs cupcakes.
For the frosting: 1/2 stick of unsalted butter in room temperature; 1/3 cup unsweetened cocoa powder; 2 cups confectioner sugar; 3 tbsp milk; 1 tbsp vanilla extract. Mix using an electric mixer until combined. #jnv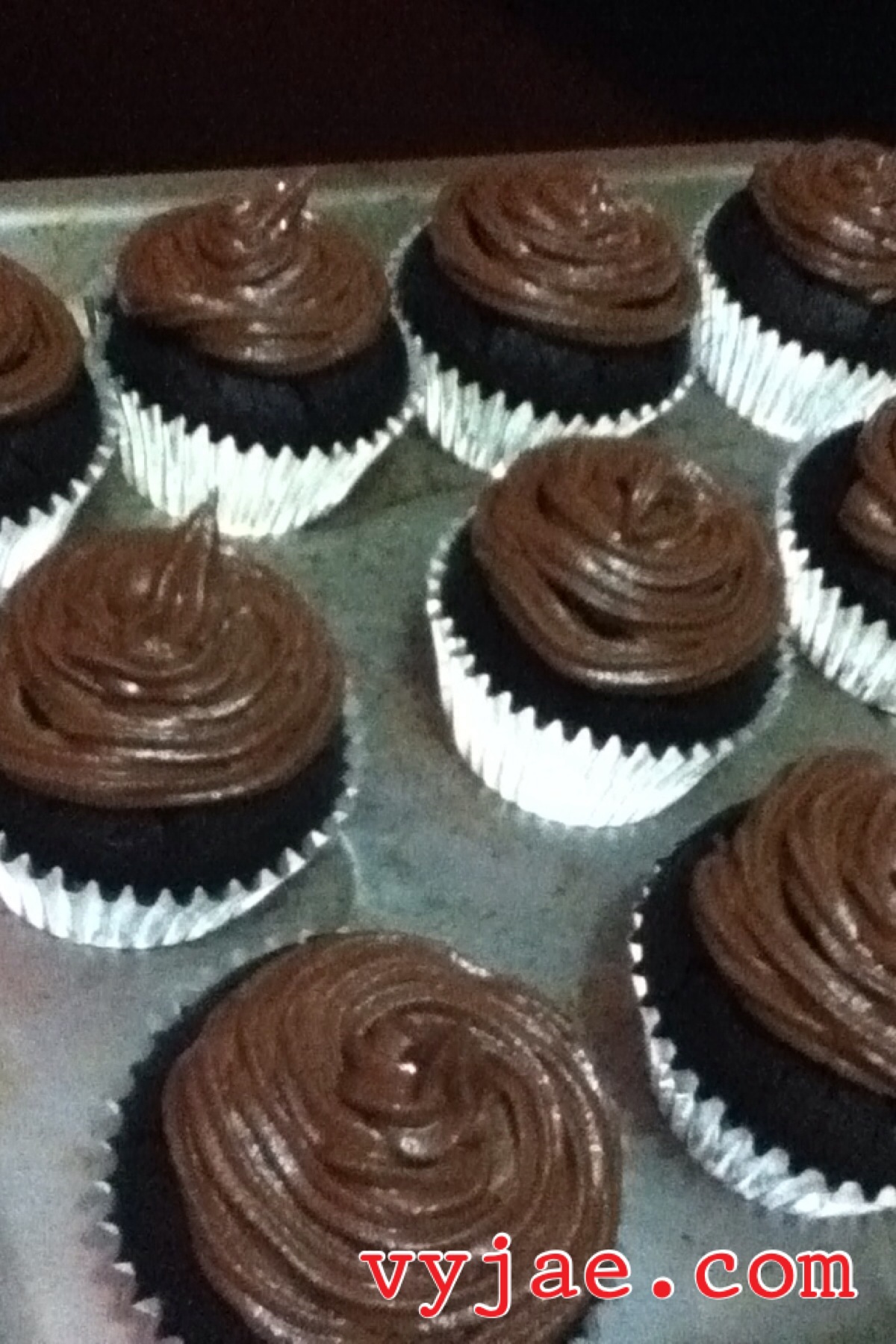 Please bear with this photo for now (from my phone cam), been busy eating the trimmings, haha, that I forget photo-documenting it everytime. I do have the ones with frostings already and fondant toppers, do check 'em out at https://www.facebook.com/handcraftedconfections?ref=ts&fref=ts