Three of the country's coolest recreational centers just opened its newest branch at San Fernando, Pampanga. And for a mom of an active toddler (like me) who comes from the Central Luzon area, this is kind of a big deal!
Why? Because most of us, probinsyanos, are simply sick and tired of Manila traffic, the time we spend just driving from here to there, plus all the hassles that goes with it. And for what purpose? Supposedly to relax. Regardless how promising your destination is, the whole point gets defeated when you start getting stuck at what seems like a never-ending bumper-to-bumper ordeal. It's no fun. No fun at all.
It's such a relief that we are getting more options nowadays. About time actually, they started decentralizing the crowded metropolis reconsidering the rich provincial lands we still got, just waiting to get rediscovered.
In that aspect the stars went all aligned for me and my fun-loving toddler.
Right at the heart of the City of San Fernando (which is just a few kembot away from my hometown) lies a 2,500 square meter facility that houses three fun centers in one roof- the Fun Ranch, Lazer Maxx and Jump Yard Indoor Trampoline Park.
My daughter Hunter and I had a wonderful opportunity to experience a fun-filled afternoon at this place, thanks to Marketing Manager, Ana May Del Rosario and mommy blogger RJ Dancel for inviting us over.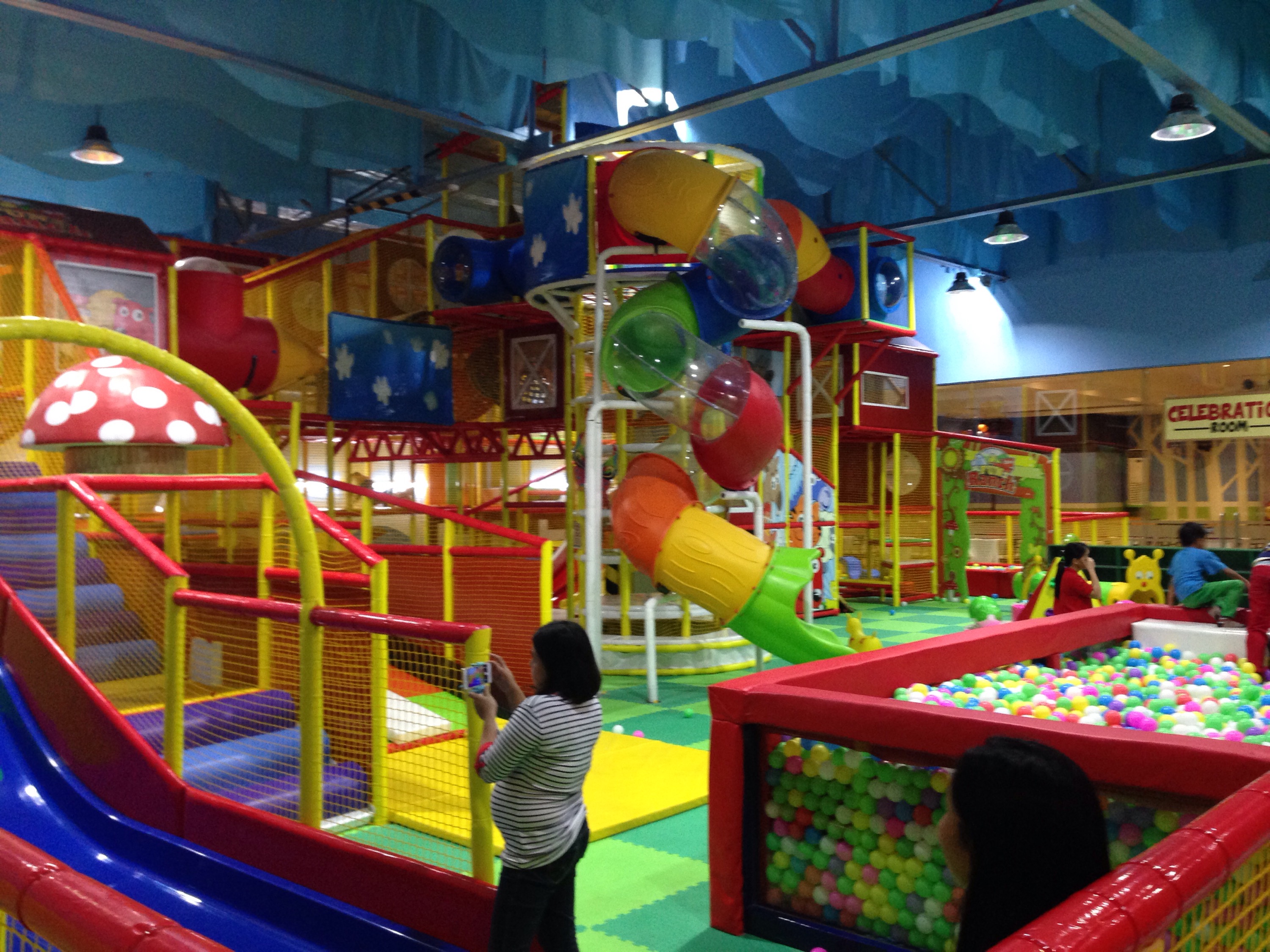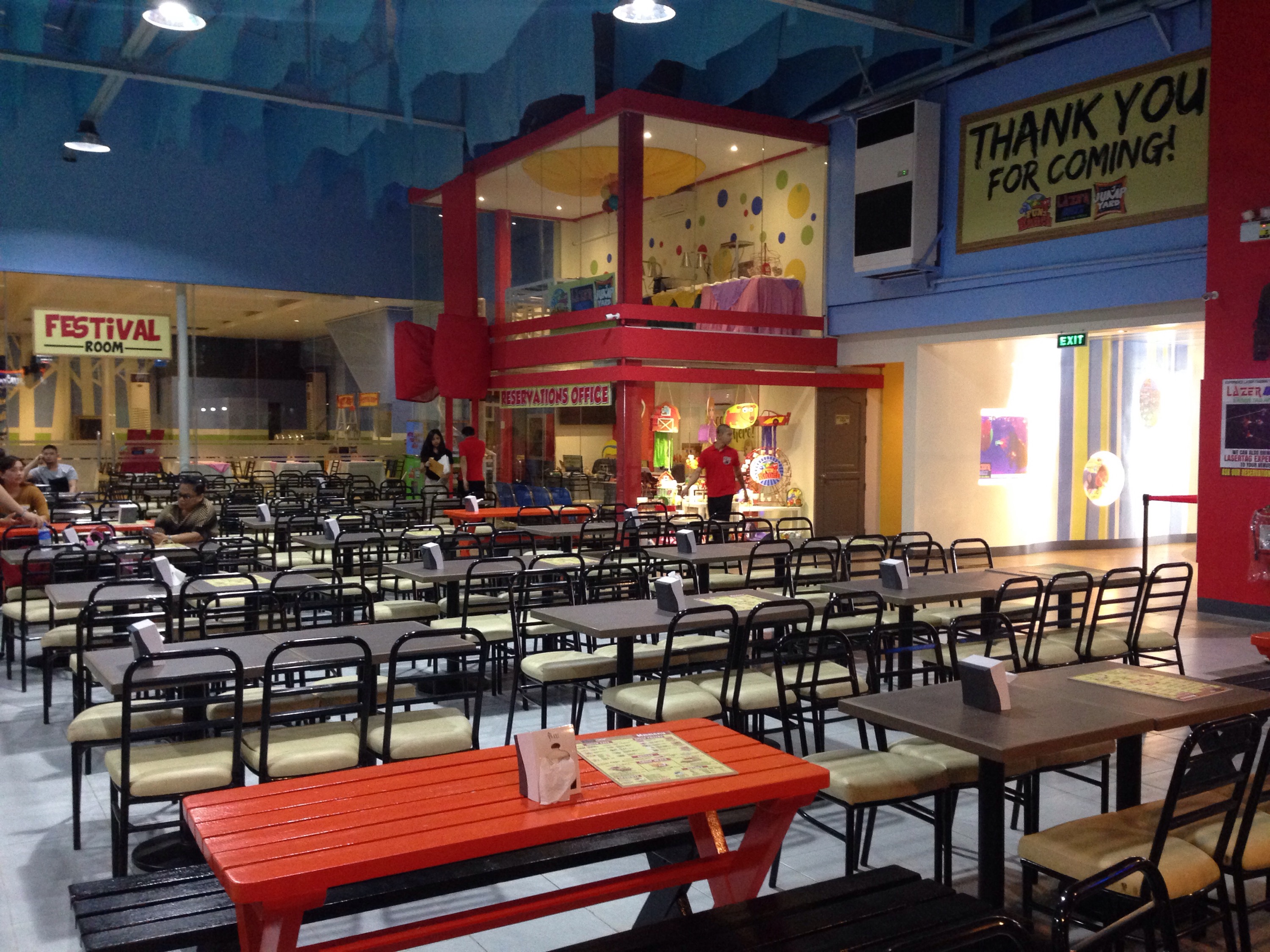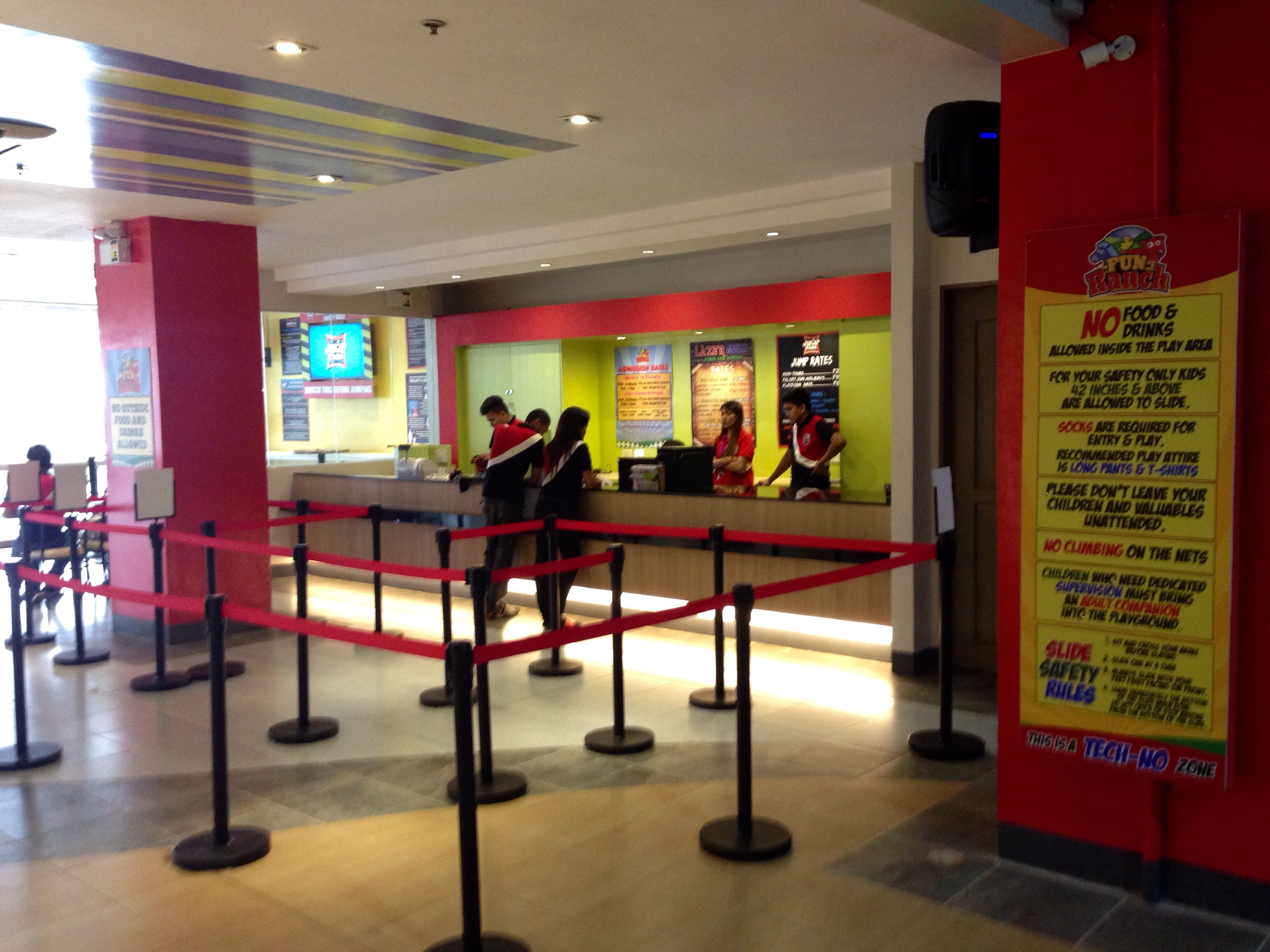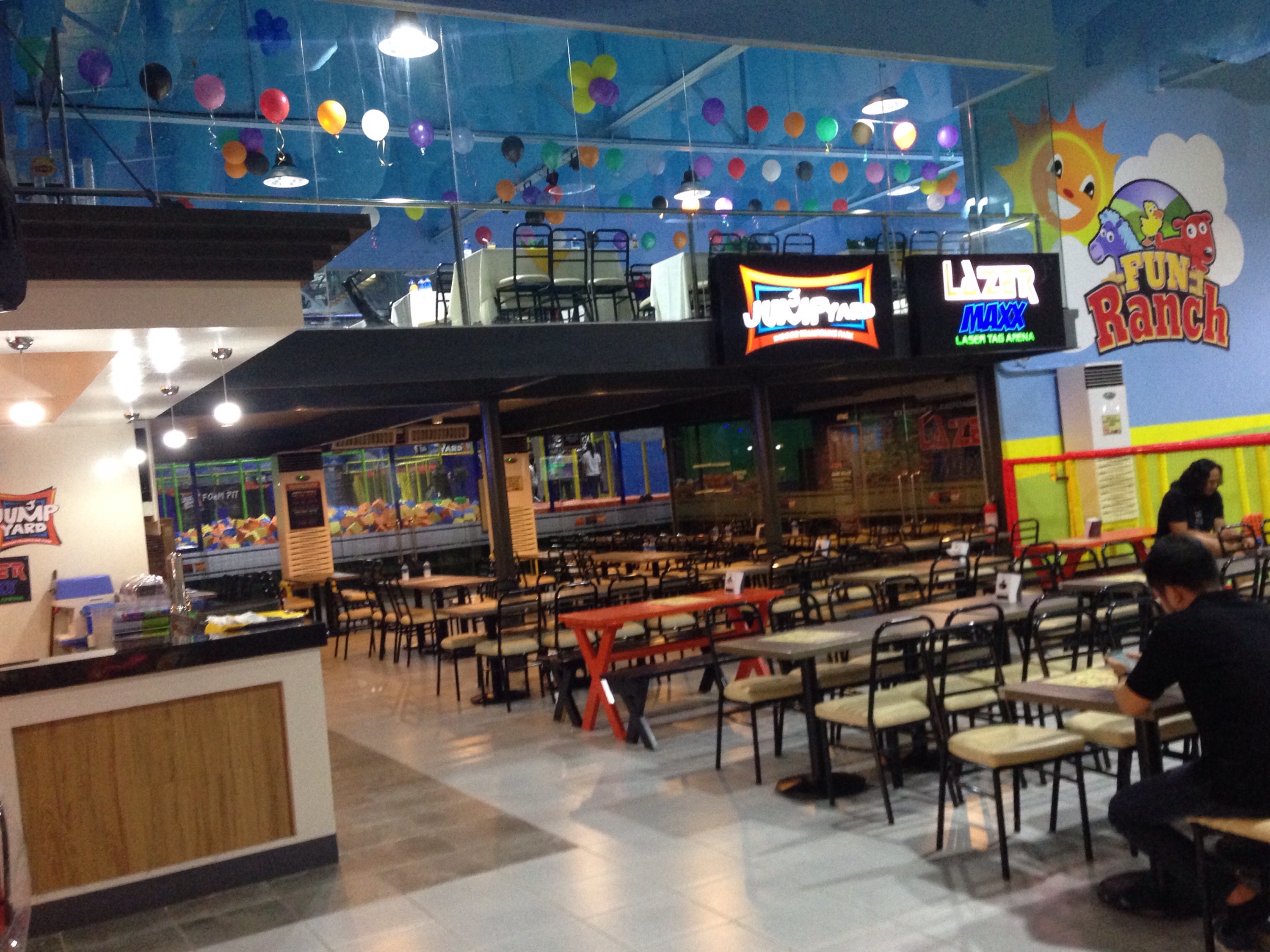 FUN RANCH
My darling daughter's favorite of course is the Fun Ranch, where every kid's dream come true… Haha! Well, maybe not all. It's just that, when I looked into her eyes as she stepped foot on to this play area…'felt like I hit the bull's eye, like I was the BEST MOM EVER for her that day haha!.. It's just PRICELESS!
The gigantic play area has twelve different slides to explore and enjoy- there's a straight slide, a spiral and there's even one giant roller slide that will surely thrill any kid.
Did I mention this particular Fun Ranch branch has the first ever see-through Giant Ball Pit for kids?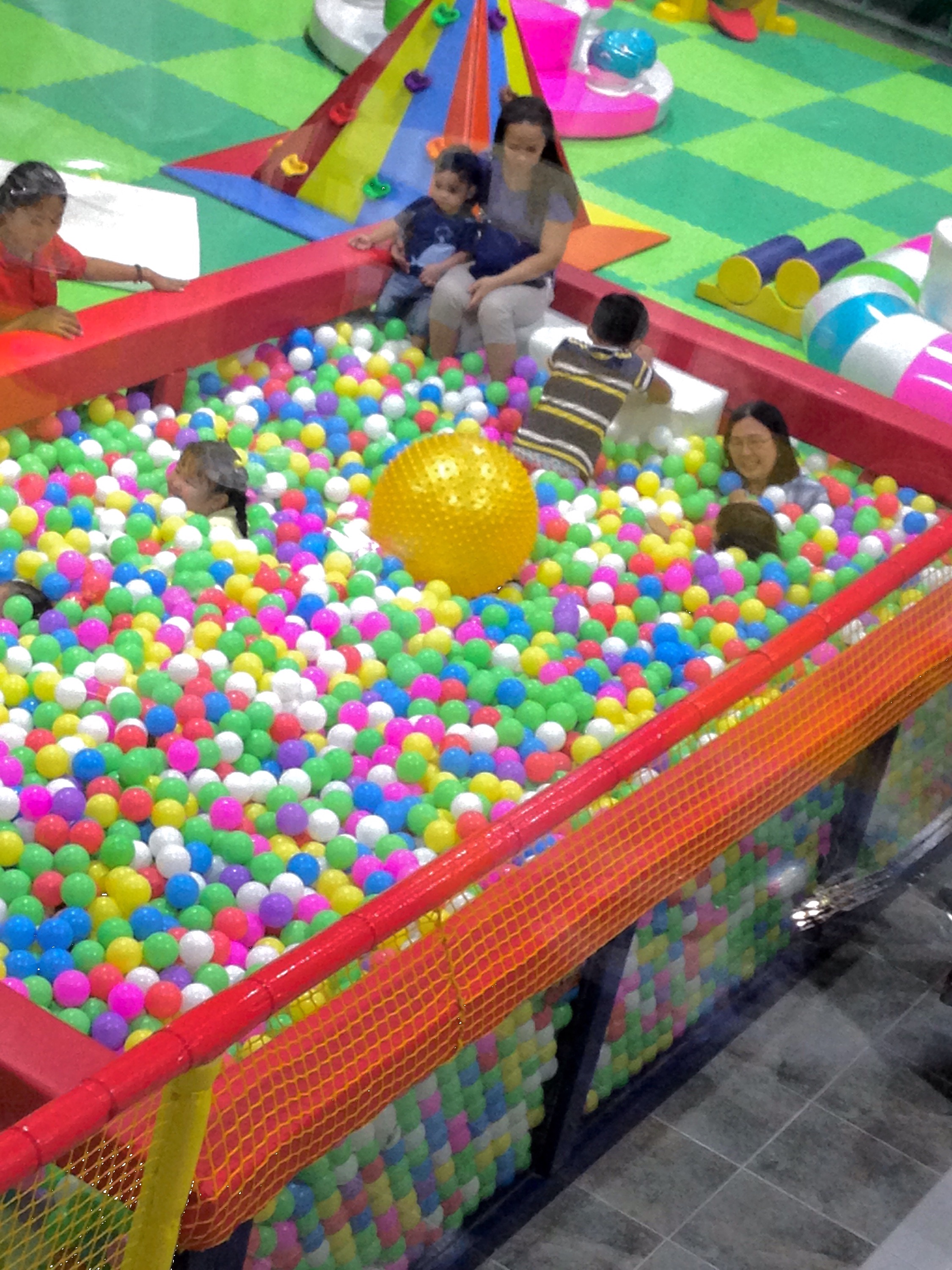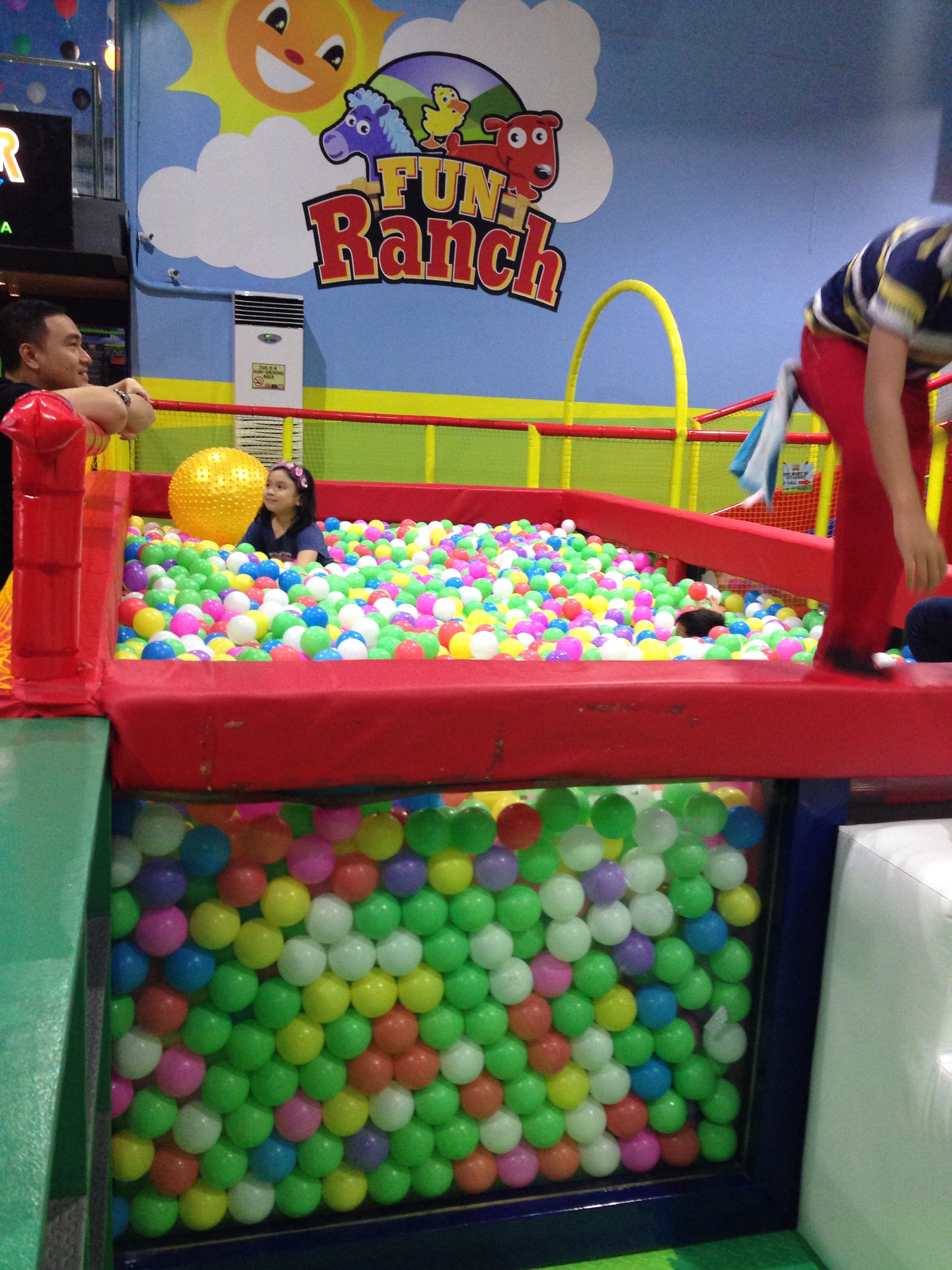 And true enough, my daughter was not able to resist diving into that multi-colored balls once she saw it. A word of precaution, however, especially to parents and guardians of children below 4 feet, not to let your child jump into the ball pool unsupervised, to avoid any possible danger. Because honestly, even I almost jumped in when i saw that huge ball pit for kids.
I prefer this one for my Hunter, it's much smaller and safer for her.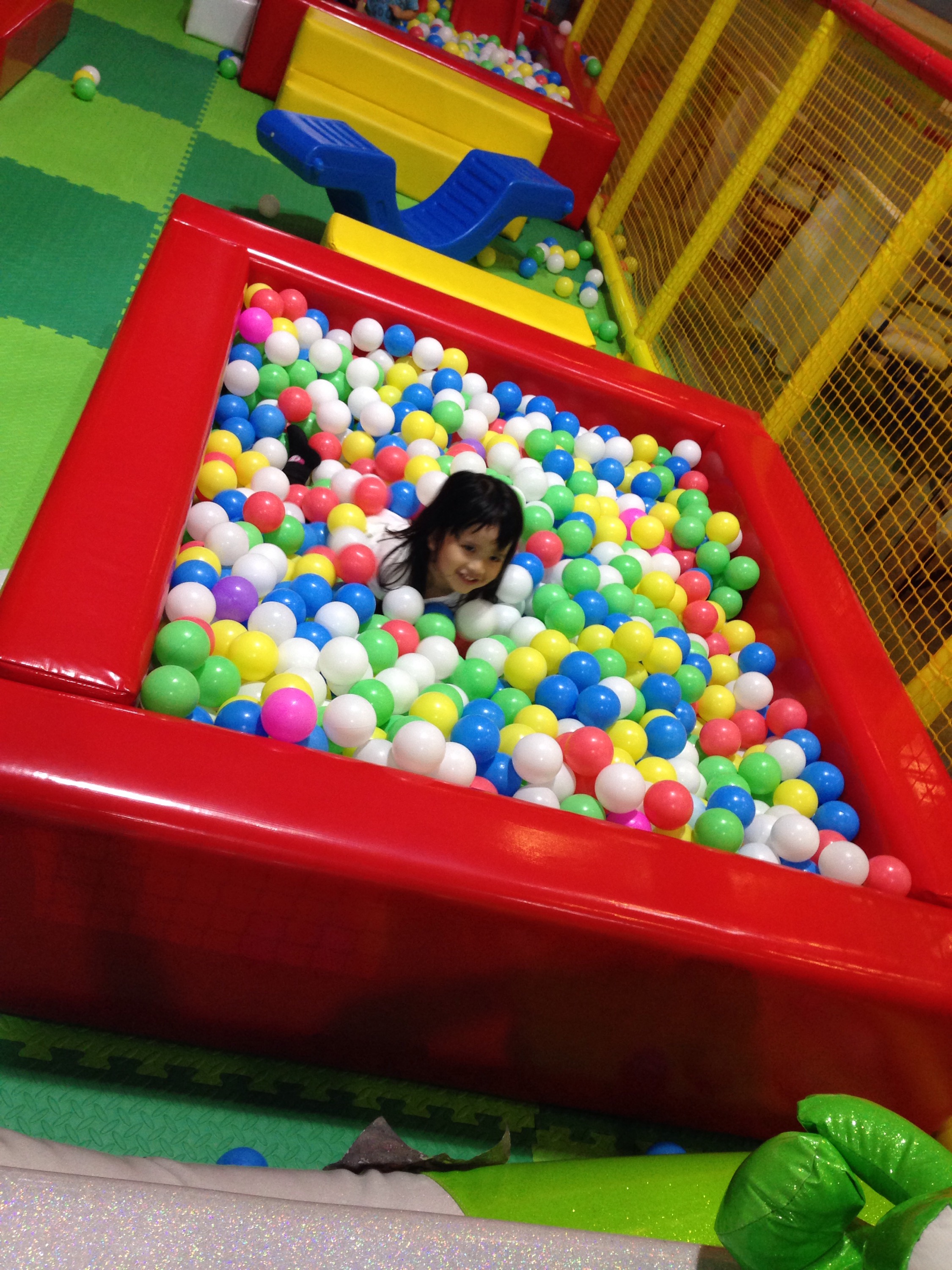 There's a role playing area that also allows the little ones to play pretend in that little community designed to hone their creativity and imagination skills.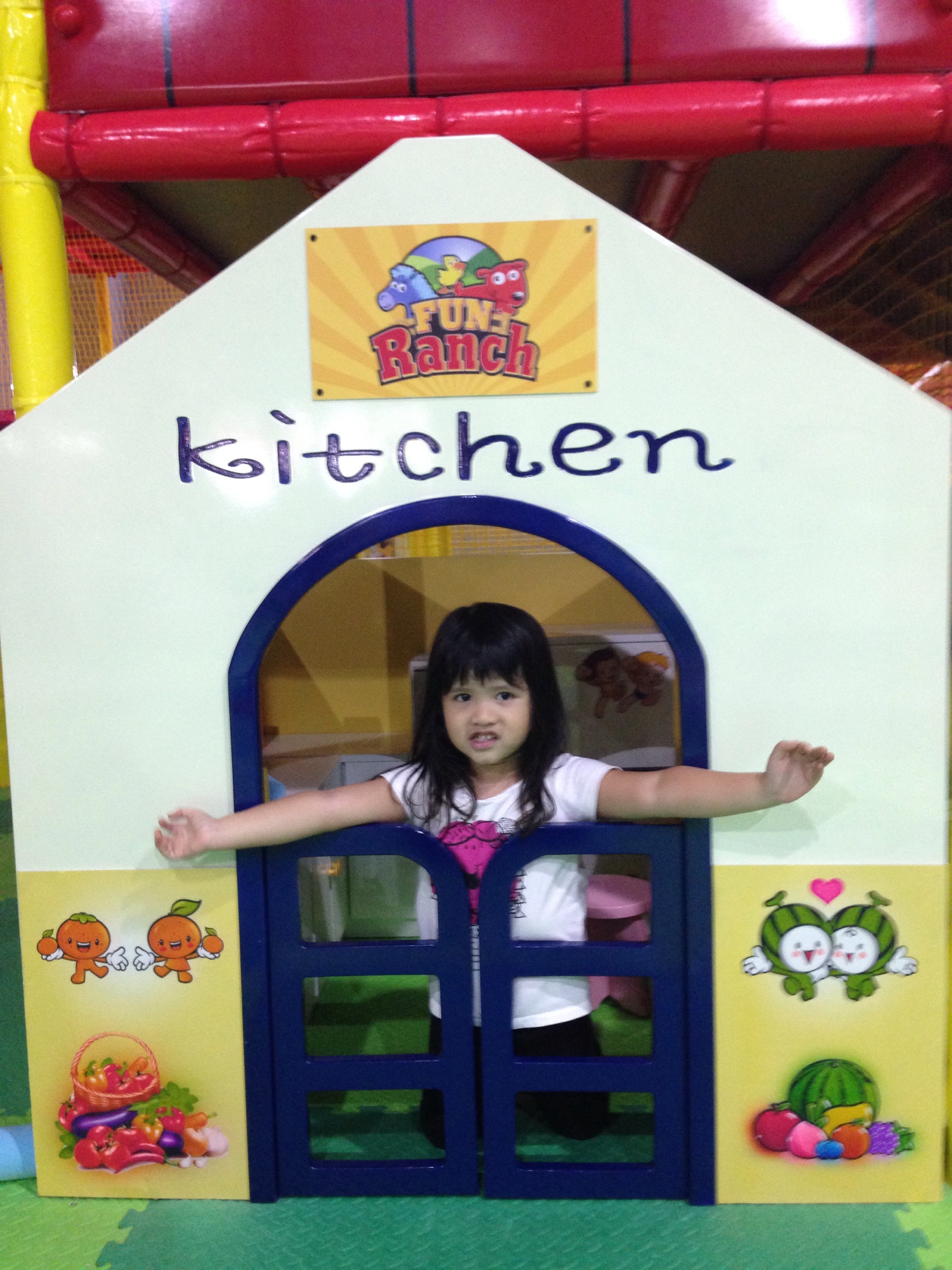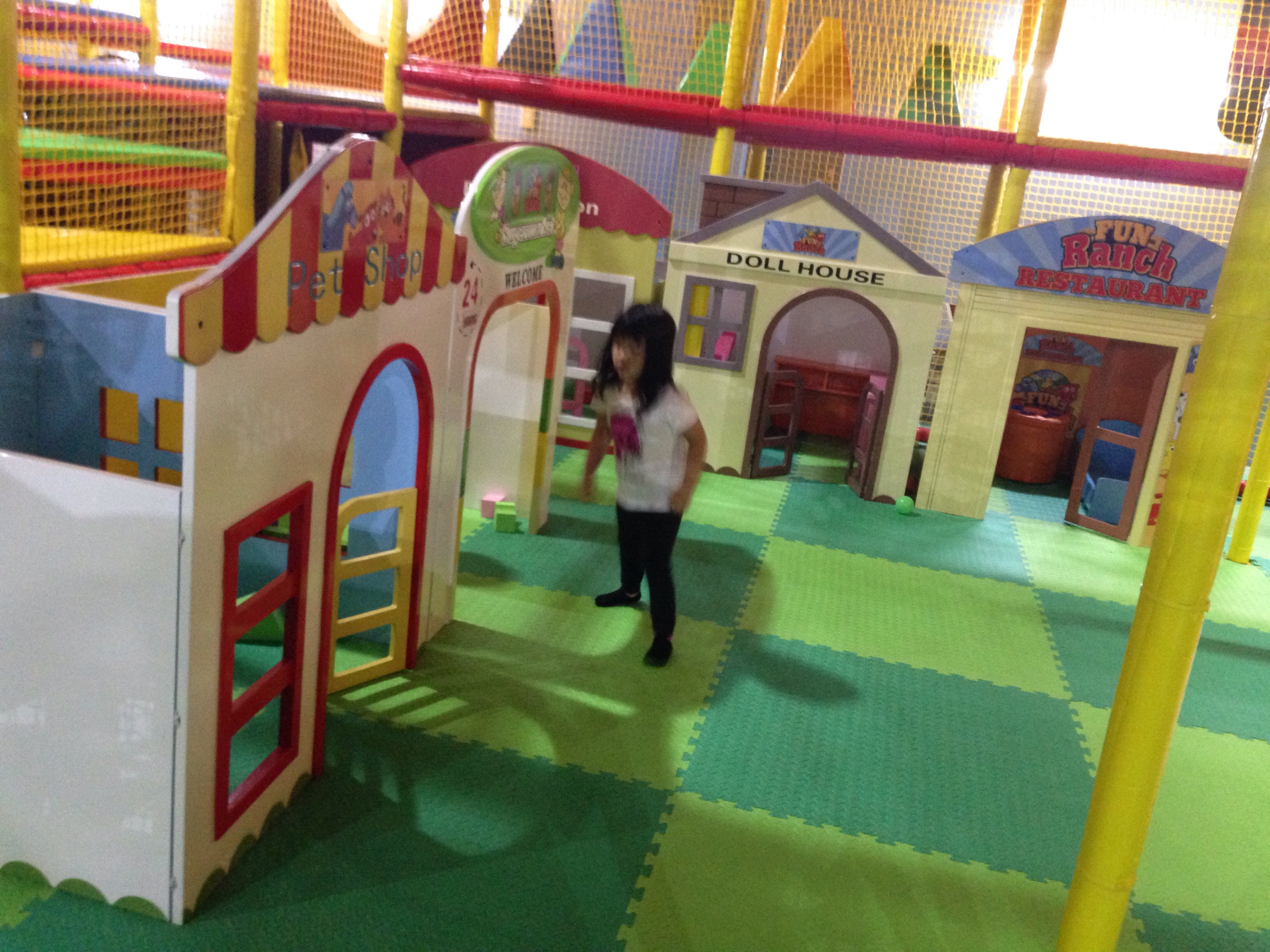 A gigantic swaying boat, where your kiddo can just relax and pose for a shot.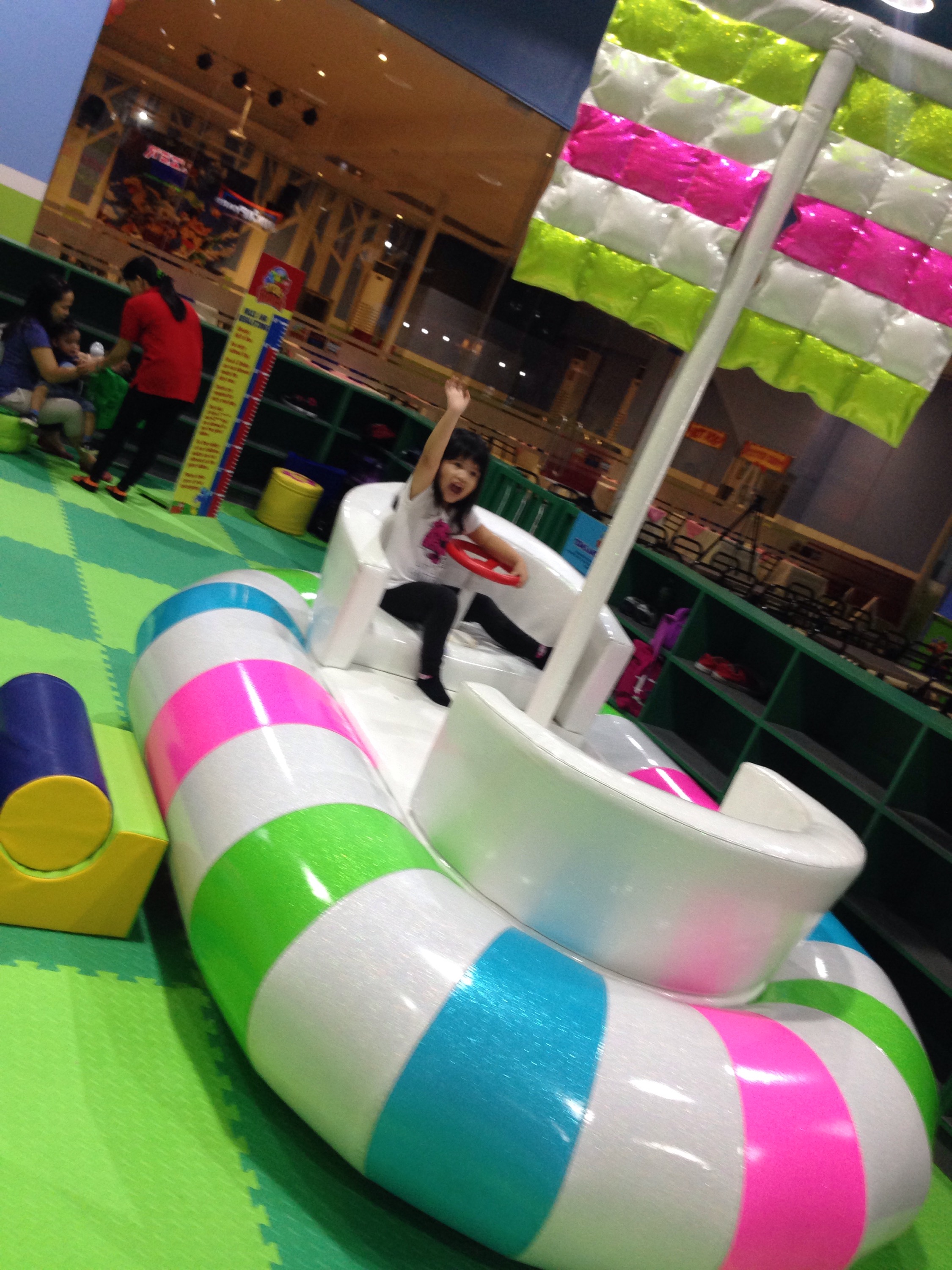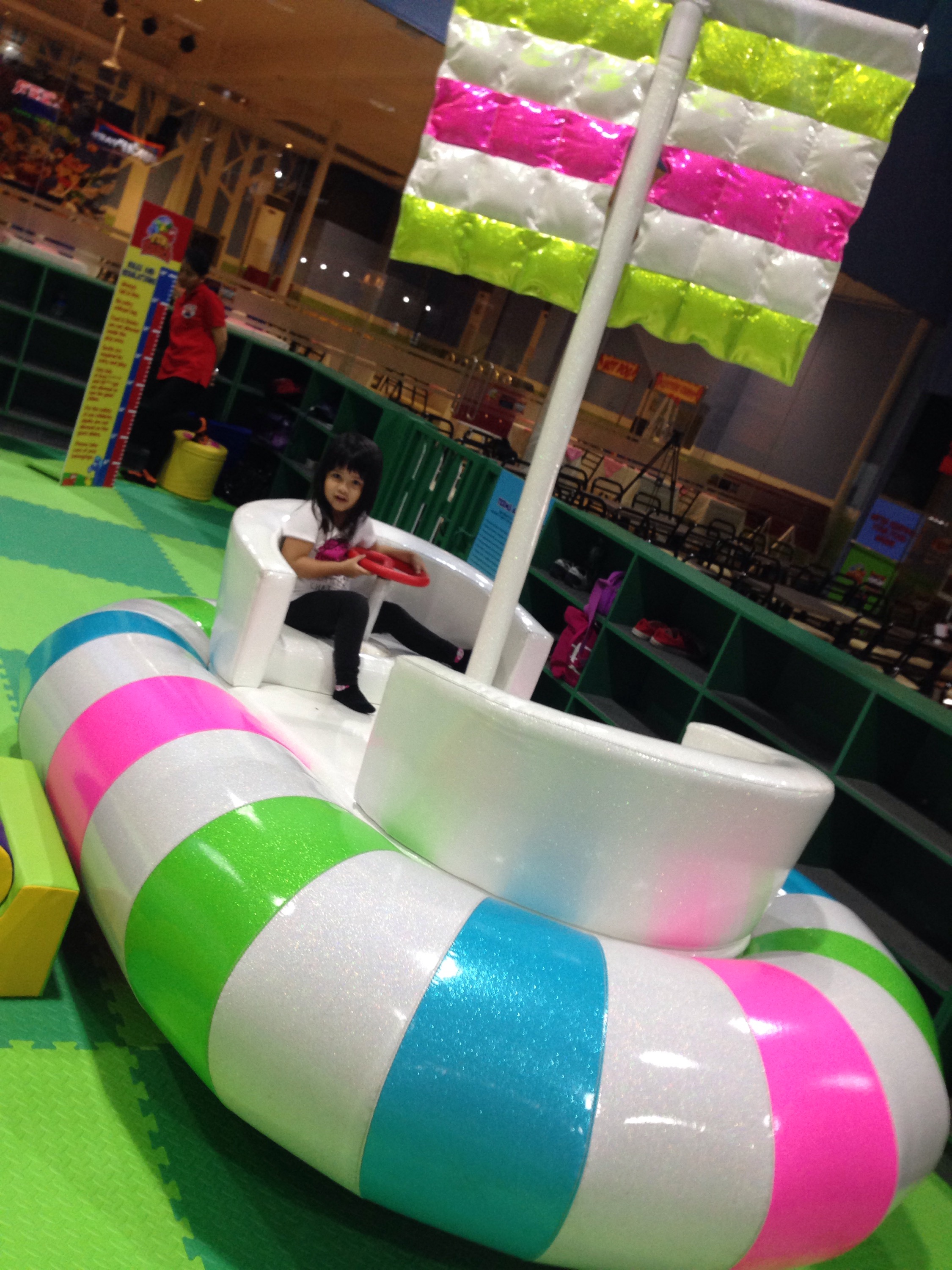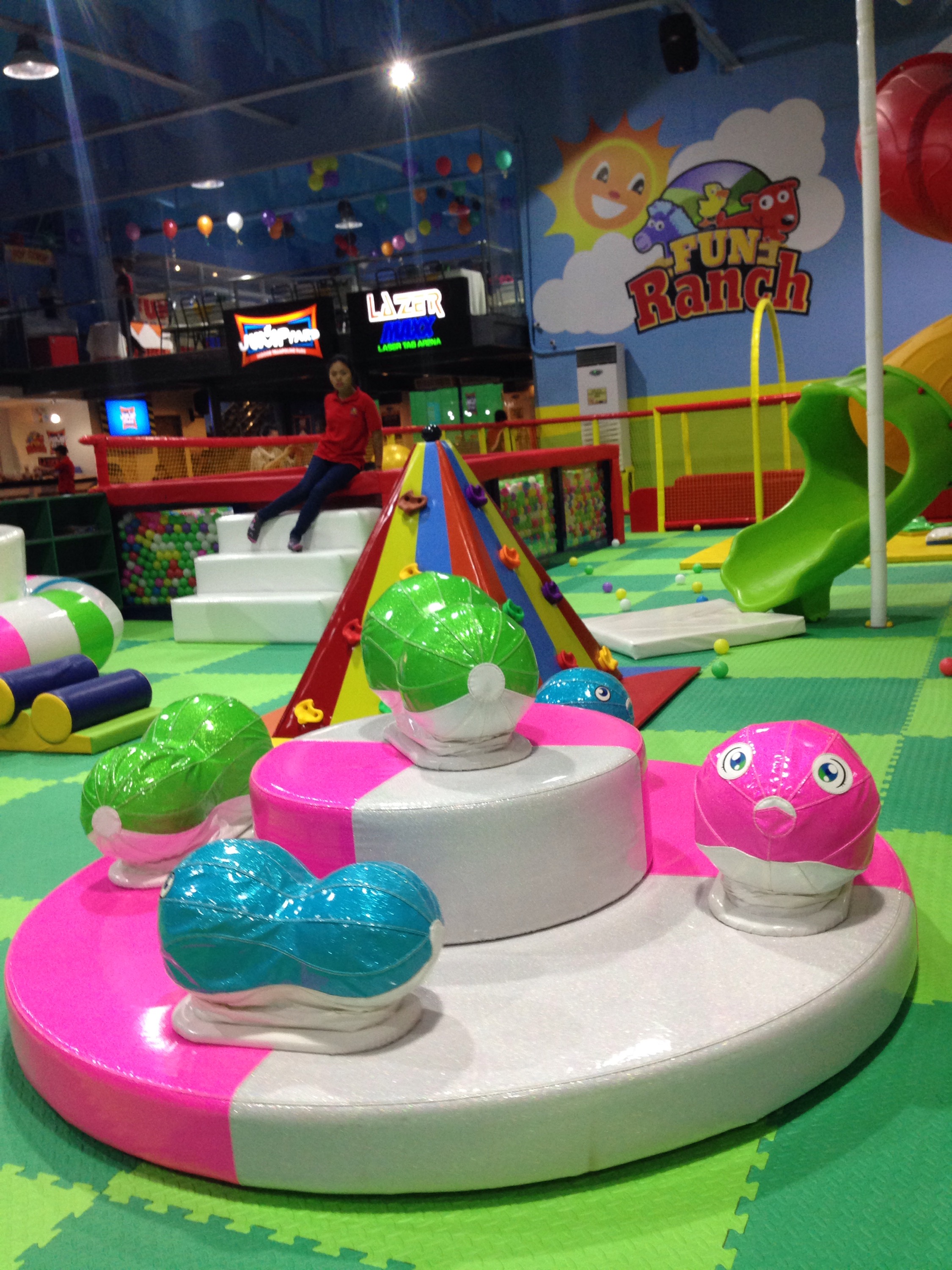 Everything is just so colorful, and soft… which means it is very much kid friendly. And right in front of the play area is a space for events and parties, or simply to serve as waiting area for the kids' parents and guardians. While waiting, one can eat, drink, or access the free wifi and browse the internet over their mobile phones.
Below is the corresponding rates per day At Fun Ranch:
Monday to Thursday (12nn – 9pm)
Php120 – 30 minutes
Php170 – 1 hour
Php60 per 30 minutes extension
Php300 – UNLIMITED PLAY
Friday (12nn-10pm)
Saturday, Sunday & Holidays (9am-10pm)
Php140 – 30 minutes
Php195 – 1 hour
Php75 per 30 minutes extension
Php350 – UNLIMITED PLAY
LAZER MAXX
Kids 7 years and up, YES, that includes me (and you) will definitely love Lazer Maxx. If you're familiar with laser tags, this is basically all about it. It's an indoor laser game activity complete with lights and sound effects that allows you to be your fave sci-fi hero in a fast-paced game played as a group. One can simply enjoy shooting an opponent vest to score points. Perfect for a team-building activity. And, definitely, everyone who tries this will have a blast!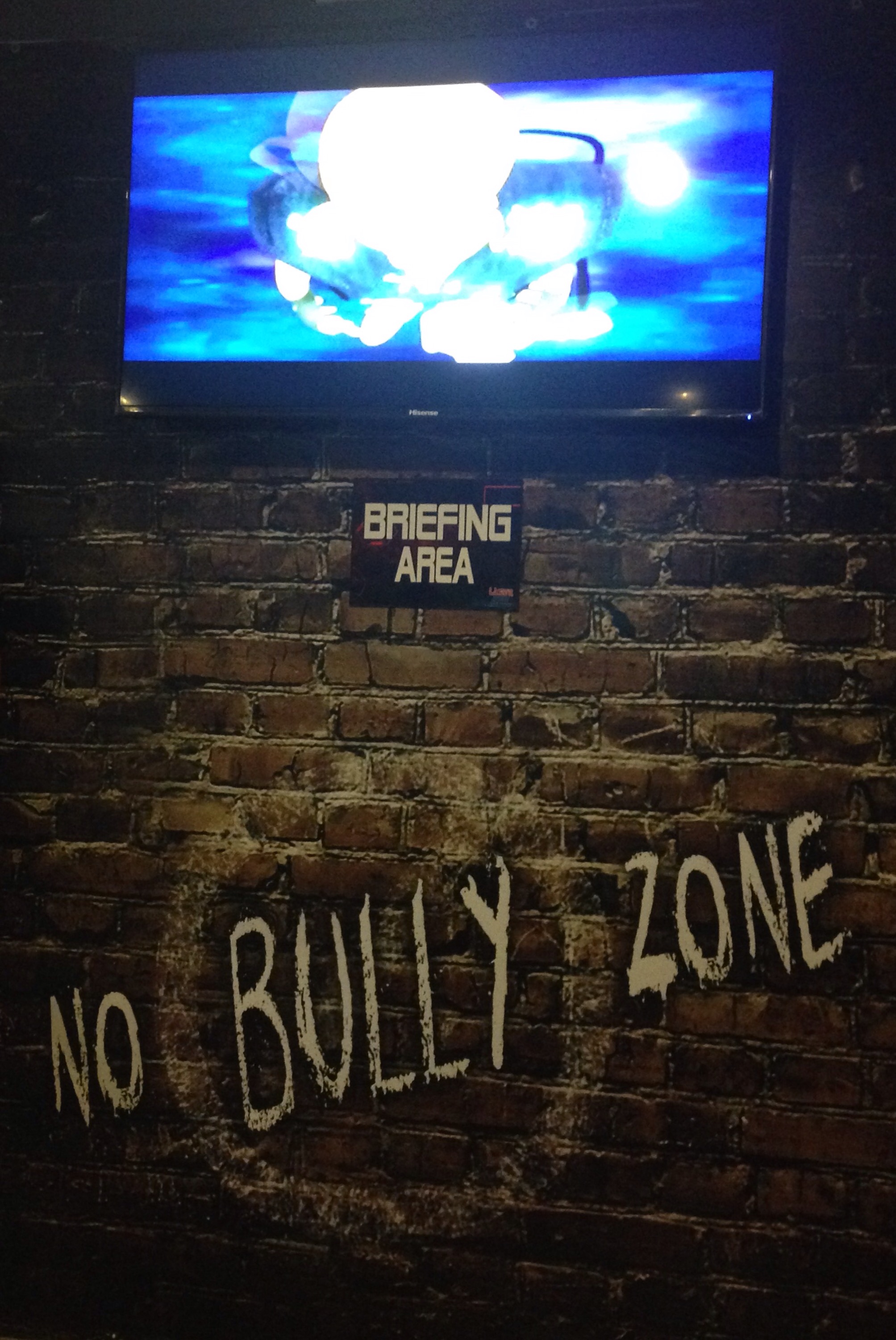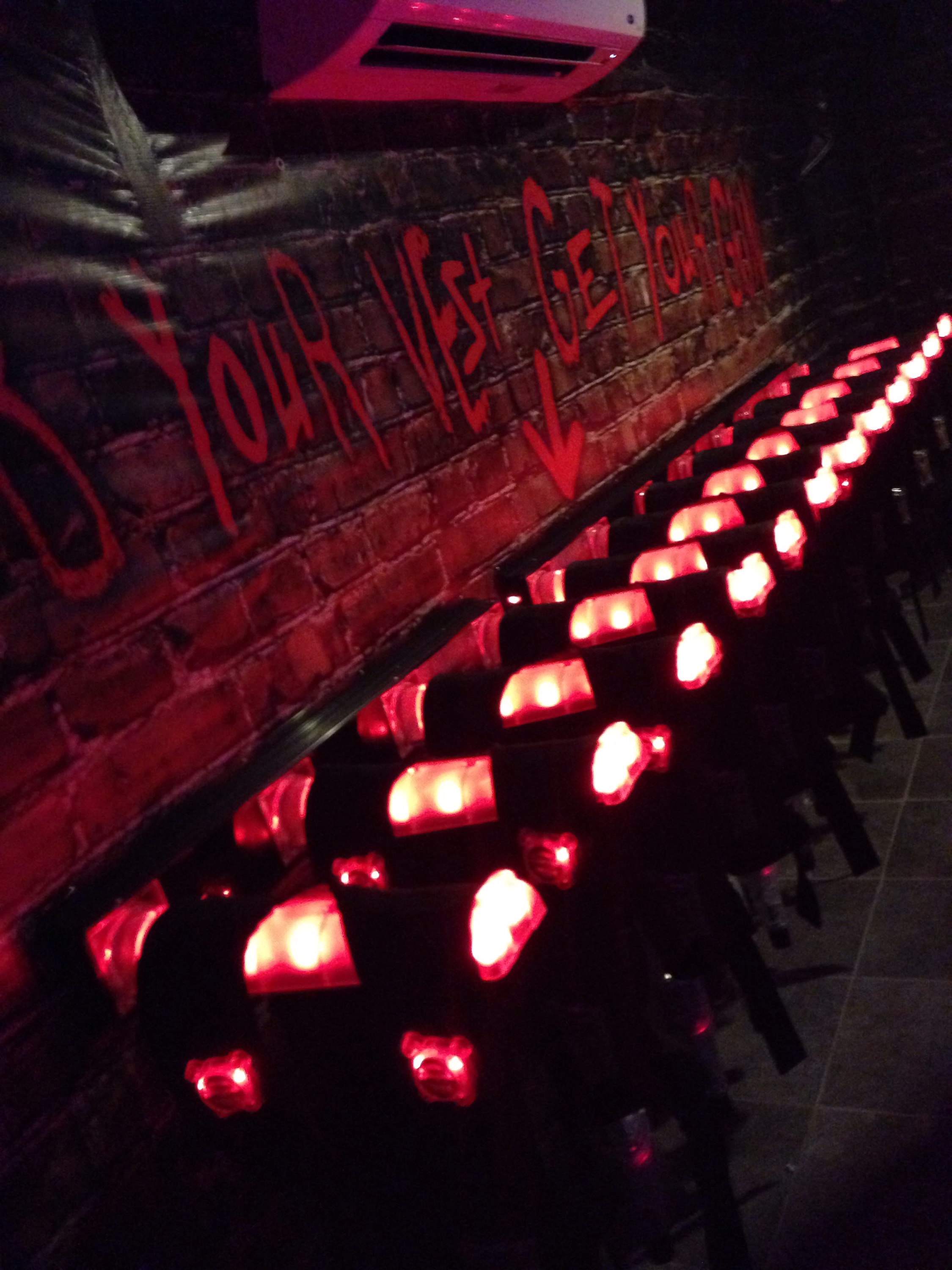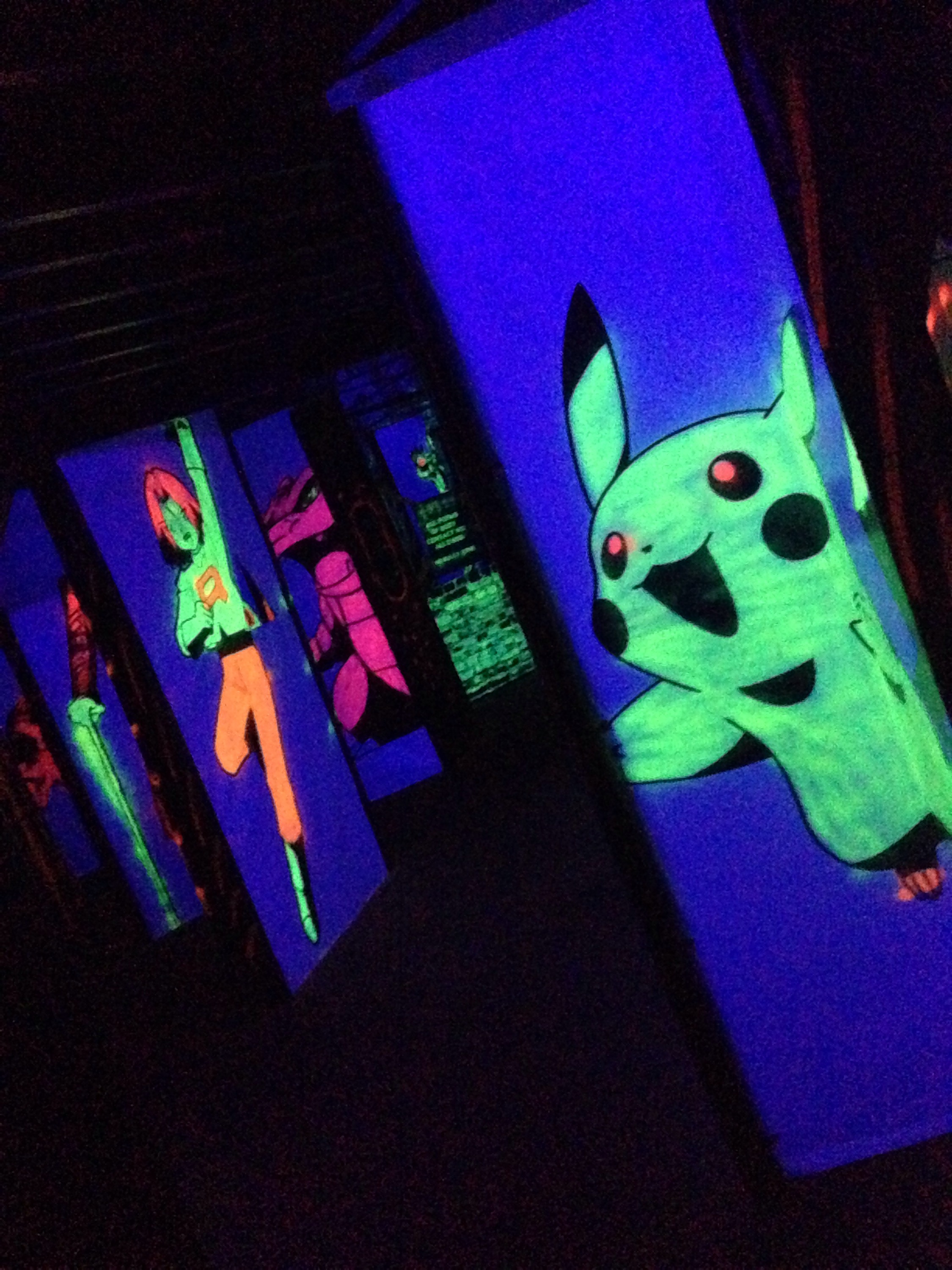 Lazer Maxx Rates per Day are as follows:
Individual game (15 mins.)
Weekdays (Mon-Thurs) – Php190/person
Weekends (Fri.-Sun)& Holidays – Php220/person
Consecutive games (2x 15 mins. Rate)
Weekdays (Mon-Thurs) – Php360/person
Weekends & Holidays (Fri-Sun) – Php420/person
Exclusive rates (Exclusive arena use for 1 game / maximum 24 vests)
Weekdays (Mons-Thurs) – Php4000
Weekends & Holidays (Fri-Sun) – Php5000
JUMP YARD
Last but not the least, is the Jump Yard. It's an indoor park for grown ups that is complete with trampolines of various sizes and many other range of physical activities one can do. Aside from the 82 trampolines, there is a place for the ball lovers, the Five Slum Dunk lanes are just perfect for the competitive spirits in every basketball fanatic. There's 4 Olympic size trampolines where you can simply jump and land on a pit filled with soft foam cubes. There's even a wall climbing area which is as well a great alternative to any highly physical activity. If you are with a toddler, there's a corner in the Jump Yard dedicated to those little jumpers, with adult supervisions of course.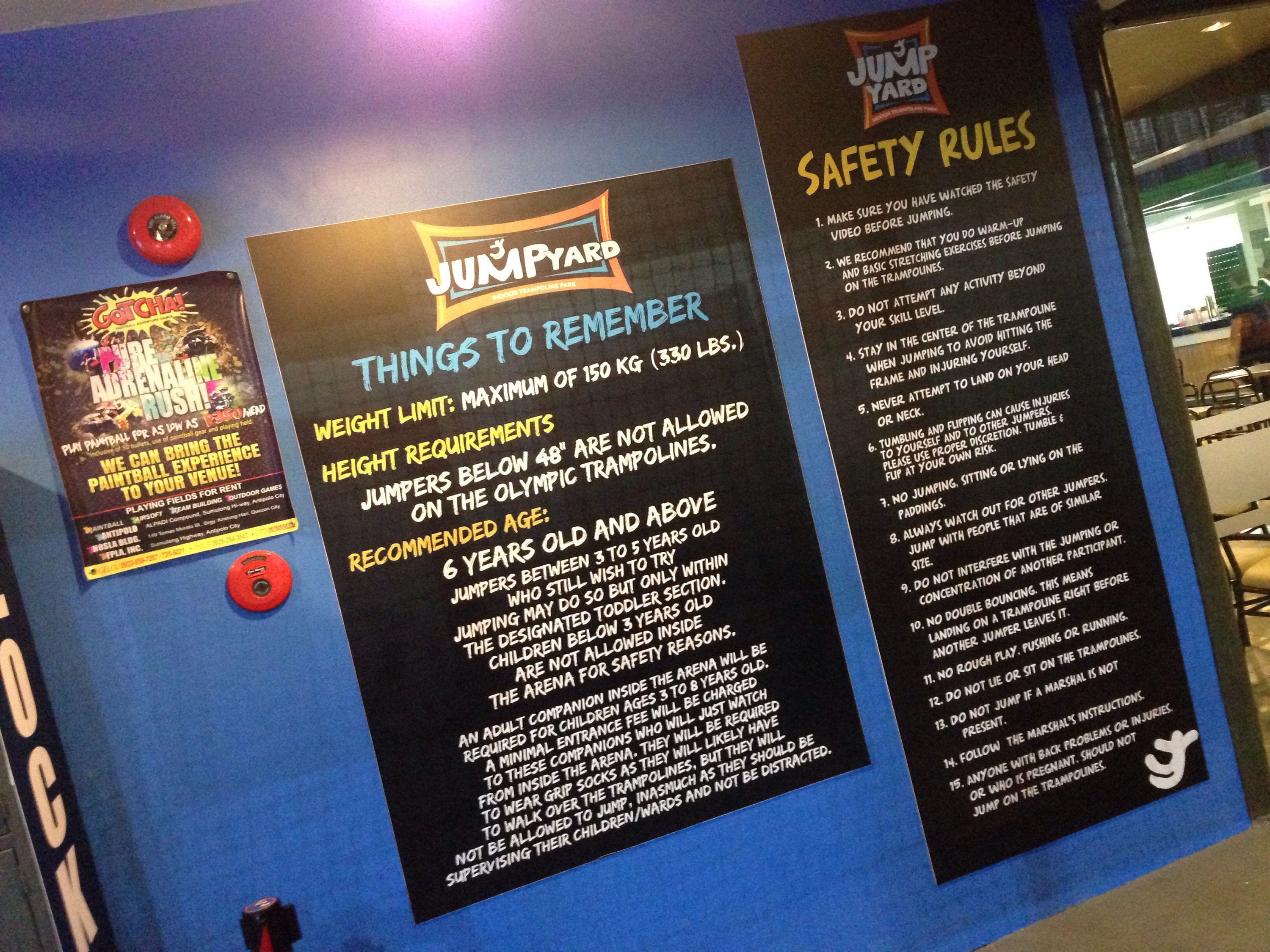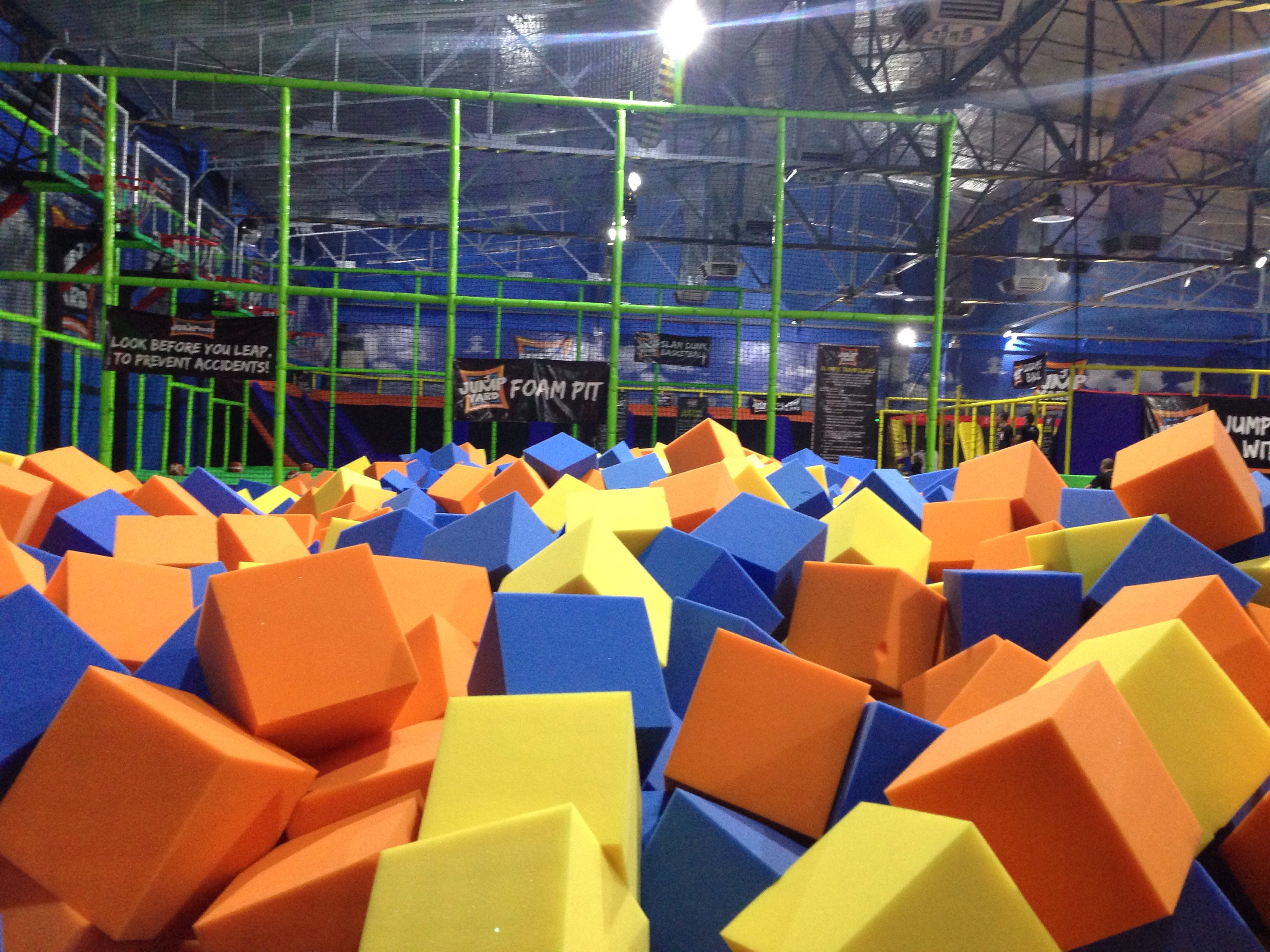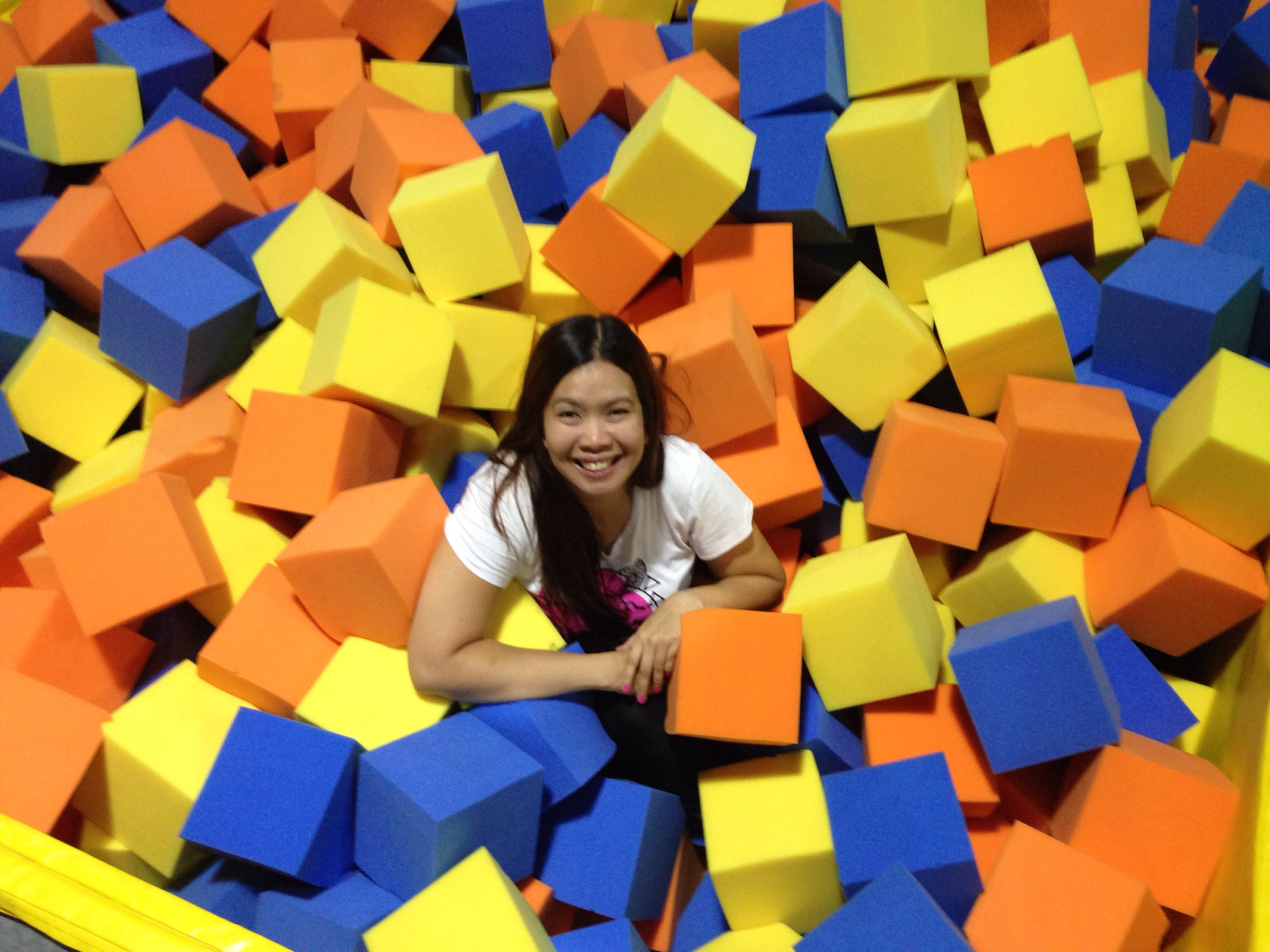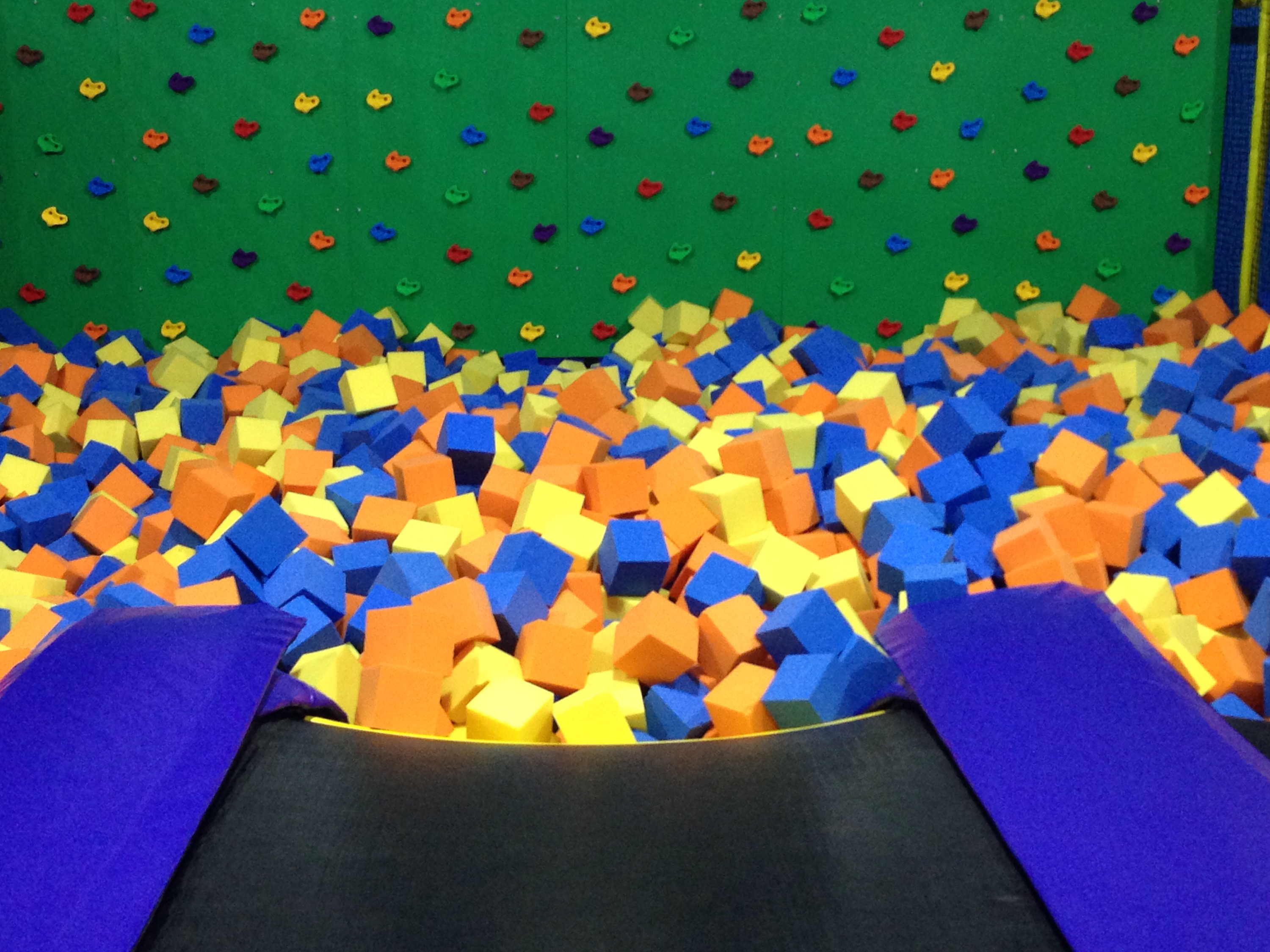 Here's Jump Yard Per Day Rate:
Monday – Thursday (12nn-9pm) – Php250
Friday (12nn-10pm) – Php350
Saturday, Sunday & Holidays (9am-10pm) – Php350
An important reminder, to bring a pair of socks (a grip socks) for everyone who intends to play. In case you forget, there are socks available for sale at the counter.
I HIGHLY RECOMMEND THIS PLACE FOR A PARTY OR A TEAM BUILDING EVENT:
While I find this recreational facility truly a HAPPY PLACE for the kids, it can also be one for the kids at heart. As both Lazer Maxx and Jump Yard can be perfect venue for a corporate team building or just bonding with friends, and family members.
They have private function rooms that ranges from big, to REALLY BIG rooms that can accommodate from 120 pax to as much as 250 pax.
Below is a quick guide incase you wish to hold a party or event at Fun Ranch: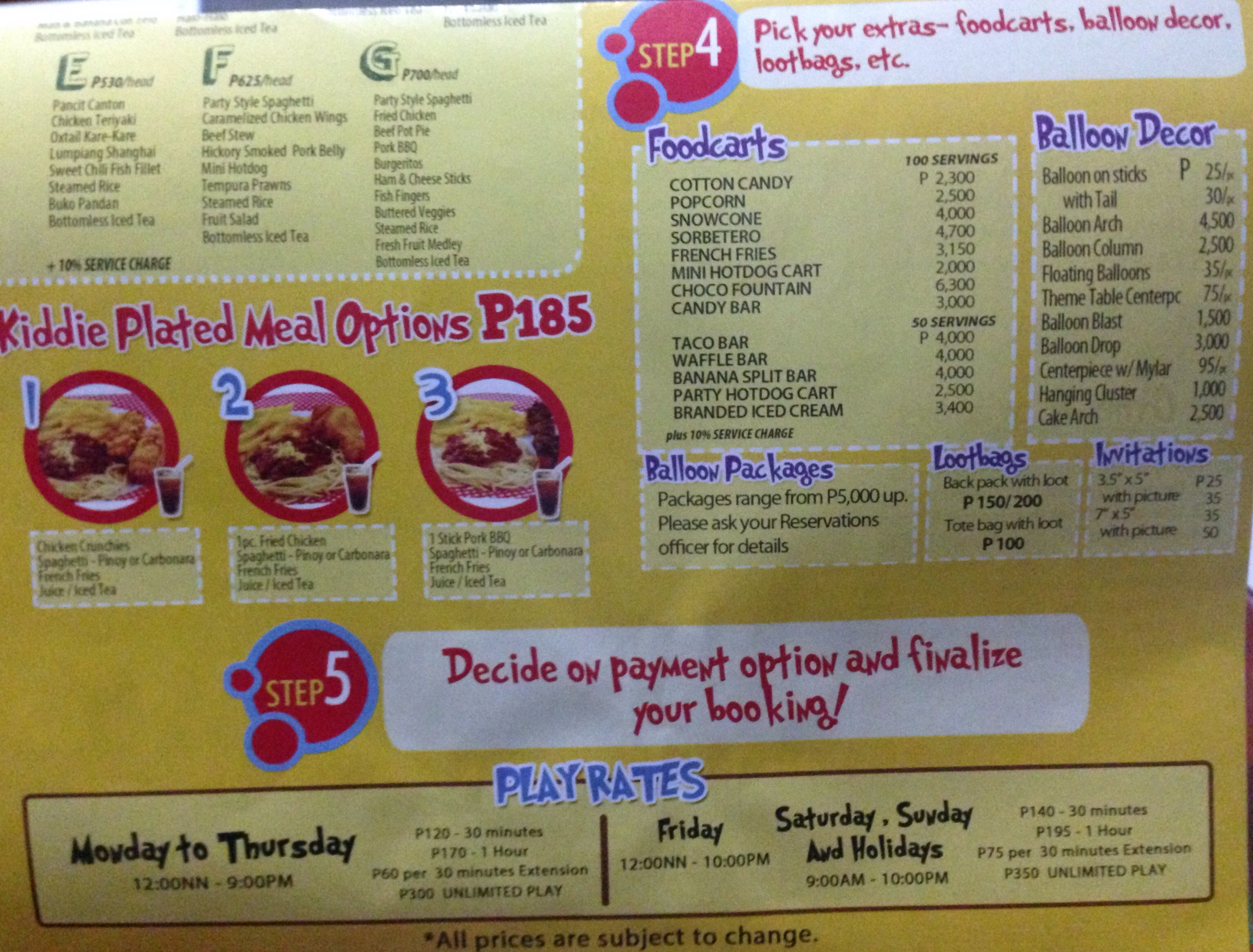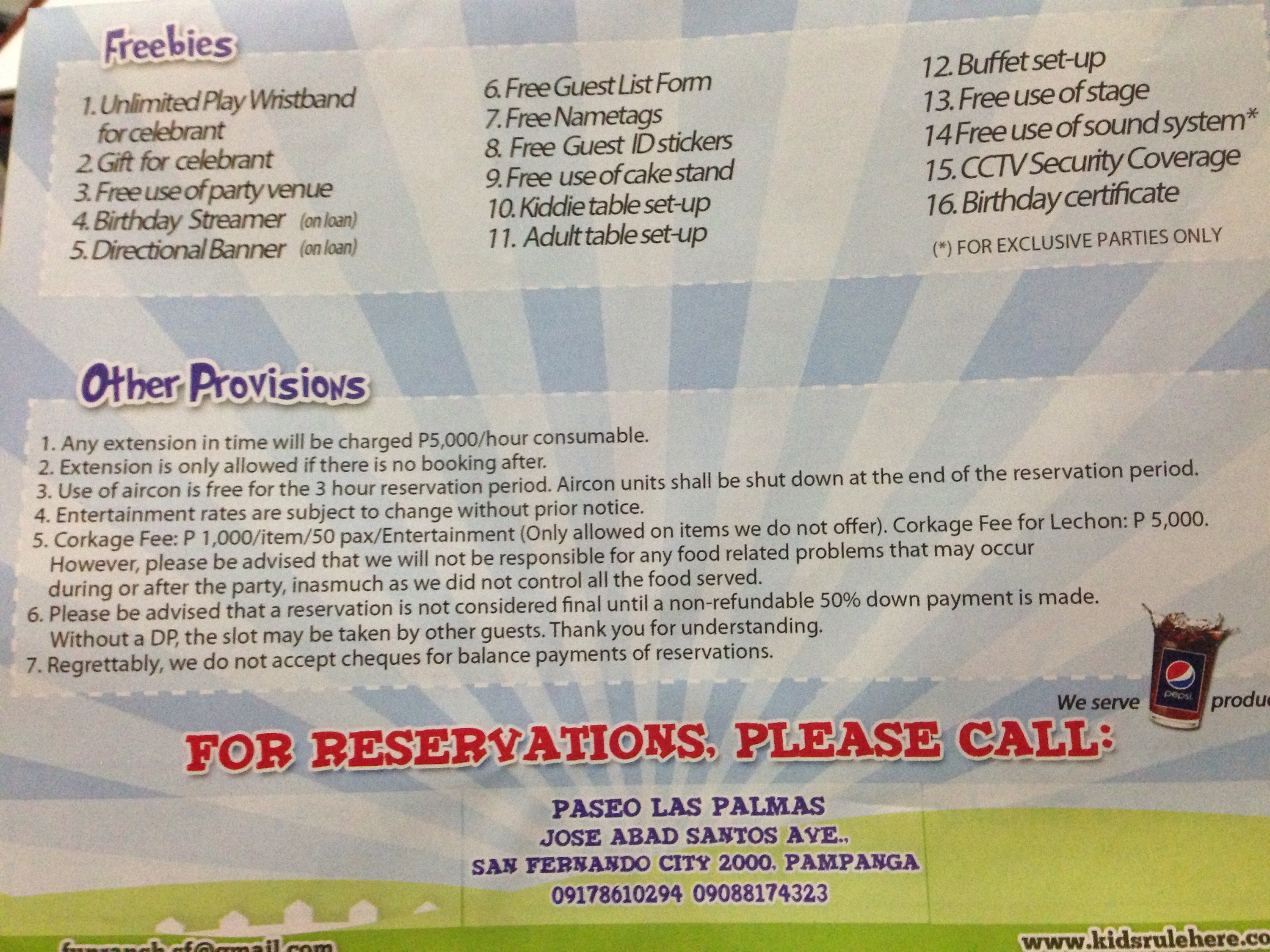 Fun Ranch, Lazer Maxx and Jump Yard is located at Paseo Las Palmas, Jose Abad Santos Avenue, San Fernando City, Pampanga.
Visit their FACEBOOK page here.