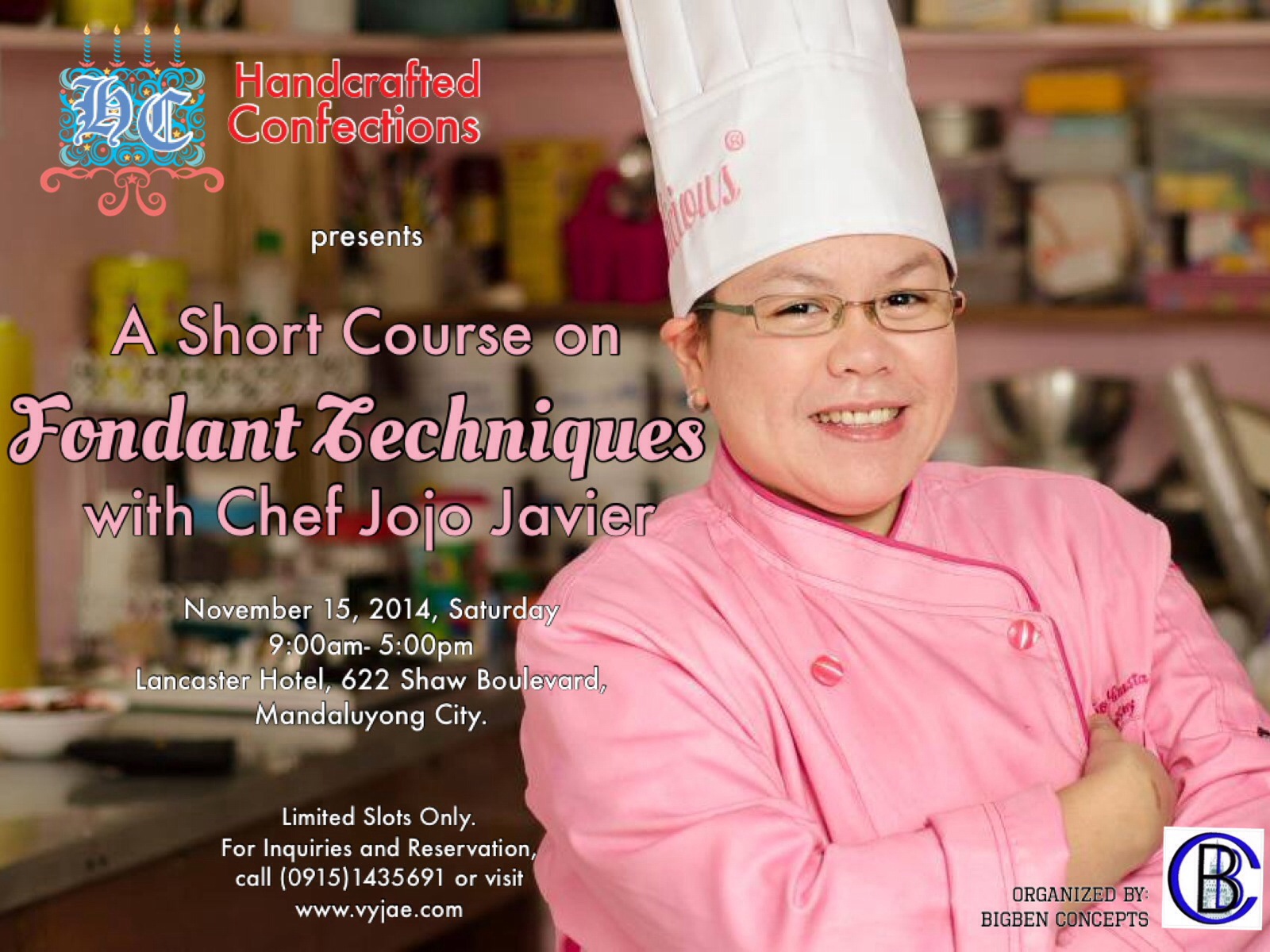 Learn basic fondant cake baking and designing as Handcrafted Confections brings to you A Short Course on Fondant Techniques. In this one-day workshop, Pastry Chef Jojo Javier will prep you up with basic fondant knowledge and skills, this course aims to give participants confidence in handling simple to advanced level fondant theme cake techniques.
Highlights of the workshop
Participants will be taught how to bake vanilla buttercream cake, and make fondant from scratch. All ingredients used in recipes are locally available. The workshop includes basic tools and molds and cutters and all the ingredients a fondant cake requires. Everybody will be provided with the necessary equipment and ingredients to work with. We understand that beginners may not even know what to purchase and from where to purchase, so we don't make them run and purchase things, we provide the fondant and other ingredients, as well as the tools, cutters (which participants have an option to buy), during the workshop. At the end of the class participants will get to take home their designed cake.
Workshop participants are also encouraged to select a theme of their own cake. We do this exercise so that the entire batch gets to see different cakes at one stretch and every one can share ideas, help each other and come out with beautifully decorated cakes.
About the Instructor
Owner Proprietress of Sweetielicious, Chef Jojo Cuesta-Javier started baking in 2005. She studied the Fundamentals of Baking and Pastry Arts at the Center for Culinary Arts (CCA) in Katipunan and took up a Cake Decorating Course under Heny Sison. She has been featured in various TV shows, and is well known to local celebrities when it comes to cakes and pastries.
Chef Javier is a Baking and Pastry Instructor at the Universal College of Paranaque handling HRM Course and HRS Course. She is also currently a columnist of COOK Magazine, where she writes about her field of specialty under the section Sweet Bites.
Class Timing: this 1 day class will take place on November 15, 2014, Saturday and will start at 9:00 a.m. and finish around 5:00p.m. Everything will be explained step by step so there is plenty of opportunity to ask questions. The class is held in a group size of 6 (minimum)to 10(maximum), for a more focused teaching.
Lunch: Your lunch and snacks for day is included.
Venue: The course will be held at Lancaster Hotel (infront Friendly Care, and near Star Mall), walkable from MRT Shaw Blvd. station.
Course fee: PhP 4,000/all inclusive.
Reservation is required as, only limited slots are available. You may call event organizer BIGBEN CONCEPTS at 0915 1435691 for inquiries or Like Handcrafted Confections on Facebook for more details. #jnv