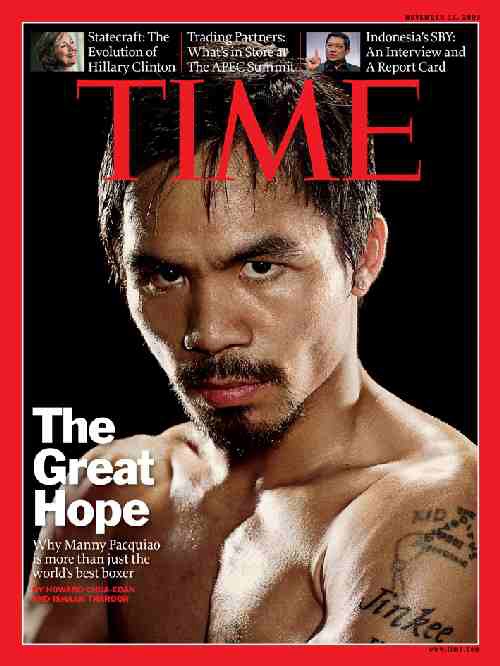 This article highlights some of the interesting facts about the best pound-for-pound boxer of our time, Manny Pacquiao. This will give you an idea of the life Manny Pacquiao went through from his early days of obscurity and hardship up to the present day of his triumph and glory.
1. Manny Pacquaio was born on December 17, 1978 in Kibawe, Philippines.
2. His real name is Emmanuel Dapidran Pacquaio.
3. He is the fourth among six siblings.
4. At 14, Manny left his hometown and went to Manila to begin the life of Amateur Boxing.
5. Because of extreme poverty, there were times that he was forced to live in the streets of Manila.
6. The death of his close friend and fellow peer in boxing compelled Pacquiao to strive for a professional career in boxing.
7. Manny Pacquaio is a natural southpaw. However, recent opponents who have relied on this have reason to believe his right is also a force to be reckoned with. They have learned this mistake the hard way, usually while lying on the canvass.
8. Pacman, as what he is fondly called, is also an eight division world champion. To be specific he has also won ten world titles in the eight different weight divisions. He is reportedly the first boxer in history to achieve this feat.
9. Manny Pacquaio has been included in Nike's ad campaign namely "Fast Forward". He stands alongside the likes of sports greats such as Maria Sharapova, Tiger Woods and Kobe Bryant.
10. Manny Pacquaio has attempted to delve into the movie business. However, the outcome of his movies where he is the star such as "Wapakman" did not fare well in the box office.
11. Besides boxing, Manny Pacquaio also has interest in business and politics. For business, he has already established a chain of companies some of them under the initials of his name "MP". He also has performed and recorded a few songs in the national Filipino Language, Tagalog. For politics, Manny Pacquaio is currently the incumbent representative of the hometown of his wife Jinkee which is Sarangani Province.
12. In one of San Miguel Beer's advertisements, Manny Pacquiao appears together with one of his former challengers, Erik Morales.
13. Also, in another advertisement of San Miguel Beer, Manny Pacquaio appears alongside Jet Li and other famous Filipino movie stars.
14. Pacquiao is married to Maria Geraldine "Jinkee" Jamora,[18] and they have five children: Emmanuel Jr. "Jimuel", Michael, Princess, Queen Elizabeth "Queenie" and Israel.
15. Manny Pacquiao is not only a fierce and fearless fighter, he is also known to show compassion to his opponents. In his fight with Antonio Margarito, Manny chose not to throw any lethal punches to save Antonio's swollen right eye. After the fight he is reported to have said ""Boxing is not for killing each other, you know."
16. Even at his height of only 5'6, Manny Pacquaio has defeated taller opponents. Some of them include Oscar de la Hoya and Antonio Margarito. Some of his taller opponents have been defeated by knockout.
17. In one of Manny Pacquaio's fights, he reportedly threw 1,231 punches. This translates to a whopping 100 punches per round. This was during his fight against Joshua Clottey.
18. Floyd Mayweather Jr. has been known to repeatedly find excuses not to go against Manny Pacquiao. Word on the street is that Floyd Mayweather thinks Manny Pacquaio has got what it takes to give him his first loss.
19. Manny Pacquaio is reportedly the first Filipino Athlete to be featured on a postage stamp.
20. Kevin Garnett and the rest of the Boston Celtics are avid fans of Manny Pacquiao. Manny has been made an honorary member of the NBA basketball team and was given a replica Boston Celtics jersey that bears his name and the number 1. Other notable fans of the famous pugilist music artist Beyonce Knowles, Hollywood actors Mark Wahlberg, Ron Perlman and Harry Potter actor Daniel Radcliffe.
21. Manny Pacquaio is also featured in the video game series known as Fight Night. He has appeared in parts 2, 3, 4 and champion series.
22. Everytime Manny fights, the traffic and crime rate of the Philippines goes down significantly. There are times that during his fight, the crime rate goes down to zero.
23. Psychologists and other social science practitioners have coined a term named the "Pacquaio Effect". This effect is associated with the feeling of Filipino Nationalism that Filipinos feel when they watch Manny Pacquiao fight.
24. Manny Pacquiao earned less than $1 for his first fight.
We've all heard stories about someone who goes from rags to riches, but Manny Pacquiao's version is extreme. Pacquiao's family has spent a lot of time in poverty, and he did what he could to help early on in his life. Before he hit his teens, Pacquiao was selling doughnuts in the streets and he had his first fight when he was 12. After winning, Manny Pacquiao earned less than $1, which he immediately gave to his mother to buy rice.
25. Pacquiao owns a lottery outlet. He owns a lottery outlet for the Philippine Charity Sweepstakes Office, but this isn't just a regular lottery outlet. The Philippine Charity Sweepstakes Office is actually the charity arm of the government, which means that a lot of money that is made from the lottery is put to good use. The money is often reinvested back into public services, such as health care and welfare, and it wouldn't be as successful without Manny Pacquiao's name attached to it.
26. Manny Pacquiao is the only Filipino in Time 100
The Time 100 is an annual list of the most influential people in the world compiled by Time magazine. In 2009, Manny Pacquiao made the list. To be included on this sort of list is quite the honor, no doubt, as only a handful of the world's best thinkers, leaders and innovators make the cut. As the only Filipino to make the list in 2009, Manny Pacquiao is ranked No. 22 according to voting, which has him ahead of a few people you might know, such as Barack Obama, Oprah Winfrey and the Dalai Lama. More impressive might be the fact that he is one of the few athletes on the list, along with Kobe Bryant and Alex Rodriguez.
27. Pacquiao is also a professional basketball player and head coach, for Kia Sorentos. He was drafted 11th overall on the first round of the 2014 PBA draft by the Kia Sorentos, making him as the oldest rookie drafted, as well as the shortest player and the first dual-sport athlete in the Philippine Basketball Association.
28. Pacquiao owns a basketball team, called MP Warriors of Gensan. Pacquiao is the owner of the PacMan Gensan team of the Mindanao Visayas Basketball Association, which is based out of his hometown in General Santos City. They haven't been too shabby either, winning a championship in 2005 and finishing as runners-up in 2006.
29. Like most gifted athletes, Pacquiao has other sports passions. He confessed basketball was a first love before he was hooked up with boxing. Pacquiao, at 5-foot-6 1/2, however is as good as a basketball player as he is a good singer and movie actor.
30. Pacquiao has a famous Mom. From her Hermes bag, to her dance shows, to her movies, to her rendition of Wrecking Ball, and to her most recent voodoo spells, Mommy Dionisia Pacquiao, or Mommy D as she is fondly called, has cemented herself as a worldwide figure just like her son.
There you have it some of the interesting facts about Manny Pacquiao that I have compiled and researched so far. Of course this is not all of it, there's still a lot out there. Manny will still achieve numerous, greater achievements that sports writers and sports enthusiasts all over the world will chronicle. He will continue to amaze us with his remarkable talent even beyond his boxing career.
Resources:
www.manny-pacquiao.net
http://mannypacquiao.i.ph
www.bukisa.com
http://sports.espn.go.com
www.lvrj.com
www.ngetstudio.com
www.time.com
http://en.wikipilipinas.org
www.thenewstoday.info
www.manilatimes.net
www.usatoday.com