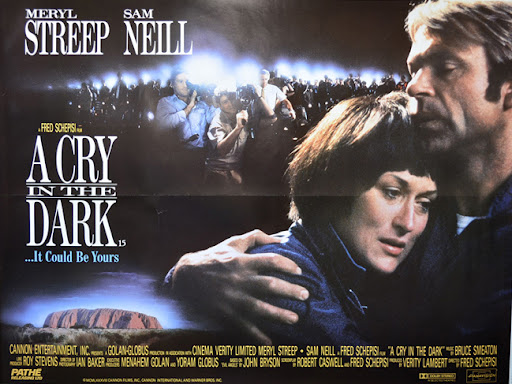 Writing a particular news story about Australia's longest running 'whodunnit' case, my interest was steered. The sensitivity of the story made me so engrossed, that I couldn't help but dig deeper and follow through the entire sequence of the event that divided a nation and for a long period in the early 80's made one mother the most hated woman in Australia..
What I appreciate most about this story is the dramatic turn of events. The positivity that hides behind the tragedy. The irony.
A mother, who's lost a baby from a Dingo (a wild dog), fought to prove her innocence, and succeeded after 30 long years.
A Cry in the Dark Is a 1988 Australian film based on the true story of Lindy Chamberlain whose nine-week-old baby girl Azaria vanished from their tent at a campsite near Ayers Rock in Central Australia the night of August 17, 1980, precisely about three decades ago. From then, she struggled with her husband Michael to prove their innocence to a public convinced of their involvement in the baby's death.
Azaria's body was never found. The baby's torn jumpsuit and clothes filled with blood stains were found near the rock. From then, rumors about the Chamberlain couple and their bizarre beliefs swell and gossips were soon accepted as statement of facts, including the one about the name Azaria bearing the meaning "sacrifice in the wilderness." The Australian citizens were quick to believe that the Chamberlain couple decapitated their baby with a pair of scissors as part of an odd religious ritual.
Investigators noted some apparent inconsistencies in Lindy's story, along with a lot of circumstantial evidence—including a small wooden coffin found in their garage, which led to the re-opening of the investigation. Eventually, she was charged with murder. She was sent to prison for a lifetime sentence. Her husband Michael was found guilty as an accessory to the crime and was given an 18-month suspended sentence. The case attracted a lot of attention, turning an investigation into a media circus, with the citizens of Australia divided in their opinions.
Years later, a tattered jacket that Lindy has insisted Azaria was wearing over her jumpsuit was found near the Ayers Rock. Lindy was immediately released from prison, the case re-opened and all convictions against the Chamberlain turned over.
Just recently, an Australian coroner made a final ruling that the dingo, in fact, caused the death of Azaria Chamberlain. This ruling has finally put an end to the Chamberlain's 30 year cry for justice.
The film, A Cry in the Dark, demonstrated a subtle commemoration of the Chamberlains personal triumph over long dreadful travails. The stunning performance of my all time-favorite star Meryl Streep, who plays Lindy Chamberlain supplied the guts and the backbones of the film. While Sam Neill played his role well as the tormented husband, the movie became virtually a one-character film, with the outstanding, incomparable performance of Meryl Streep.
I found myself shedding tears over some scenes in the film, as I watchfully indulge at every detail of the story. The story is for me one of the best written ever, not only because of its true-to-life element, but because of the effective portrayal of real life components of STRENGTH, COURAGE, and FAITH. That Lindy Chamberlain (played by Streep), a woman of valor, has gracefully displayed.
As for my opinion, I don't know of any mother who would take the life of her innocent baby. And I could not help but wonder how painful it was for Lindy Chamberlain, that she lost her baby in that most dreadful way, or in a manner that she didn't actually know. And to add to the burden, she was accused of a crime she did not do. Put yourself in her shoes, and imagine how you would handle it. With a tide of public opinion eventually turning against you, with all that myths surrounding the case created by rumor-mongers and circulated by local tabloids. With people questioning your being 'too accepting' of the disaster that has befallen you. Where would you stand if you were Lindy?
There was a point that she had questioned God, but the fact that she remained strong despite it all, is evident enough of how big her faith is in HIM.
A jury of 12 having heard from lots of witnesses within two years of disappearance found Lindy guilty. I wonder how she got over losing her baby, if she ever did, while serving three years of her supposed lifetime sentence in jail. New evidences led to her temporary freedom after three years. But the fight for justice went on until a coroner, looked at the matter 30 years later and ruled out murder.
The film was successful in demonstrating the court of public opinion, as well as the methodical examination of evidence, and the character's real life expressions in the most non-biased manner. The film presented the terrible events in such a way that there won't be any doubt in the audience mind about what happened. It turned out to be more of propaganda, not for the conviction of the Chamberlains, but rather about the unconvincing ease with which justice is miscarried. An awakening in a sense.
With this recent good news on the case, the smell of FREEDOM maybe sweet for Lindy Chamberlain, but I somehow feel, that deep down inside, there is a part of her that remains behind the bars of injustice. For as long as the mystery behind her baby's death remains. As long as she has not forgiven herself 'for not zipping up the tent.' She will remain a prisoner.
Time heals all wounds. When all else fails. Believe.
**The 1988 film A Cry in the Dark, also known in Australia as 'Evil Angels' was a top grosser and a box office hit.  It won numerous film awards nominations and citations, including 'Best Film' 'Best Direction' and 'Best Adapted Screen Play' for the Australian Film Institute. And Meryl Streep, of course, who brought her customary skillfulness with another perfect accent, won big time too. She was 'Best Actress' for Academy Awards, Australian Film Institute Award, New York Film Critics Circle Award, and was nominated numerously for her impressive acting in the film. Need I say, I highly recommend that you watch the film. :)