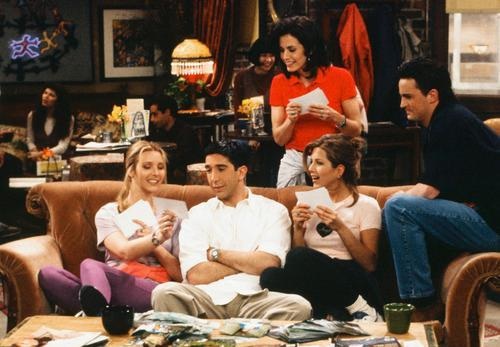 Good news to the fans of the classic sitcom "FRIENDS," as Warner Bros. Entertainment, the producer of the show is opening a real-life Central Perk coffee shop in New York City.
To celebrate the 20th anniversary of the comedy series that first went on the air in 1994, or about two decades ago. FRIENDS is the sitcom that launched Jennifer Aniston into international fame.
Warner Bros. now gives its loyal supporters a chance to hang out the way Ross, Rachel, Phoebe, Monica, Joey and Chandler did at Americas most beloved coffee shop, Central Perk.
Central Perk will be serving up free cups of coffee, and, according to a press release, guests will be able to enjoy in store performances, DVD giveaways and the opportunity to take a "sofa-selfie" on the original orange couch from the classic sitcom.
The Central Perk set has long been a popular stop on the Warner Bros. VIP studio tour in Burbank, California. But for the occasion, Warner Bros. wants to bring the fictional coffeeshop back to its native New York. Even though the sitcom Central Perk was in Greenwich Village, the real-life Central Perk will be a temporary, month-long "pop-up" in the neighborhood of SoHo.
While none of the six 'Friends' are scheduled to make an appearance, James Michael Tyler—better known as the perennially annoyed barista Gunther—will be making "select special appearances."
Eight O'Clock Coffee has created a limited edition "Central Perk Roast," a medium bodied blend with citrus and floral notes, which is available for purchase online if you can't make it to New York City.
The Central Perk pop-up opens Sept. 17 and closes on Oct. 18. #jnv